Republican Congressmen Louie Gohmert and Andrew Clyde's $20,000 security fines are being reconsidered by the House Ethics Committee.
Gohmert and Clyde were the first two congressional members to receive fines for bypassing the security screening checkpoint set up outside the House in the wake of the January 6 Capitol riot. Their fines came shortly after the lower chamber voted to penalize members who avoided walking through metal detectors.
Two different statements released by the House Ethics Committee noted that both Clyde and Gohmert appealed their fines.
"Upon a determination regarding the appeal, the Committee will make a further public statement regarding this matter," the statements read.
Clyde was cited for two different violations, including a $5,000 fine on February 3 and a $10,000 penalty on February 5. Gohmert received a $5,000 fine after a February 4 violation.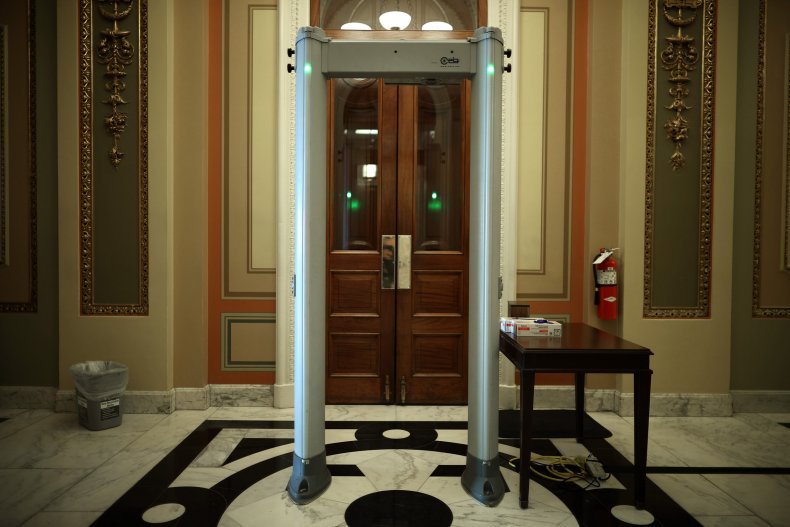 Shortly after receiving the fine, Gohmert, who represents Texas, issued a statement in which he denied that he broke the House rules in avoiding the metal detectors. He explained at the time that he stepped out of the House to use the bathroom.
"At no time until yesterday did anyone mention the need to be wanded after entering the restroom directly in front of the guards. The three main entrances have metal detectors, but the House floor entrance from the Speakers' Lobby does not. Originally I had gone around the metal detectors a few times until it was mandated. I have been complying for weeks since," Gohmert wrote.
"Since I had been complying with the metal detector requirement despite the Constitutional issue, I was surprised to receive a notice today stating that I had not complied with their policy and that I would be fined $5,000," the statement added.
Similarly, Clyde, a Georgia congressman, also issued a statement, criticizing House Speaker Nancy Pelosi.
"As a sitting congressman, I have the right to enter the House floor unimpeded. This right is clearly written into the Constitution under Article 1, Section 6 because members of Congress are voting on behalf of their constituents. I cast my district's vote, so it's not about me," he wrote. "It is not only my vote that suffers from Speaker Nancy Pelosi's policy of intimidation, it is the vote of honest, hard-working, patriotic Georgians of the 9th district."
According to Roll Call, Clyde and Gohmert will need a majority of the 10-member bipartisan committee to vote in favor of their appeal or they will have to pay the fine.
Newsweek reached out to Gohmert and Clyde for comment, but did not receive a response in time for publication.