Rep. Rashida Tlaib (D-Mich.) and Rep. André Carson (D-Ind.) joined a pro-Palestinian protest that took place outside the State Department in Washington, D.C. on Tuesday.
Tlaib and Carson both spoke at the event amid the escalating conflict pitting the Israeli military against Hamas and other militant groups. At least 35 Palestinians, including 10 children, have died following Israeli airstrikes, while hundreds of rockets targeting Israel have killed at least three people. The conflict was ignited days after clashes between Israelis and Palestinians began in East Jerusalem's Sheikh Jarrah neighborhood.
"Today, I was honored to join @RepRashida and a diverse crowd of people at the State Department to demand justice for Palestinians," Carson tweeted after taking part in the protest. "Americans of all backgrounds have a moral obligation to protect human rights wherever they are threatened — in #SheikhJarrah, and around the world!"
The protest was organized by Muslim advocacy groups the Council on American-Islamic Relations (CAIR) and American Muslims for Palestine. CAIR said in a statement that the goal of the demonstration was to "call on the Biden administration to condemn and oppose the Israeli government's campaign to expel Palestinian families from Jerusalem's Sheikh Jarrah neighborhood."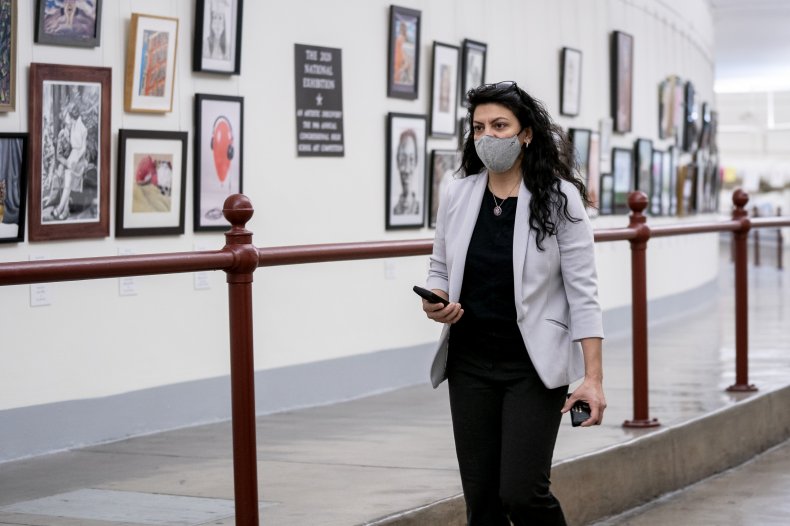 On Monday, Tlaib accused State Department spokesperson Ned Price of "refusing to condemn the killing of Palestinian children" by Israeli airstrikes while sharing a video of him telling reporters at a press conference that Hamas had been responsible for an "unacceptable escalation" of hostilities.
Price also echoed the sentiments of Secretary of State Antony Blinken, who on the same day said that Israel "has a right to defend its people and its territory" from Hamas attacks while not addressing whether he believed Palestinians have the same right.
Progressive lawmakers in addition to Tlaib and Carson were quick to point out the Biden administration's perceived aversion to answering questions regarding self-defense for Palestinians, while demanding that the administration speak out on the deaths of children.
"This unsurprising response is devoid of empathy and concern for human suffering," Rep. Ilhan Omar (D-Minn.) tweeted in response to Price's press conference. "He can't even condemn the killing of children."
Omar joined forces with Tlaib and Carson to issue a statement on the same day, condemning the Israeli airstrikes and "the violent assault by Israeli forces on the Al Aqsa mosque." The representatives, who are the only three Muslims in Congress, said that it was "long past time we finally take action to protect Palestinian human rights and save lives."
On Tuesday, Omar tweeted that "Palestinian children deserve advocates for their humanity, safety and security," prompting Rep. Mark Pocan (D-Wis.) to add that it "should not be this difficult to condemn the murder of Palestinian children."
Blinken urged peace between Israelis and Palestinians and called on "all parties to deescalate tensions and bring a halt to the violence, which has claimed the lives of Israeli and Palestinian civilians, including children" during a phone call with Israel's Foreign Minister Gabi Ashkenazi on Tuesday, according to Price.
Newsweek reached out to the White House and the State Department for comment.