Reps. Tlaib and AOC Call For Public Banks to Avoid Fees and Minimum Balance Requirements
U.S. Representatives Rashida Tlaib (D-Mich.) and Alexandria Ocasio-Cortez (D-N.Y.) introduced a bill intended to create a national public banking system on Friday.
The Public Banking Act would encourage new banks as a "public utility," by allowing them to be formed with the help of a public program for bank grants administered by the Secretary of the Treasury and the Federal Reserve Board. The congresswomen said that the system would provide access to banking for those unable to afford conventional services, while benefiting local governments and entrepreneurs by offering loans with reduced interest rates and fees. Immediate benefits for financial relief amid the COVID-19 pandemic were also highlighted.
"It's long past time to open doors for people who have been systematically shut out and provide a better option for those grappling with the costs of simply trying to participate in an economy they have every right to—but has been rigged against them," Tlaib said in a statement. "The COVID-19 pandemic has also plunged city and state governments into a financial crisis unlike any other they've ever experienced—and public banks could offer a much more tenable option for dealing with their debts at a time when they need it most."
Tlaib said that $30 trillion was spent during the Great Recession of 2007-2009 on "propping up financial institutions that held the country hostage for their reckless behavior," while a comparatively small $8 trillion had been spent on pandemic recovery efforts.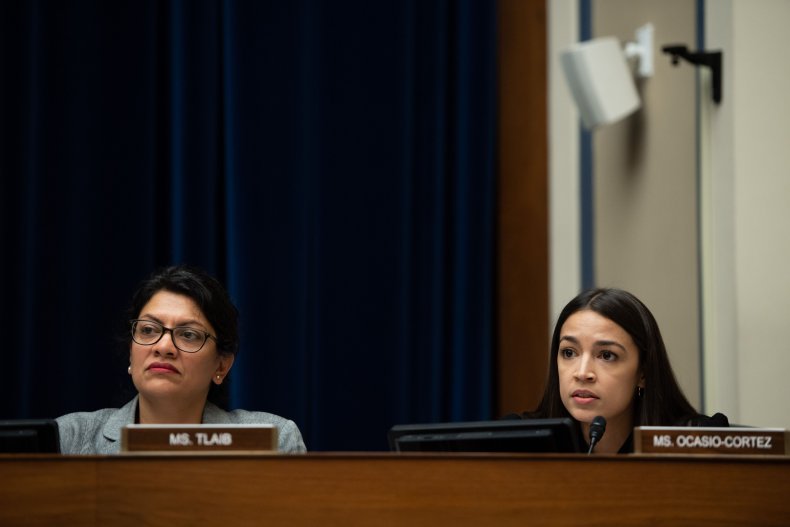 In addition to providing "a seamless and effective way to deliver relief funds to all eligible recipients" during the pandemic, the proposed "transformational change to the American monetary-financial system" would have the long-term effect of addressing "systemic problems with our banking system that have disproportionately burdened low-income communities."
The new institutions could help the "unbanked and underbanked" by removing or reducing barriers that currently exist in traditional banking, potentially including minimum balances, high interest rates, fees or exorbitant overdraft charges.
"I am proud to partner with Rep. Tlaib on this monumental bill," Ocasio-Cortez said. "Public banks are uniquely able to address the economic inequality and structural racism exacerbated by the banking industry's discriminatory policies and predatory practices."
"The creation of public banks will also facilitate the use of public resources to construct a myriad of public goods including affordable housing and local renewable energy projects," she added. "Public banks empower states and municipalities to establish new channels of public investment to help solve systemic crises."
Tlaib said that because the financial industry "will continue to depend on the public dollar," banks should be forced to reciprocate by working "for the people and not solely privatized profits wreaking havoc on communities of color." The bill would not instantly create a network of public banks but would make it easier for banks to be established without any involvement from Wall Street.
The legislation has gathered support from nine other Democratic members of the House, including Ilhan Omar of Minnesota and Ayanna Pressley of Massachusetts, the other half of the group of four progressive congresswomen, alongside Tlaib and Ocasio-Cortez, who are often informally referred to as "the Squad."