GOP Senator Ben Sasse suggests Brett Kavanaugh Sexual Assault Allegations Are Why He Told Trump to Nominate a Woman
As the FBI finished its supplemental investigation into sexual assault allegations against Supreme Court nominee Brett Kavanaugh and the Senate prepared for his final confirmation vote, Republican Senator Ben Sasse took to the Senate floor Wednesday night to speak out on the past few weeks' dramatic events.
Among his remarks about the #MeToo movement, sexual assault survivors and President Donald Trump's "inability" to lead through this type of discussion, Sasse revealed during his first-ever Senate floor speech that in June or early July, he "urged the president" to nominate someone other than Kavanaugh—a woman.
"Although I've said many complimentary things about Judge Brett Kavanaugh and his distinguished record of 12 years of service on the D.C. Circuit Court, I will say that I urged the president back in June and early July to make a different choice—before he announced this nomination," Sasse said. "I urged him to nominate a different individual. I urged the president to nominate a woman."
The reason for suggesting a woman, Sasse said, was that the Senate was "not at all well prepared to handle potential allegations of sexual harassment and assault that might have come forward."
Sasse did not publicly identify the women he wanted to see nominated, nor did his office immediately respond to Newsweek's inquiry Thursday morning.
There were two women among the six potential nominees on Trump's shortlist he was reportedly considering at the time: Judge Joan Larsen, a former University of Michigan law professor who worked in the Bush administration and clerked for the late Justice Antonin Scalia; and Judge Amy Coney Barrett, a former Notre Dame law school professor and former Scalia clerk.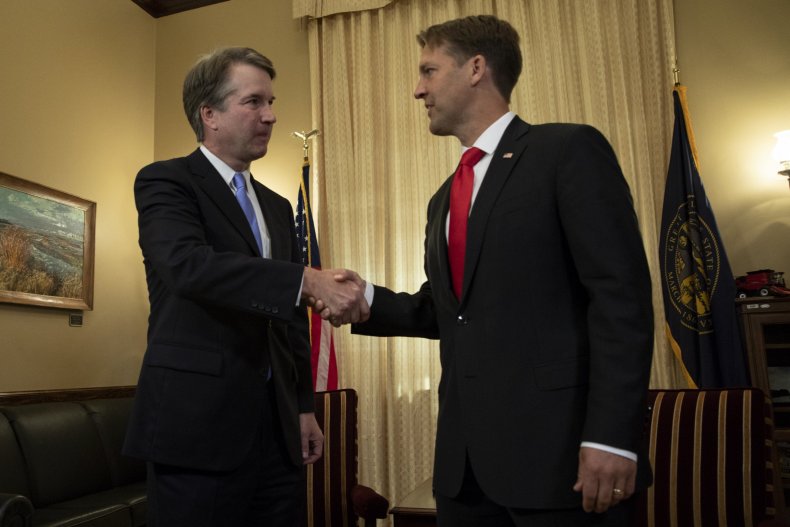 Around the same time as Sasse made his impassioned floor speech, reports began to surface that the FBI would be delivering its finished report to the White House Wednesday evening, which was then passed to the Senate for lawmakers to begin reviewing Thursday morning. The FBI report, according to the White House, found no corroborating evidence of the multiple sexual misconduct allegations levied against the Supreme Court nominee.
Shortly after Sasse's speech, Senate Majority Leader Mitch McConnell scheduled a procedural vote for Friday that paves the way for debate on Kavanaugh to be finished that day and in time to hold a final up-or-down confirmation vote on Saturday.
"There will be plenty of time for members to review and be briefed on this supplemental material before a Friday cloture vote," McConnell said.
During his Senate floor speech, Sasse also spoke of two close friends who were victims of rape.
"I've wept with the victims of sexual assault, and I believe the advocacy groups' data that between one-fifth and one-third of American women have been sexually assaulted at some point in their lives," Sasse said. He added it was not about "one vacant seat on the Supreme Court" and not a "giant binary choice about the much broader issue of whether we do or don't care about women."
The GOP senator, who voted to move Kavanaugh's confirmation process out of the Senate Judiciary Committee and to the full Senate, has not publicly said whether he will be supporting Kavanaugh following his Wednesday night speech. He also took a jab at Trump, saying the president "cannot lead us through this time."
"We know that he's dispositionally unable to restrain his impulse to divide us," Sasse said. "His mockery of Dr. Ford in Mississippi was wrong, but it doesn't really surprise anyone. It's who he is."
Speaking at a political rally in Mississippi Tuesday night, Trump mocked Kavanaugh's first sexual assault accuser, Christine Blasey Ford, who publicly testified before the Senate Judiciary Committee last week. Trump mimicked her responses, saying that she could not remember certain details about the night in question and her credibility was compromised.
Sasse is no stranger to disagreeing with his fellow Republican colleagues and pushing back against the president.
In July, Sasse called Trump's $12 billion aid package to farmers "gold crutches" for a trade war started by the president that was "cutting the legs out from under farmers." Last month, Sasse hit back at Trump's criticism of Attorney General Jeff Sessions and the Justice Department for pursuing charges against two GOP congressman—Duncan Hunter of California and Chris Collins of New York—by saying the U.S. "is not some banana republic." Days later, Sasse said he "regularly" considered leaving the Republican Party to become an independent, something Sasse has alluded to before.
Update: The headline for this article has been changed to better reflect that Senator Sasse did not draw a direct line between the allegations against Brett Kavanaugh and him telling President Trump to nominate a woman.