Republican Boehner Tries to Avoid Shutdown Fight on Immigration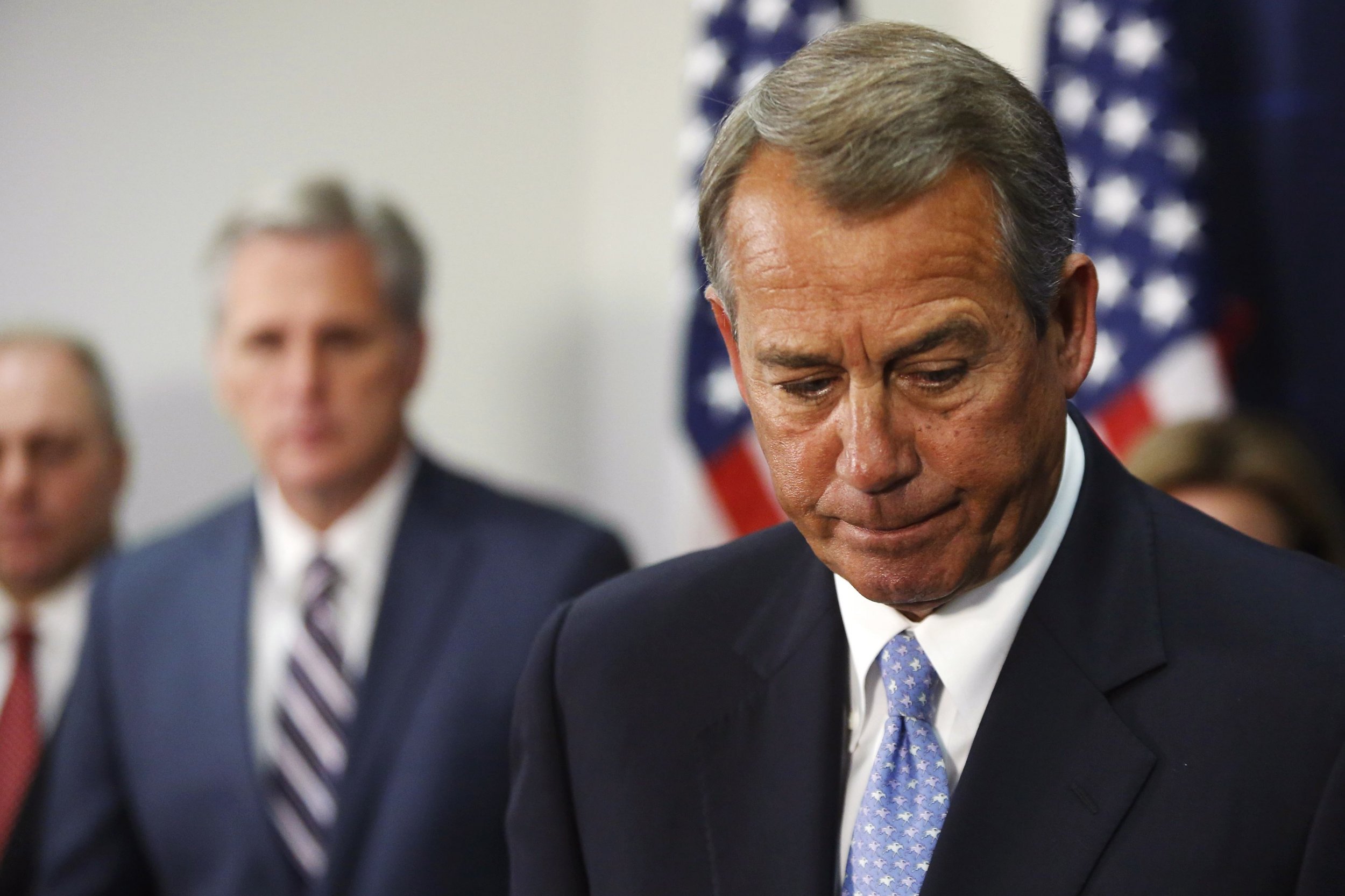 WASHINGTON (Reuters) - House of Representatives Speaker John Boehner urged fellow Republicans on Tuesday to pass a long-term government spending bill next week, avoiding a government shutdown and pushing any budget fight over President Barack Obama's executive order on immigration into 2015.
At a closed meeting of House Republicans to plot strategy on how to handle a must-pass government spending bill, Republicans said Boehner argued for funding most of the government through next September but only giving a short-term extension to the Department of Homeland Security, the agency that would implement the executive orders Obama announced on Nov. 20.
That would allow Republicans to revisit efforts to block Obama's immigration action by placing spending restrictions on DHS activities early next year, while avoiding an immediate standoff that could close federal agencies when current government spending authority expires on Dec. 11.
Many conservatives, who want to use the spending bill to deny money for Obama's unilateral action lifting the threat of deportation for as many as 4.7 million of the estimated 11 million undocumented immigrants, said they were still skeptical of Boehner's plan and unwilling to remove the shutdown threat from budget negotiations.
"I don't think anything is off the table. I don't think anybody is thinking about a shutdown, but in negotiations, you never take anything off the table," said Representative Raul Labrador, a leading House conservative.
The political stakes are high for Republicans. After huge wins in Nov. 4 elections that will give them a majority in the Senate and a bigger majority in the House next year, Boehner and other Republican leaders want to demonstrate that they can govern and avoid a shutdown fight.
White House spokesman Josh Earnest said Obama would prefer to see the spending bill cover the entire government for a full year, but declined to say if Obama would veto a bill with shorter funding for DHS.
Boehner said after the meeting that no decision had been made and consultations would continue with Republicans in the House and Senate.
"I think they understand that it's going to be difficult to take meaningful action as long as we've got Democratic control of the Senate," Boehner said.
"Frankly, we have limited options, limited ability to deal with it directly," he said of possible responses to Obama's immigration order.
Representative Peter Roskam of Illinois said Boehner's proposal was well received, and he did not think the conservative effort to delete funding for the immigration order in the must-pass bill would get much traction.
But Republican Representative Steve King of Iowa, a leading conservative in the fight against the immigration order, said the short-term extension for DHS should cut off any funding for Obama's action even if it leads to a shutdown.
"It isn't us bringing about a shutdown. We fund everything else, and then the president has to argue that he's going to shutdown the government in order for him to carry out his lawless, unconstitutional act," King said.
While some Republicans favor easing immigration laws and hope to bolster Hispanic support for the party, many others are opposed, citing a perceived burden on U.S. society. What unifies Republicans is a stated belief that Obama's executive orders overstep his legal authority and serve as a form of amnesty for law breakers.
Republican Representative Tim Huelskamp of Kansas, another prominent conservative, said a short-term extension of DHS that lasted through March was "not good enough" because it would allow the administration to begin implementing Obama's action. He said Boehner told the meeting the exact length of the DHS extension was still being discussed with the Senate.
Conservative Republican Representative John Fleming of Louisiana said he was reluctant to support the bill unless it were shortened to Jan. 15.
But U.S. Homeland Security chief Jeh Johnson told a congressional hearing he would not be able to hire the Secret Service agents and detention center personnel the department needs with only a short-term funding bill.
"I'm urging that we act on our current appropriations request for the sake of border security and homeland security," Johnson told the Homeland Security Committee.
At a tense hearing, Johnson defended the president's immigration plan against Republicans who said it would encourage even more crossings at the southern U.S. border.
Congresswoman Candice Miller of Michigan warned Johnson that the administration would be sued over the action. Congressman Jeff Duncan of South Carolina slammed a book on the table while shouting that the administration should be enforcing immigration law.
Senate Republican Leader Mitch McConnell said he has made it clear since the election that there would be no government shutdown.
"We need to quit, you know, kind of rattling the economy with things that are perceived by the voters as disturbing," he told a Washington conference.