Republican Senate Candidate Says #MeToo Is a 'Movement Toward Victimization' After Kavanaugh Confirmation
Republican Representative Kevin Cramer, a candidate for a Senate seat in North Dakota, said Sunday that #MeToo, a movement toward holding perpetrators of sexual misconduct accountable, is a "movement toward victimization."
Cramer is vying with incumbent Democratic Senator Heidi Heitkamp for one of the seats that could be all-important in deciding whether Republicans can keep hold of the Senate in November's midterm elections. Heitkamp notably voted "no" on Brett Kavanaugh's confirmation to the Supreme Court last week after multiple accusations of sexual misconduct were leveled against President Donald Trump's nominee.
Latest polls have shown Cramer with a significant lead over Heitkamp, and the Republican said the majority of people in North Dakota are on board with his straight-talking persona. Cramer said that his views on sexual assault allegations brought against Kavanaugh by Christine Blasey Ford and the #MeToo movement, which has seen allegations of sexual misconduct brought against a number of powerful individuals in the past year, were just one example.
"That you're just supposed to believe somebody because they said it happened," Cramer told The New York Times. He went on to say that the women in his life, namely his wife, daughters, mother and mother-in-law, were turned off by #MeToo.
"They cannot understand this movement toward victimization," he said. "They are pioneers of the prairie. These are tough people whose grandparents were tough and great-grandparents were tough."
The heated Kavanaugh confirmation process, he added, meant "The world got to see close up how ugly it can be when you go too far."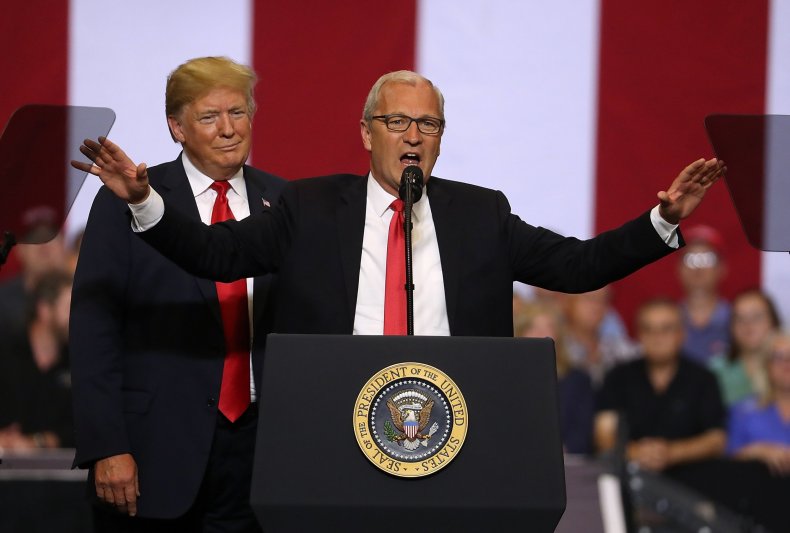 Kavanaugh's confirmation process was thrown into disarray after three women came forward accusing him of sexual misconduct in his teenage years. Ford, the first of those accusers, testified before the Senate Judiciary Committee when she said she was "100 percent" certain that Kavanaugh had assaulted her during a high school party in 1982.
Kavanaugh gave a furious denial and ultimately did enough to convince Republican senators to confirm him to the Supreme Court in a vote on Friday. Despite facing an uphill battle to win re-election in a state that was easily carried by President Donald Trump in 2016, Heitkamp announced that she would not vote for Trump's nominee.
"Countless North Dakotans and others close to me have since reached out and told me their stories of being raped or sexually assaulted—and expressed the same anguish and fear," she said in a statement. "I'm in awe of their courage, too. Some of them reported their abuse at the time, but others said nothing until now. Survivors should be respected for having the strength to share what happened to them—even if a generation has since passed. They still feel the scars and suffer the trauma of abuse."
Following Cramer's comments Sunday, Heitkamp again referenced victims of sexual assault.
"For the better part of my career in public life has been working with victims," she said. "Did you ask him how many victims during this process he actually sat down with, and survivors he sat down with, and visited with personally?"​