Republican Campaign Ad Allegedly Attacks Opponent for Being Bisexual
A Republican candidate for an Indiana city council seat has allegedly used his opponent's status as an openly bisexual woman as the basis of an attack ad.
Adam Cox, who is running for a seat on the Indianapolis city council, released an ad that appears to highlight his Democratic opponent Ali Brown's LGBTQ status. Brown shared a screenshot of the ad in an October 22 Twitter post, which shows the candidate wearing a T-shirt that reads "The Future is Female," alongside a Cox campaign banner proclaiming "Liberal Ali Brown endorsed by LGBTQ Victory Fund."
"My opponent thinks being a member of the lgbtq community is a bad thing. This is why we need comprehensive hate crimes legislation," said Brown in the Twitter post sharing the ad.
Cox has attempted to distance himself from criticism that the ad may be attempting to capitalize on anti-LGBTQ sentiment. He says he supports LGBTQ rights but opposes Brown's "liberal" politics, and claims the screenshot shared by Brown was taken out of context.
"My opponent has taken a screenshot of one second of a longer ad, distorting it out of context," said Cox in a statement to The Indianapolis Star. "The ad highlighted that Ali Brown is a liberal and it scrolled through six liberal organizations that support her, including Progressive Change, Vote Mama, Everytown for Gun Safety, Planned Parenthood, LGBTQ Victory Fund, and Moms Demand Action. The LGBTQ Victory Fund is a liberal organization that supports liberal candidates and organizations."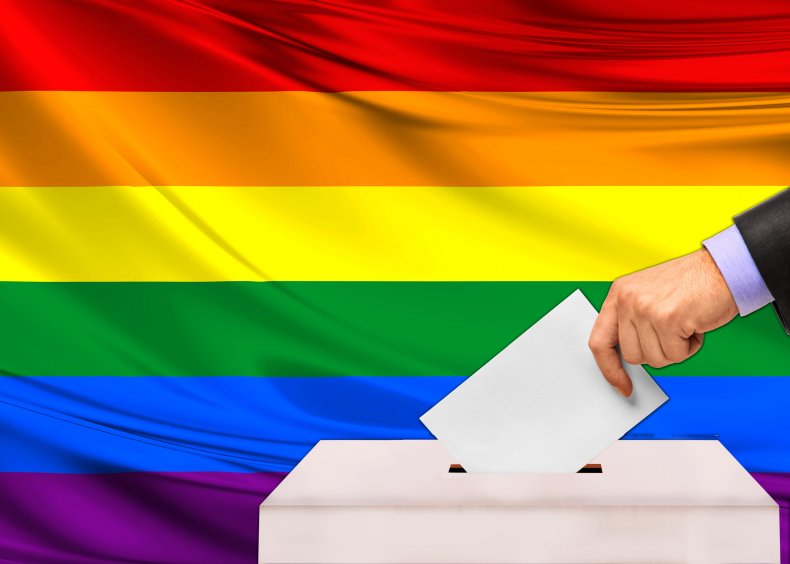 Rather than being a "liberal organization," the LGBTQ Victory Fund says it is a nonpartisan group supporting openly LGBTQ political candidates. In addition to Democrats, the group has previously supported Republicans running for office.
The LGBTQ Victory Fund responded to the controversy by condemning Cox for what the group believes to be the strategy behind the ad.
"We are appalled that in a major city in 2019, LGBTQ candidates like @aliforindy are still being attacked for who they are. The purpose of this ad is clear: to use Ali's identity as a wedge issue. We condemn this ad in the strongest terms," the group tweeted.
Although using anti-LGBTQ sentiment as a wedge issue may have historically been a successful political strategy, it appears to be a less effective gambit in recent years. An increasing number of Americans seem to view the issue as irrelevant when it comes to political candidates. In Indiana in particular, it does not seem to have been a significant factor in openly gay South Bend mayor Pete Buttigieg's successful 2015 re-election campaign.