Republican Candidate Charged With Distributing Fake Sample Ballots on Election Day
Two men have been charged with distributing phony sample ballots in Marion, Ohio.
Marion County Republican Party official John Matthews and Robert Landon, the GOP candidate for Marion city auditor broke the law by distributing campaign handouts designed to look like sample ballots, reports ABC 6 News.
Landon faces a second charge of imitating the board of elections.
Under the law, a resident of Ohio could face up to six months in jail and be forced to pay up to a $1,000 fine for this offense.
The sample ballots reportedly looked like real voting ballots but with boxes highlighting all of the Republican candidates.
Ohio law bans political parties and candidates from handing out sample ballots like this. They are supposed to be printed on colored paper to distinguish them from real ballots, but the ones distributed by Landon were on white paper.
At the bottom of the fake ballots, it said, "paid by the Marion County Republican Party."
According to the Marion Law Director, Mark Russell, Landon admitted to passing out the sample ballots while Matthews produced them.
In 2017, Matthews pleaded guilty to theft in office for doing political work while he was supposed to be doing claims support work for the Ohio Industrial Commission, according to The Columbus Dispatch. That was a fourth-degree felony.
The Ohio Inspector General's Office began investigating Matthews in 2016 after receiving an anonymous tip that he spent his work day "sleeping and fundraising" for Governor John Kasich's presidential campaign when he should have been working as director of claims support for the state Industrial Commission.
He was given one year of probation and ordered to pay restitution of $4,062 by Franklin County Common Pleas Court Judge Guy Reece.
"A conviction for theft in office precludes Mr. Matthews from holding any position of trust in government," James Manken, chief legal counsel for the Inspector General, said at the time.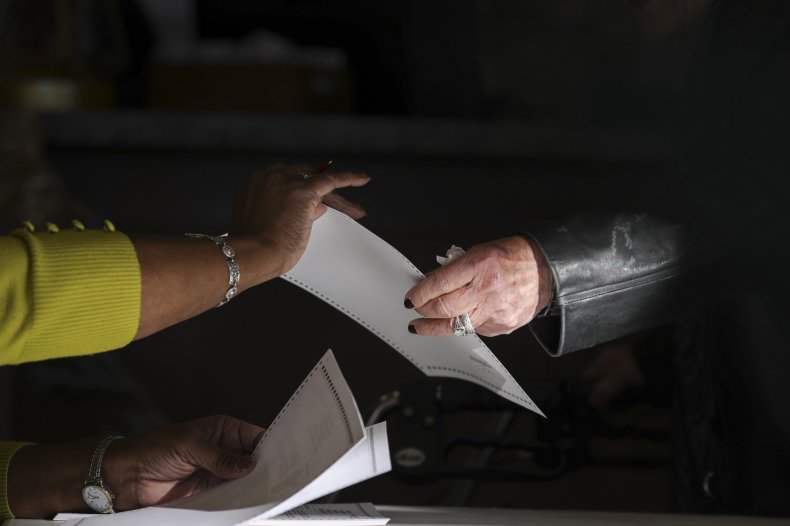 Matthews had to vacate his seat on the Ohio Republican Party's governing body, but that didn't stop him from creating phony ballots for the Republican Party to distribute in Ohio on Election Day.
Landon, who is a Marion City Councilman, reportedly spent $6,026 this election, according to his pre-primary, post-primary and pre-general campaign finance reports. The money was spent on T-shirts, a campaign website, car magnets and other campaign advertising, including mailers, flyers, Facebook ads and handouts.
No word on how much of that money was spent on creating the fake sample ballots.
Landon and Matthews are being charged with first-degree misdemeanors. This has led to pushback online and in the community about how tampering with an election should be upgraded to a felony.