Republican Candidates Get a 'Silly Question' But a Smoother Ride in Fox Debate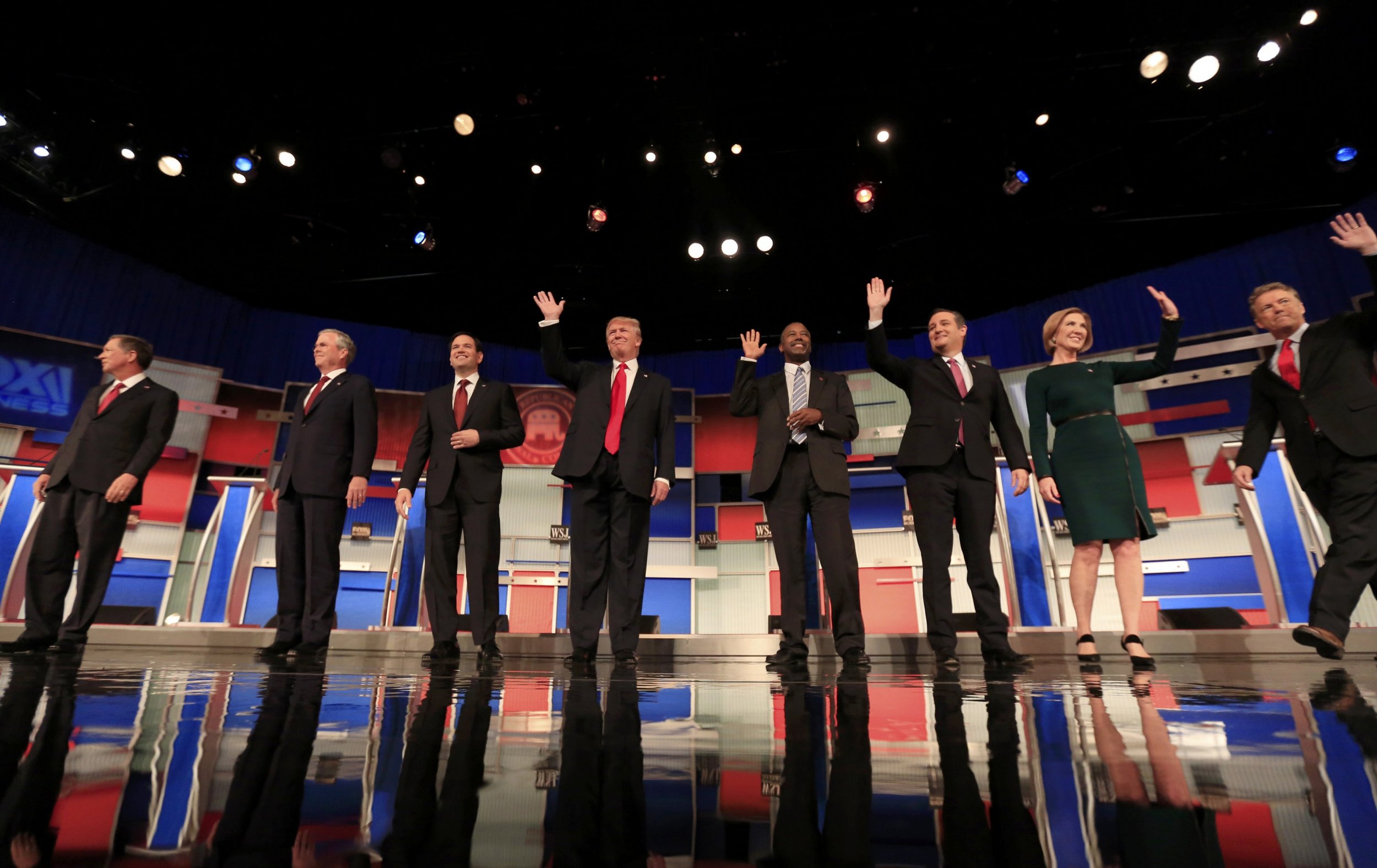 At Tuesday night's Republican debate, the Fox Business Network moderators spared the GOP candidates many of the alleged "gotcha" questions they complained about during the October contest on CNBC. But there was plenty of bickering between the candidates themselves.
In one notable instance, Donald Trump embarked on a lengthy monologue about undocumented immigrants and the wall he plans to build along the U.S. border with Mexico. He told his fellow candidates that if they don't think walls work, "ask Israel." Governor John Kasich then cut off Jeb Bush to disagree with Trump saying: "We all know you can't pick them up and ship them back," referring to the estimated 11 million undocumented immigrants living in the U.S. Trump then told Kasich to let Bush speak. "Thank you, Donald, for allowing me to speak at the debate," Bush said with a hint of sarcasm. "What a kind man you are."
Later, when Trump railed against the Trans-Pacific Partnership and said it "was designed for China to come in through the back door," Senator Rand Paul asked moderator Gerald Baker why he didn't correct Trump and point out that China isn't part of the deal. The Wall Street Journal editor-in-chief responded by seemingly trying to explain what he thought Trump meant.
The mildly tense exchange, however, was sharp contrast to what happened during the CNBC debates in October. The GOP candidates said that CNBC moderators John Harwood, Becky Quick and Carl Quintanilla didn't live up to their standards. Donald Trump complained early on that Harwood didn't ask a question very nicely then later called the questions "nasty and ridiculous."
Senator Ted Cruz agreed. "The questions that have been asked so far in this debate illustrate why the American people don't trust the media," he said "This is not a cage match."
After the October 28 debate, President Barack Obama poked fun at the GOP candidate's reaction to the CNBC moderators. "Have you noticed that everyone of these candidates say, 'Obama's weak. Putin's kicking sand in his face. When I talk to Putin, he's going to straighten out,'" the president said last week. "Then it turns out they can't handle a bunch of CNBC moderators at the debate. Let me tell you, if you can't handle those guys, then I don't think the Chinese and the Russians are going to be too worried about you."
In early November, a number of Republican presidential campaigns agreed to try and work directly with the television networks to set the ground rules for future debates. The candidates said they wanted more control over screen graphics and more leverage in deciding how many questions are asked to each candidate, among other things.
In Tuesday's contests, Governor Bobby Jindal was the only candidate who objected to the moderators' queries. When asked to name one Democrat he admires, Jindal dismissed it as a "silly question" and moved on without answering.