Republican Candidates Linked to QAnon Are Racking Up Primary Wins
A growing number of candidates for federal office with ties to the QAnon conspiracy theory are winning their Republican primaries.
The latest candidate to join the list is Lauren Boebert, a restaurant owner and gun rights activist who defeated five-time incumbent Representative Scott Tipton in Colorado's Republican primary on June 30. Trump had endorsed Tipton but celebrated Boebert in a tweet on Tuesday, writing: "Congratulations on a really great win!"
Boebert previously expressed her openness to the "Q movement" in May during an appearance on Steel Truth, an online show hosted by QAnon believer Ann Vandersteel.
"I am familiar with that," Boebert said. "Everything I've heard of Q—I hope that this is real. Because it only means America is getting stronger and better and people are returning to conservative values."
When asked to clarify her stance on the issue, Boebert's campaign told Newsweek: "I'm glad the IG and the AG are investigating deep state activities that undermine the President. I don't follow QAnon."
There are at least eight other people who have demonstrated some support for QAnon appearing on the ballot in November, according to the liberal research firm Media Matters—though many are considered unlikely to win seats as they are running in Democratic areas.
Four of those candidates are from California: Mike Cargile, Erin Cruz, Alison Hayden, Buzz Patterson. The remaining candidates are spread across the country: Jo Rae Perkins in Oregon; Angela Stanton-King in Georgia; Ron Weber in Ohio; and Johnny Teague in Texas.
Many of their interactions are on social media. Cargile's Twitter profile includes the QAnon slogan: "Where we go one, we go all." Hayden, Stanton-King, Teague and Weber have all retweeted content that promoted QAnon theories or that used the group's hashtags.
Newsweek has reached out to each of their campaigns for comment on their views of QAnon, but did not receive a response prior to publication.
Other candidates have been more explicitly vocal about their support. After Perkins won her Senate primary in Oregon, she said in a speech: "I stand with President Trump, I stand with Q and the team. Thank you, Anons, and thank you, patriots. Together, we can save our republic."
Cruz in California told NBC News that QAnon supporters have "legitimate concerns" and are posting accurate information online. Patterson once responded "yep!" to a Twitter user who asked if he supported "the Q movement."
Joseph Uscinski, a political science professor at the University of Miami who has written a book about why people believe in conspiracy theories, said these candidates likely feel more encouraged to run now because of the president.
"Trump has built a coalition of conspiracy-minded people and he controls the Republican Party. If there is an opportune time for people with these beliefs to run for office on the Republican side, it's now," Uscinski told Newsweek.
Joanne Miller, who studies the political psychology of conspiracy theories at the University of Delaware, agreed that Q-linked candidates running for office "have certainly been emboldened to do so."
The president has not publicly endorsed QAnon, but he has retweeted some supporters of the conspiracy theory.
QAnon emerged from posts that "Q"—a mysterious internet figure—placed on message boards like 4chan in 2017. "Q" has claimed to have knowledge about a secret war President Donald Trump is waging against a "deep state" conspiracy of political elites in Washington.
Most Americans don't know anything about the conspiracy theory. In a Pew Research poll released in late March, 76 percent of Americans said they had never heard of the group. One-in-five people said they had heard "a little" about it, and only 3 percent said they heard "a lot."
Miller noted that it would be premature to link the success of these candidates directly to the QAnon movement. She was not aware of any polling data on the relevance of the conspiracy theory in these races.
"It's not clear to me that these primary wins have anything to do with QAnon versus whether they are due to a sentiment among Republican primary voters that is more of an anti-establishment wave. We're seeing incumbents lose primaries against challengers and some of these challengers have been Q supporters," Miller said.
There have been more than 50 candidates running for Congress this election cycle who had previously expressed enthusiasm for or given credence to QAnon, Media Matters found. Many have already lost their primaries or had dropped out of the race.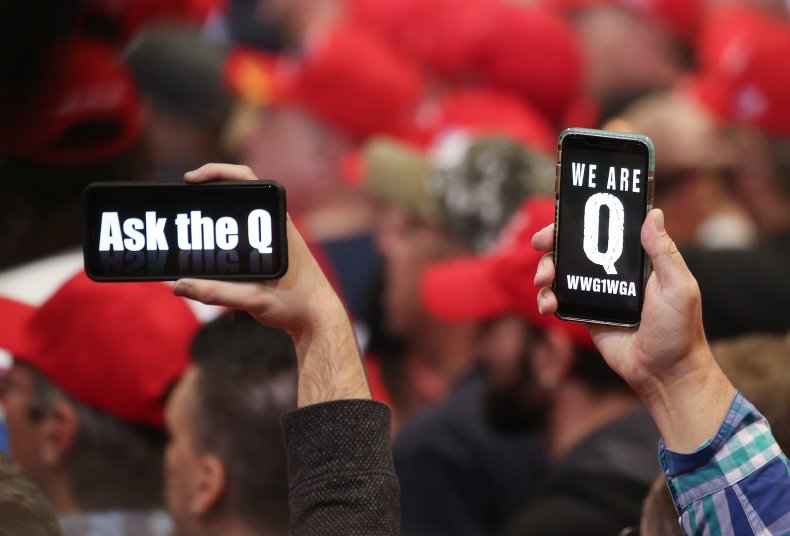 Two more candidates could join the list of QAnon-linked Republicans who will appear on the ballot in November. One of them is Marjorie Taylor Greene in Georgia, who is the most likely candidate to win this fall and make it to Congress.
Greene beat her runoff opponent by 20 points in the primary, and the district she is running in is a safe Republican one. In a video posted to Youtube, she praised the founder of QAnon as a "patriot."
"He is someone that very much loves his country, and he's on the same page as us, and he is very pro-Trump," Greene said.
She added: "Now there's a once-in-a-lifetime opportunity to take this global cabal of Satan-worshiping pedophiles out, and I think we have the president to do it."
Newsweek has reached out to Greene's campaign, but did not receive a response prior to publication.