Republican Candidates Meet Without Donald Trump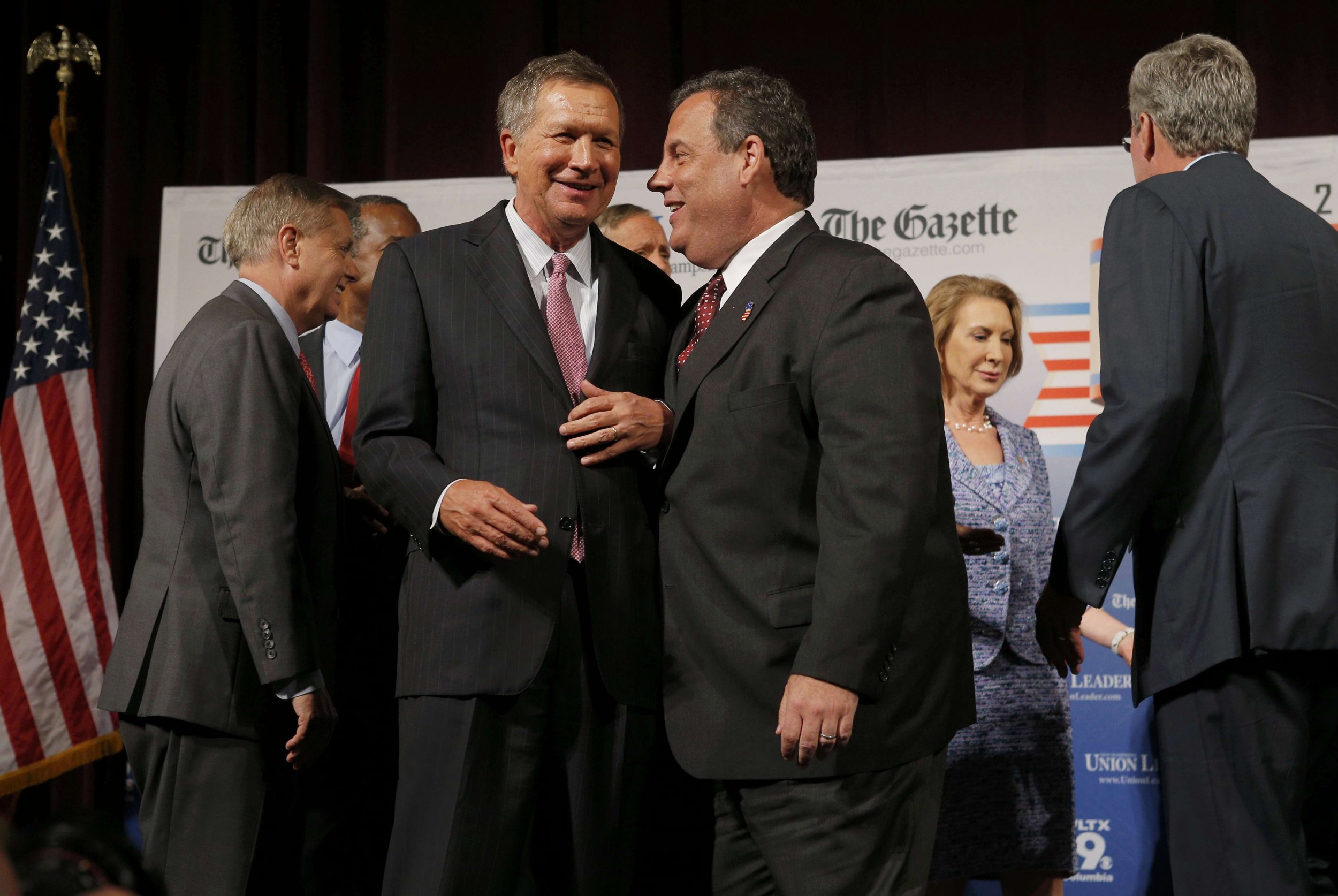 The Republican presidential race's second- and third-tier candidates got a chance to shine Monday night in New Hampshire, in a forum that served as a warmup to the party's first debate later this week. It probably helped the participants that business tycoon Donald Trump was not in the building.
On an evening that brought together nearly the entire field of Republicans (Trump, former Arkansas Governor Mike Huckabee and former Virginia Governor Jim Gilmore all declined to attend), it was candidates like New Jersey Governor Chris Christie, former Hewlett-Packard CEO Carly Fiorina, former Pennsylvania Senator Rick Santorum and Texas Senator Ted Cruz who came off as the most polished and poised onstage (or in Cruz's case, via satellite). Of those, only Cruz seems to be a lock to be onstage in Cleveland Thursday for the first official presidential debate, on Fox News. The others are either on the bubble or unlikely to finish in the top 10 of the national polling average necessary to qualify.
But the pressures of national live television can be a great equalizer, and it no doubt helped those candidates struggling with name recognition and credibility just to appear on the same stage as the leading GOP contenders, like Wisconsin Governor Scott Walker and former Florida Governor Jeb Bush. Said retired neurosurgeon Ben Carson, "I think these kinds of forums are obviously very important, particularly for individuals like me. Fifty percent of America still doesn't know who I am. Probably going to be a little better after tonight."
There were few fireworks or revelations in a format, hosted by regional newspapers in the early primary states and aired on C-SPAN, that was aimed at probing the candidates on their policies, rather than allowing them to take each other on. Each of the 14 participants got a few minutes at a time to answer questions from the moderator, talk radio host Jack Heath of WGIR-AM in Manchester, New Hampshire, but never shared the stage. Instead, they waited for their turn, seated side by side in the front row of the audience.
Occasionally, the camera would pan to a shot of the candidates in the audience. At one point, former Governor George Pataki was seen reviewing notes on flash cards. Earlier, South Carolina Senator Lindsey Graham was caught whispering something to Fiorina, seated next to him, then giggling. The event had the odd feel, at least when watching it on C-SPAN, of students at a school talent show, or players sitting in the dugout during a baseball game, awaiting their turn to bat.
Three of the sitting senators in the race, Cruz, Florida Senator Marco Rubio and Kentucky Senator Rand Paul, didn't make it up to New Hampshire, thanks to a Senate vote to defund Planned Parenthood (which failed). So they appeared via live stream from Washington, D.C., which made for a somewhat disjointed exchange. Still, it will be hard for Paul to blame the logistics for one of the shakier performances of the night. Not only did he misspeak and talk about his push to defund Obamacare (he meant Planned Parenthood), but he also gave a rambling reply when asked to name the first foreign country he would travel to as president.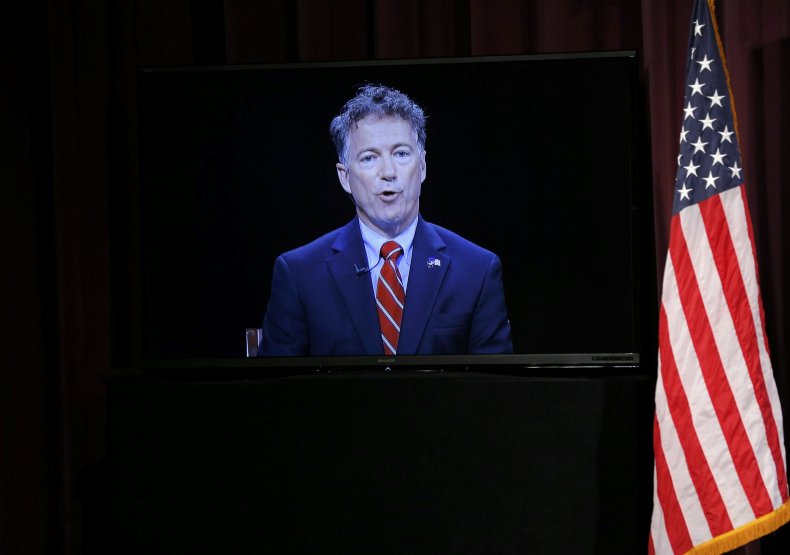 Ultimately, he said, it would be "either China or Russia," because, he rationalized, "it's important that we do engage with the world." For most Republicans, the automatic response to that question is Israel, and Paul's response won't do much to assuage conservative concerns that he's not sufficiently supportive of the Jewish state. The Kentucky senator was also forced to spend much of his time on camera defending his critique of American spy techniques and drone strikes that have targeted American citizens.
Heath tried to challenge Bush on Common Core, the controversial set of national education standards that he has supported. "Common Core curriculum have been controversial here in New Hampshire," Heath told former governor. "Should state and local school boards reject any so-called national education standards?" But Bush wasn't biting. "They should. States ought to create standards," he replied. "They should be high, they should be state-driven and locally implemented. The federal government should have no role in the creation of the standards." Of course, the federal government didn't participate in developing Common Core, though it has encouraged its adoption.
Otherwise, there was very little deviance from Republican orthodoxy Monday night. All 14 of the candidates reiterated, at various points, their support for balancing the budget, getting rid of Obamacare, securing America's borders and reforming entitlements (including raising the retirement age for Social Security, which some of them favor). And there were no efforts to attack each other. The gathering actually turned out to be quite chummy, with Bush praising Graham on foreign policy and Jindal on education and Santorum recommending that if the U.S. puts a woman on the $20 bill, Fiorina would be a good pick.
Instead, they trained their fire on Democratic front-runner Hillary Clinton, with Graham and Fiorina leading the charge. "She has...lied about her servers and the kinds of information she on her server and why she kept everything on a single device," Fiorina said at one point. "These go to the core of her character."
"Every person that's participated in this debate is far better than any of the Democrats running," Bush said in his closing remarks. "I'm really impressed with the caliber of the people that are running for president" in the GOP primary.
It's not likely to be nearly so friendly on Thursday when the discussion moves to cable news, and Trump, the campaign's most unrestrained flamethrower, joins the fray.