Video: Ben Carson Decries College Campus Protests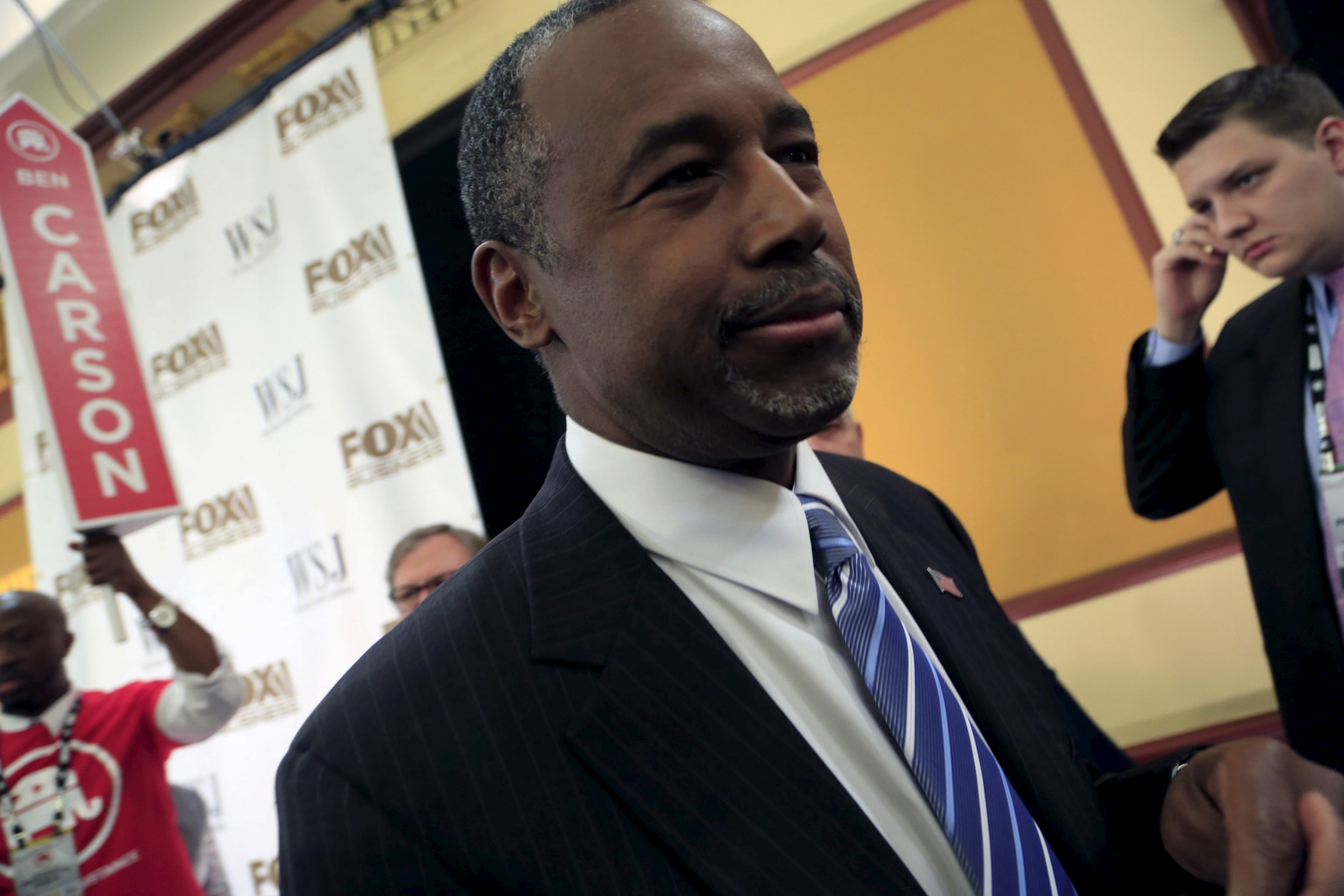 This is the sort of thing that gets Ben Carson, Republican presidential front-runner and anti-PC warrior, all riled up.
Over the last several days, college students at the University of Missouri have drawn national attention for forcing out their president, Tim Wolfe, with a series of protests over his response to allegations of racism on campus. Concurrently, students at Yale University have clashed with faculty and held a "march of resilience" over frustration with a residential adviser's reply to an administrative email discouraging students from wearing offensive Halloween costumes.
Carson, a Yale graduate himself, told Fox News's Megyn Kelly that the country is becoming too "tolerant…[by] accepting infantile behavior." It wasn't clear what behavior he was referencing. Although Kelly had asked him a question about University of Missouri students, who she said are now calling law enforcement as a response to offensive language, but most of their conversation focused on Yale.
At Carson's alma mater, a video recently surfaced showing students in a shouting match with the master of one of Yale's residential colleges. His spouse, also a Yale faculty member, had written an email in response to the university president's Halloween letter in which she praised free speech and lamented the effort to regulate Halloween costumes.
Trigger warning: The video below contains the word "fuck."
As Newsweek detailed in its profile of Carson last week, the former neurosurgeon, long considered a role model in the African-American community, has a do-it-yourself attitude toward minority issues, espousing a message of self-reliance. He has framed his presidential campaign in large part as a reaction to political correctness, which he decries in every stump speech.
"It's not a debate," Carson said. "The two sides need to sit down and have an open discussion," rather than demonizing each other. "This is just raw emotion."
The situation at the University of Missouri is more extreme. Whereas Yale's president visited with protesting students, Tim Wolfe was so disliked that one graduate went on a hunger strike until he resigned. As Newsweek reported Wednesday, threats of violence at Mizzou on social media led to the arrest of a 19-year-old man this week.
The former neurosurgeon urged calm on Fox, but he went a step further than citing "raw emotion." "People are being manipulated," he said, "by outside forces who wish to create disturbances." In past interviews, Carson has pointed the finger at "secular progressive" liberals (including President Barack Obama), accusing them of aggravating racial tensions by promoting certain groups' rights at the expense of others.
Kelly and Carson were mostly in agreement that the argument is about free speech versus censorship (in the Yale case, speech would be a Halloween costume). Student protesters have framed the issue as a case of oppression of marginalized groups.
Carson said the climate was very different when he went to Yale (he graduated in 1973). Many journalists—who tend to lean toward the "free speech" angle, giving them rare common cause with a candidate who has condemned the "biased media"—have compared current campus events to the late 1960s. Back then, the observation inevitably runs, it was the administration trying to quell students' disruptive speech, such as protesting the Vietnam War. Now students are trying to check the adults' offensive speech. And now students, instead of protesting against the administration, are demanding they regulate campus life with a heavier hand.
In party terms, the issue is less black and white than Carson implied. Barack Obama, the supposed figurehead of the liberal "secular progressive" movement, recently said he doesn't think college students "need to be coddled," which isn't that far off from Kelly's central message: Buck up, kids.
Other candidates weighed in on the issue early Thursday morning. Chris Christie, speaking at an event in Iowa, said Obama has allowed a culture of "lawlessness" to proliferate across the country. Speaking to Fox News, Donald Trump called Wolfe "weak" for resigning.