Republican Candidates React (or Don't) to Charleston Shooting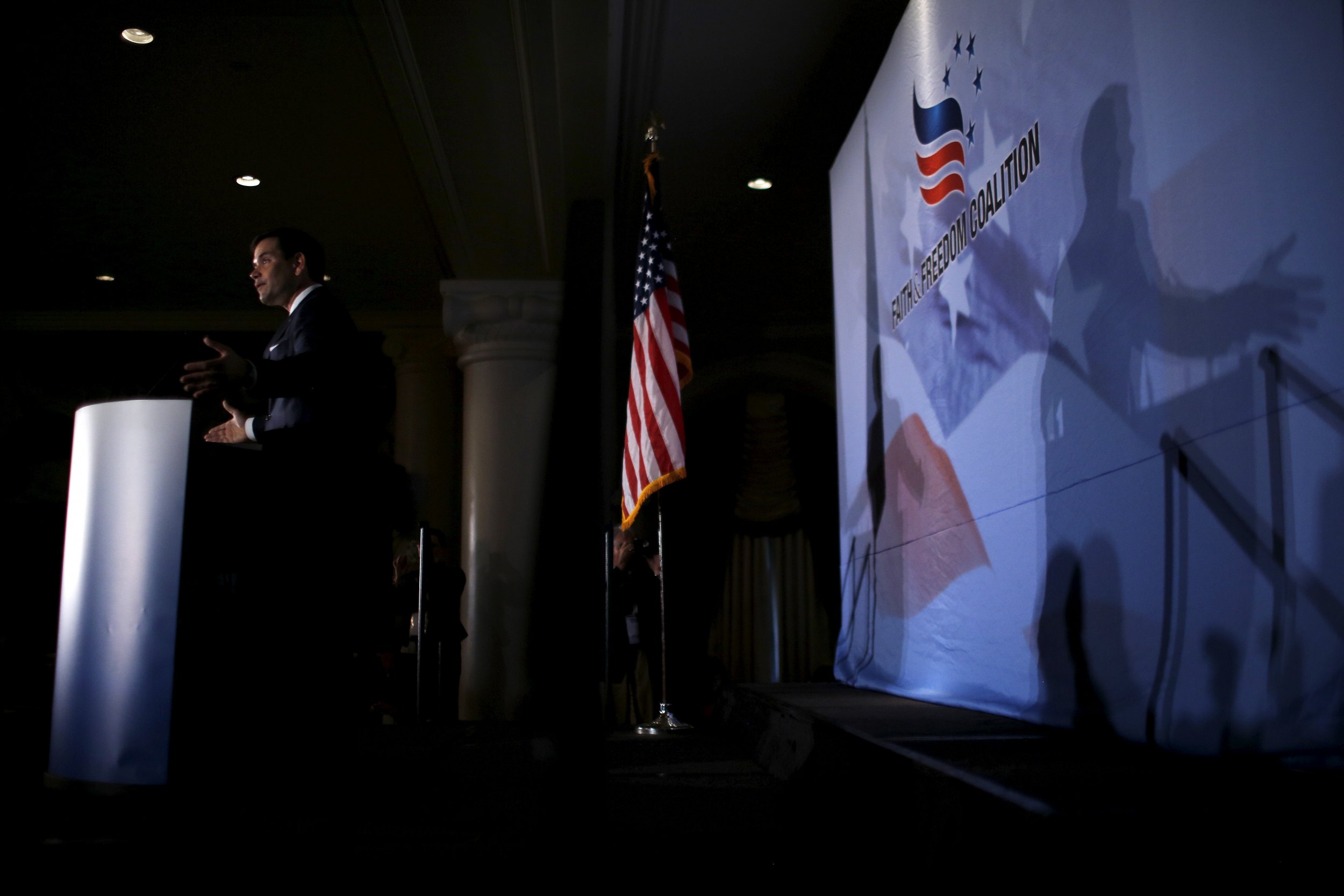 The morning after a lone gunmen shot up a Bible Study class at one of America's most historic African-American churches, leaving nine parishioners dead, three Republican presidential candidates and a GOP senator up for reelection in 2016 spoke at the kickoff luncheon for a conservative political conference hosted by the Faith and Freedom Coalition and Concerned Women for America. The Georgia-based Coalition, which was founded by Christian conservative activist Ralph Reed in 2009, is billing the gathering as "the premier event for people of faith and conservative activists." And yet, it wasn't until well past the first hour of speeches that anyone addressed the shooting death of nine black Christians in any depth, or the role race played.
Presidential hopefuls Sens. Marco Rubio of Florida and Rand Paul of Kentucky addressed the crowd first, followed by Wisconsin Sen. Ron Johnson. Only Paul even mentioned the shooting, asking in passing "what kind of person goes into a church and shoots nine people?" Paul said the incident was evidence of "a sickness in our country" before launching into a broadside on big government. He did not mention that the attack was apparently racially motivated. In his speech, Rubio didn't bring up the shooting at all, though he did Tweet his condolences Thursday morning.
Elsewhere, 2016 Republican candidates Jeb Bush and Donald Trump postponed planned events in South Carolina on Thursday, while another candidate, senior South Carolina Sen. Lindsey Graham, cancelled an appearance in Philadelphia to rush home. Former New York Gov. George Pataki, a 2016 longshot, put out a statement condemning the purported "hate crime."
Among Democratic primary candidates, Vermont Sen. Bernie Sanders went furthest, condemning the attack as not just a tragedy but "an act of terror." In an email to supporters, Sanders wrote that "This hateful killing is a horrific reminder that, while we have made important progress in civil rights for all of our people, we are far from eradicating racism." A spokesman said he has postponed a Sunday trip to Charleston. Democratic frontrunner Hillary Clinton also addressed the "horrific massacre" in campaign remarks in Nevada. "We have to face hard truths about race, violence, guns and division," she said.
Back in Washington, D.C., however, the campaign went on more or less as usual, even at an event dedicated to faith.
Paul did spend several minutes at the end of his remarks discussing the case of Kalief Browder, a young black man who committed suicide after spending three years in prison, despite never being charged with a crime. Browder's death earlier this month spotlighted the unequal impact states' bail requirements have on poor defendants. Paul pointed out that Browder's incarceration was also a violation of the sixth amendment right to a speedy trial.
Sen. Ted Cruz was the last of the senators to speak at the Coalition meeting, but the first to make a connection between the religious tenor at the luncheon and the tragedy that occurred at a house of worship. "Today the body of Christ is in mourning," Cruz said in his opening remarks. "Christians across the nation, across the world, believers across the world, are lifting up the congregants at Emmanuel AME." He then called for a moment of silence for the victims.
All told, however, the assembled politicians at the luncheon spent more time railing against the plight of Christians persecuted overseas—red meat for the base, certainly, but for a party that's eager to expand its appeal to minority voters, a missed opportunity to condemn racism and reach out to black Christians.