Furious Voters Wish Death and Unemployment on Republicans in Nationwide Recess Demonstrations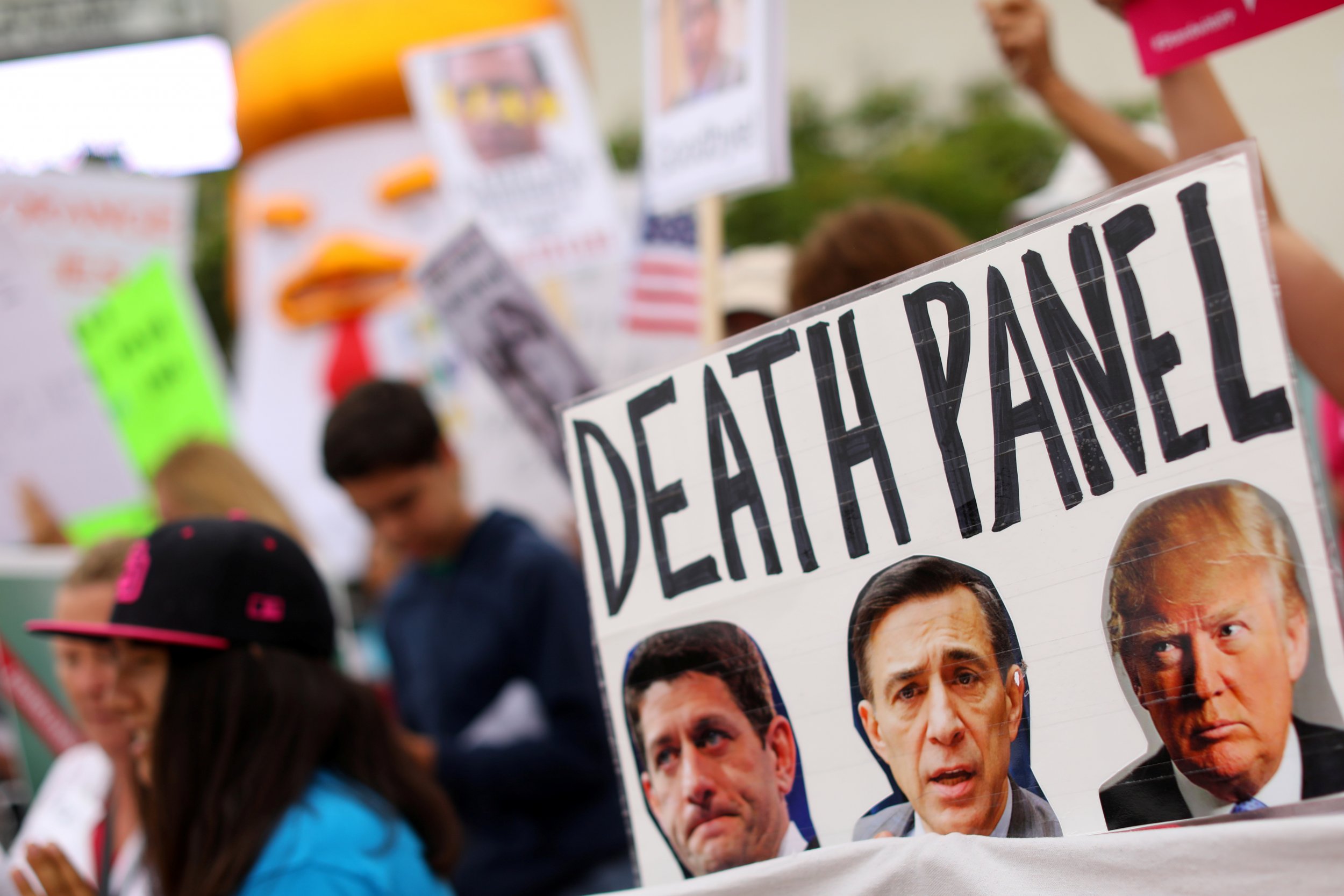 Republicans kicked off a monthlong respite from the drama surrounding national politics in Washington D.C. this week, only to return home to more chaos and anger from local constituents who elected them to office.
Just as Democrats faced the newly founded Tea Party protesters during the 2009 summer recess, GOP lawmakers were swarmed with major demonstrations immediately after heading back to their hometowns, mostly due to their agenda on health care.
Related: The GOP attempts to repeal Obamacare yet again after failing 70 times
Voters flocked to the first town halls scheduled for Republican representatives since the majority left Washington Friday afternoon, demanding an end to the party's efforts to repeal former President Barack Obama's landmark health care initiative, the Affordable Care Act.
Things got ugly very quick.
One protestor attending a town hall in California with Representative Doug LaMalfa—who voted in favor of replacing Obamacare with the GOP's widely opposed American Health Care Act—wished for his death while holding a sign that read "Lackey for the Rich!"
"May you die in pain!" He shouted at the Republican congressman.
Others dressed as The Wizard of Oz's infamous Wicked Witch of the West to protest LaMalfa's support for legislation that even President Donald Trump reportedly described as "mean" during a Republican luncheon at the White House.
Senator Cory Gardner also took a beating from his local voters in Colorado, one of whom demanded to know "why on Earth" the conservative voted consistently to repeal Obamacare.
"Seven years ago, when I ran for Congress, I said that I would vote to repeal and replace Obamacare, and I'm going to continue to live up to the promise I made," Gardner said. The crowd responded with shouting and boos, sharply rejecting his suggestion that his party will continue to attempt to dismantle the health care bill.
In most photos from local reporters and Twitter users circulating social media during Republican town halls nationwide, protesters can be seen holding signs that read in bold letters "RESIGN," "One Term Only" and other scathing messages calling for the removal of elected officials currently holding office.
Meanwhile, videos from inside the events show locals appearing dumbfounded and frustrated by Republicans' responses as to their stalled agenda six months into holding power in both houses, and their policies on issues such as health care and the environment.
"I appreciate the enormous challenges and difficulties you face as a member of Congress," one man tells LaMalfa in a video from his town hall Monday night. "However, along with many Americans and backed by scientific consensus, I am convinced that rapid climate change caused primarily by the combustion of fossil fuels is the most significant issue facing this country."
"I do not buy into the idea that man-made activity, such as fossil fuels, affects climate change," the congressman responded, before being drowned out by audience members banging their heads in frustration and berating him out with boos.
Even for conservative lawmakers' Republican voters, the wish to carry on from repealing Obamacare could be well warranted: Newsweek found at least 70 attempts by the GOP to repeal, diminish or otherwise reduce the legislation since it came into law in 2010.
Several Republicans who expressed uncertainty about the upcoming monthlong trip back home have yet to schedule town halls. That isn't to say the entire party is hiding behind closed doors: Georgia representative Buddy Carter has scheduled at least nine town hall meetings during his vacation.
Just five days into what was supposed to be the longest annual holiday for lawmakers nationwide has instead turned into hell for some. And it may only just be beginning.