Former Republican Rep. Chris Collins Sentenced to 26 Months, Fined $200,000 Over Insider Trading Scheme
Former Republican Rep. Chris Collins has been sentenced for "participating in a scheme to commit insider trading and for making false statements to federal law enforcement agents when interviewed about his conduct," according to the Justice Department.
U.S. District Judge Vernon S. Broderick handed down the sentence in Manhattan federal court on Friday of 26 months in prison, a $200,000 fine, and one year of supervised release.
Collins admitted to his role in the scheme last year, after initially denying any wrongdoing during his re-election campaign in 2018. The former New York 27th district representative pleaded guilty to felony conspiracy and false-statement charges on October 1, 2019.
Collins told his son pending news about a publicly-traded company, resulting in his son and seven others selling their stock before the news was made public and the stock value dropped. By selling their stock early they avoided $700,000 in losses.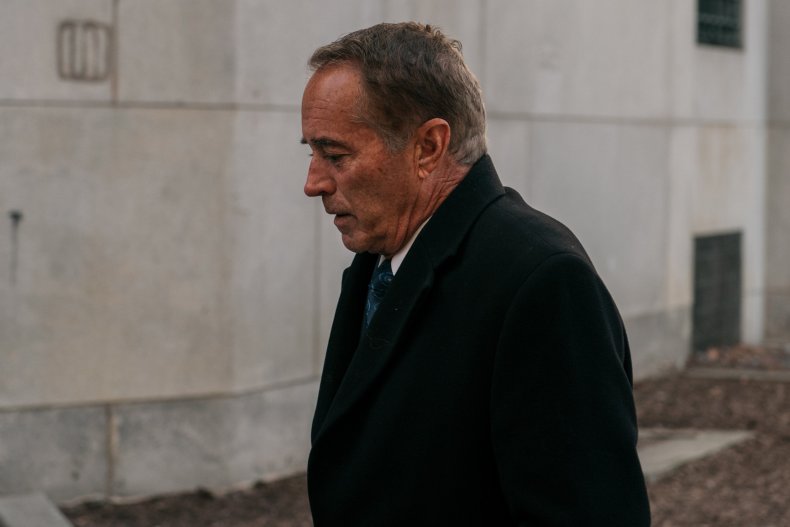 United States Attorney for the Southern District of New York, Geoffrey Berman, said in a statement:
"Former New York Congressman and Innate board member Christopher Collins received confidential, nonpublic information that one of Innate's drugs in development had just failed a clinical trial.
"Moments later, from the White House lawn, Collins notified his son Cameron, so that he could trade the stock ahead of the public announcement and avoid taking a substantial loss on the stock. He then lied to the FBI when asked about his conduct.
"Collins's greed and disregard for the law have now led to a criminal conviction for insider trading and lying to the FBI, his resignation from Congress, and over two years in federal prison. Lawmakers bear the profound privilege and responsibility of writing and passing laws, but equally as important, the absolute obligation of following them.
"Collins's hubris is a stark reminder that the people of New York can and should demand more from their elected officials, and that no matter how powerful, no lawmaker is above the law."
Collins was a major investor in Innate Immunotherapeutics Ltd., a company that had been developing a drug to treat a rare form of multiple sclerosis. The drug failed its clinical testing and Collins found out while at a party on the White House lawn.
A CBS news camera captured Collins calling his son Cameron, which led to him and six others selling their stock. Collins later lied about the phone call to the FBI resulting in the false-statement plea.
Cameron Collins and his fiancée's father, Stephen Zarsky, another Innate investor, pleaded guilty to their role in the scheme and both are due for sentencing next week.
Collins served seven years in Congress, being first elected in 2012, and then re-elected three times, including in 2018 after being indicted on federal charges. During the re-election, he maintained his innocence and said he would fight the charges.
However, last year he changed his plea, admitted to being involved, and resigned from office. According to the Inner City Press, Collins said: "I am standing here, probably the last time I will do anything in public. I left Buffalo. I cannot face my constituents. People feel sorry for me. They shouldn't. I did what I did."
Since pleading guilty, Collins moved to Florida and the judge recommended that his sentence be served at FCP Pensacola, which is a minimum-security prison on the Florida panhandle.