Republican Congressman Says U.S. Is Heading Toward Another Civil War
Republican Congressman Steve King of Iowa tweeted Sunday that the United States is heading toward another civil war.
"America is heading in the direction of another Harpers Ferry," he wrote. "After that comes Ft. Sumter."
Harpers Ferry, West Virginia is where abolitionist John Brown led a raid against a federal armory in an attempt to start a slave revolt. The battle of Fort Sumter was the first battle of the Civil War, in which the Confederate artillery bombarded the Union army in the Charleston, South Carolina harbor.
King's tweet was in response to an article about protesters occupying a U.S. Immigration and Customs Enforcement office in Portland, Oregon, in an attempt to pressure the Trump administration to end its "zero tolerance" immigration policy. The policy resulted in more than 2,000 children being separated from their parents before President Donald Trump signed an executive order earlier this month that ordered families to be kept together. The rest of the policy, however, was not changed.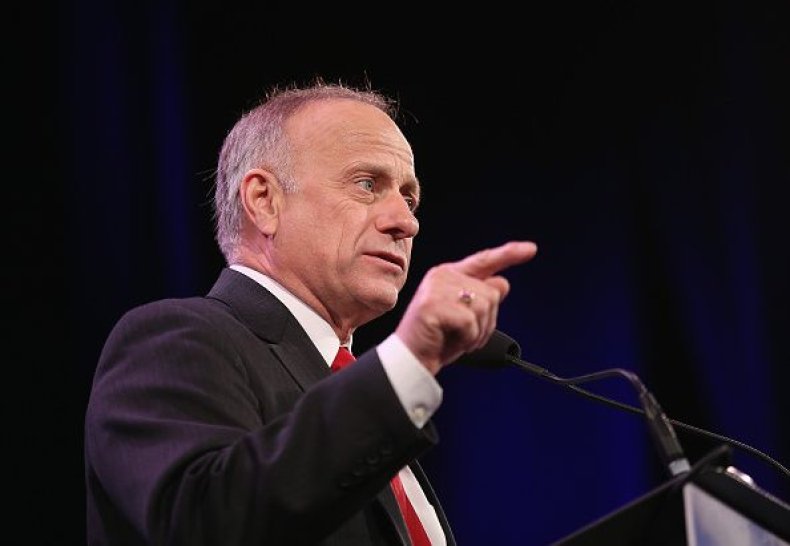 "If you are smuggling a child then we will prosecute you, and that child will be separated from you as required by law," Attorney General Jeff Sessions said while outlining the stricter immigration stance in April. "If you don't like that, then don't smuggle children over our border."
Trump initially claimed he didn't have the ability to end the practice of separating children from their parents in families that cross the border illegally, but signed an executive order to halt the process amid intense backlash from both parties.
King is no stranger to controversy. The conservative congressman retweeted noted Nazi sympathizer Mark Collett earlier this month. Collett is a British activist who has described himself as an admirer of Adolf Hitler. King said he was unaware Collet was a white supremacist but has not deleted the tweet.
In the past, King has also compared immigrants to dogs, said "we can't restore our civilization with somebody else's babies" and argued, without evidence, that immigrants have "calves the size of cantaloupes because they're hauling 75 pounds of marijuana across the desert." King has also tweeted, "Diversity is not our strength."
King also participated in the promotion of the unfounded birther conspiracy that raised questions about former President Barack Obama's birthplace. "I looked into that," he said in a 2012 interview. King said newspaper clippings from Hawaii that announced Obama's birth could've been sent "by telegram from Kenya."