Republican CNN Host Says Trump Is 'More and More Ignoring Congress,' Suggests He's 'Acting Like a King'
Conservative CNN host S.E. Cupp said on her Saturday evening show that President Donald Trump continues to disregard the constitutionally mandated role of Congress, despite his impeachment by the House of Representatives in December.
Cupp, who identifies as a Republican, discussed Trump's controversial decision to kill Iran's military commander Qassem Soleimani in a January 3 drone stroke after he arrived in Iraq. The president's unilateral decision has been strongly criticized by Democrats in Congress, as well as some Republicans. Trump made the decision without consulting Congress and his legal justification for the strike has drawn outcry, as lawmakers have questioned the administration's assertion that Soleimani was planning "imminent" attacks against U.S. interests in the Middle East.
"Here's the deal, Trump might be impeached, but he also seems unleashed," Cupp said during her CNN show S.E. Cupp Unfiltered. "And it's only gonna get worse guys," suggesting that it was "certainly a possibility" that there could be war with Iran.
"I mean more and more [Trump is] going it alone," the host explained. "[He's] more and more ignoring Congress, the Constitution, the constraints meant to keep a president from acting like a king."
"Expect more of this defiance in foreign affairs and in his domestic agenda," Cupp said.
While Republicans have largely backed Trump's decision to take out Soleimani, some prominent GOP senators and representatives have rebuked the administration. A War Powers resolution, intended to restrain Trump's ability to escalate tensions with Iran, passed in the House of Representatives last week, with most Democrats voting in favor, along with three Republicans and the body's lone independent, conservative Representative Justin Amash of Michigan.
"The administration has provided no evidence to qualify its recent military action as a necessary defensive response to an imminent attack. Moreover, it absurdly relies on the 2002 Authorization for Use of Military Force and Article II of the Constitution as legal justifications," Amash, who was elected as a Republican but declared his independence last July, wrote on Twitter.
"The 2002 AUMF provides for war against Saddam Hussein's Iraq regime. It is not a valid authorization for any current engagement in Iraq, and it certainly does not apply to actions against Iran," he added.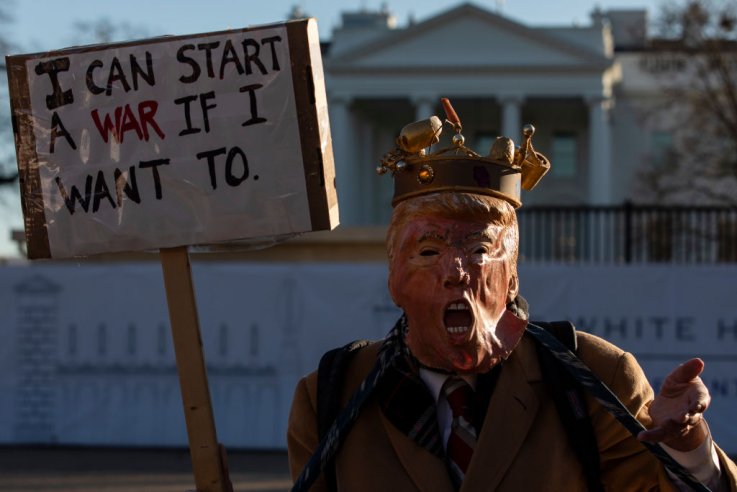 GOP Senator Mike Lee of Utah expressed anger at the Trump administration's closed door briefing last week about the attack. He explained to reporters that no clear evidence was provided to justify the attack and that lawmakers were told to simply support the president.
"It is not acceptable for officials within the executive branch of government...to come in and tell us that we can't debate and discuss the appropriateness of military intervention against Iran," he said. "It's un-American. It's unconstitutional and it's wrong."
Senator Rand Paul, a Republican from Kentucky, has raised similar concerns. In an interview with Fox News last week he noted that Trump's decision to withdraw from the Obama-era Joint Comprehensive Plan of Action (JCPOA) – known commonly as the Iran nuclear deal – has made the situation worse with Iran.
"I hate this. I hate that this is where we are going...There was much less killing, much less violence after the Iran agreement," Paul said.
Lee has also partnered with Democratic presidential candidate Bernie Sanders, an independent from Vermont, to put forward a Senate measure to constrain the president's ability to launch acts of war against Iran.
"I am proud to partner with Republican Senator Mike Lee to pass our No War Against Iran Act," Sanders tweeted on Saturday. "Defending the Constitution is not a partisan issue."
Several polls conducted by various media outlets and Ipsos over the last week show that the majority of Americans disapprove of Trump's actions towards Iran, with a majority also believing his decision to kill Soleimani made the U.S. less safe.
Republican CNN Host Says Trump Is 'More and More Ignoring Congress,' Suggests He's 'Acting Like a King' | U.S.