Republican Compares Losing Newsmax to the Holocaust
A Republican congressman has compared the dropping of Newsmax from cable TV due to a dispute over fees to the Holocaust, claiming that cable provider DirecTV was aiming to "silence conservative speech"—a claim the company has denied.
Eric Burlison, a Missouri representative, said, without naming the cable provider, that DirecTV was first responsible for "eliminating" One America News and "now they're going after Newsmax." He was one of several Republicans to make speeches in support of the network.
Newsmax ceased to air on DirecTV at 11:59 p.m. ET on January 24, after a dispute with the cable provider over a new broadcasting deal went unresolved. AT&T's DirecTV said it would have liked to continue offering the channel, but that Newsmax demanded a fee—as other major news channels do—to supplement advertising revenue.
The channel and a raft of GOP congressmen have argued Newsmax was "de-platformed" for being a conservative outlet.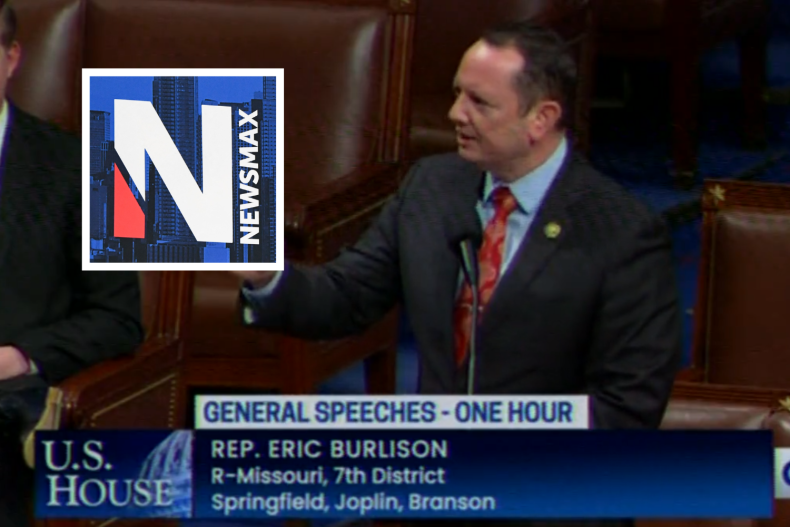 But the cable provider suggested it was the news channel that was willing to give up its free streaming services—which it said transmitted to 55 million U.S. households compared with 101,000 cable viewers—to go to cable in exchange for more fees. "Under this change in model, who's doing the de-platforming? Certainly not DirecTV," Michael Hartman, DirecTV's chief external relations officer, wrote in a January 23 letter responding to GOP concerns.
"On multiple occasions, we made it clear to Newsmax that we wanted to continue to offer the network," a DirecTV spokesperson said in a previous statement. "But ultimately, Newsmax's demands for rate increases would have led to significantly higher costs that we would have to pass on to our broad customer base."
Speaking on the House floor on Tuesday—four days after Holocaust Memorial Day on Friday—Burlison said: "Now we see entities, businesses that the federal government has given special privilege to, to provide over the air television, cable television, right away, to deliver entertainment to the homes of individuals across America, these companies choose to silence conservative speech—by first deplatforming or eliminating One America News and now they're going after Newsmax."
The One America News Network was dropped by Verizon Fios and DirecTV in 2022 over a separate fee dispute.
"There's a famous quote about what happened during the Holocaust, when the Nazis first came for some, and people said nothing," Burlison continued. "And then eventually they'll come for you. And I say this not as a Republican or a Missourian, but as a concerned citizen for a country who has these rights that were here because of the blood that was shed by thousands if not hundreds of thousands of patriots from the time of the American Revolution until today."
Burlison appears to be alluding to the quote by German pastor Martin Niemöller "First they came..." about the Nazis' rise to power, which was conceived through speeches delivered after the war.
Newsweek has contacted DirecTV for comment.
DirecTV has previously stressed that it would welcome Newsmax back on the same terms it had previously carried the news channel, which did not include a carriage fee, which is usually reserved for established networks.
"In no way is DirecTV working to limit conservative viewpoints," Hartman wrote. Noting Newsmax's Nielsen viewing figures accounted for 0.1 percent of households compared to Fox's 2.2 million household audience share, Hartman added: "If Newsmax ceases to authorize our carriage of their channel, our customers will still have access to their clearly preferred conservative news channel, Fox News, which has more viewers than MSNBC, CNN and Newsmax combined."