Is Republican Congressman Joe Barton A Victim Of Revenge Porn?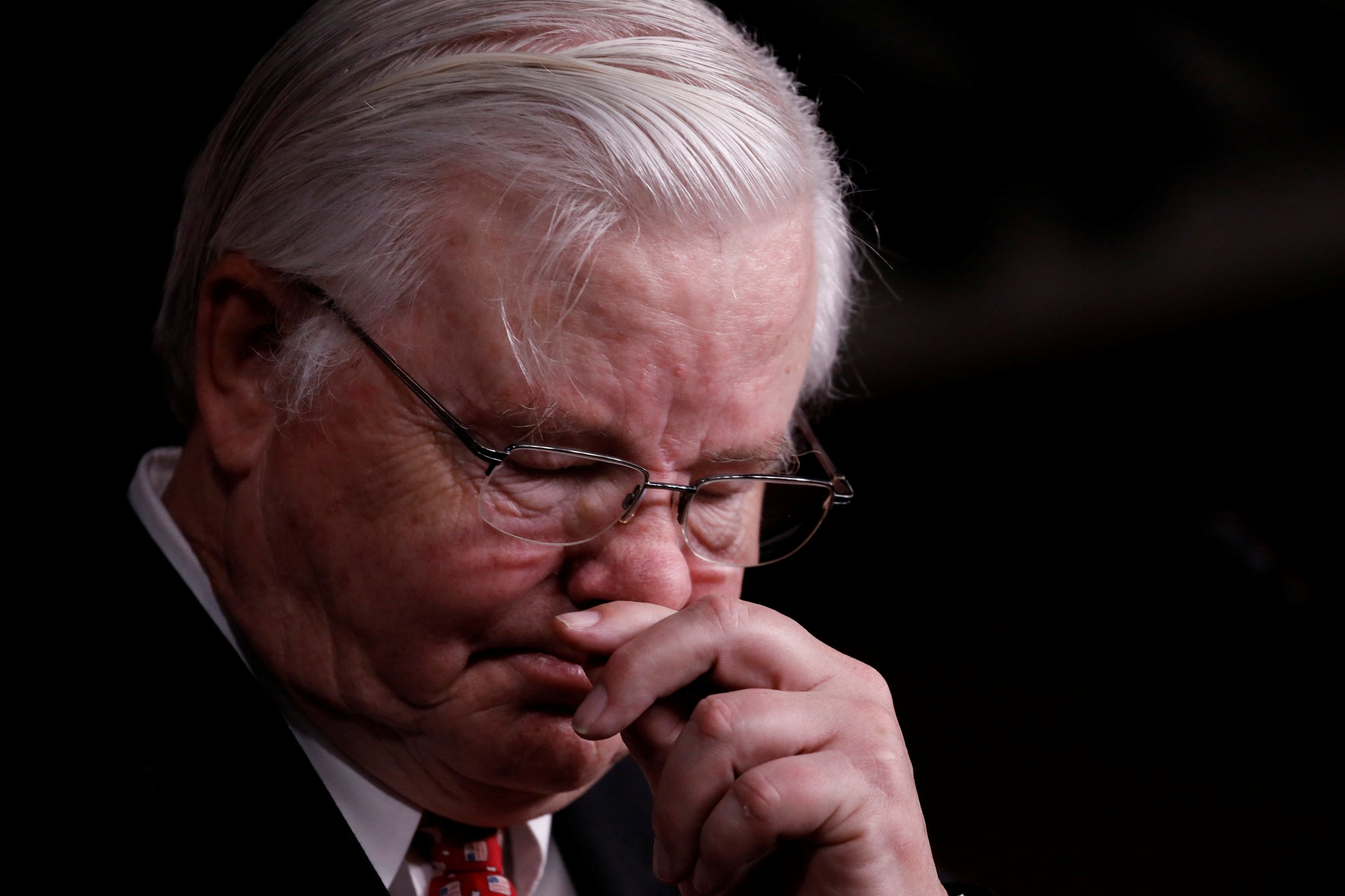 Texas Congressman Joe Barton apologized for sending a nude selfie that ended up all over social media, but claimed the person who leaked it was a woman with whom he had a consensual relationship.
"While separated from my second wife, prior to the divorce, I had sexual relationships with other mature adult women," he said in a statement on Wednesday. "Each was consensual. Those relationships have ended. I am sorry I did not use better judgment during those days. I am sorry that I let my constituents down."
An unknown Twitter user posted the picture of Barton pointing his camera upward from below his genitals alongside a text reading, "I want you soo bad. Right now. Deep and hard."
The 68-year-old politician claims he doesn't know who shared the graphic photo, which also prominently features Barton's distended belly.
"You're as aware of what was posted as I am," he told the Texas Tribune. "I am talking to a number of people, all of whom I have faith in and am deciding how to respond, quite frankly."
If Barton wishes to pursue the matter — at the risk of more personal disclosures, no doubt — he could cite Texas's revenge porn law, which forbids the "disclosure of intimate images" without "the effective consent of the depicted person."
The politican announced three weeks ago he was planning to run for his 18th term in Congress, but now said he is considering his political future.
Barton was the lone Texas Republican to back the Dream Act and was the Energy and Commerce Committee chairman during George H.W. Bush's presidency, a role he used to promote Texas's oil and gas industry.
In his personal life, he divorced his first in 1993, remarried in 2002, and severed that unsunderable union in 2015.
After the picture went viral on Wednesday, social media users pointed out that the politician might be a victim of revenge porn.
"If revenge porn isn't okay when it's done to Jennifer Lawrence, it isn't okay when it's done to an old male Republican lawmaker like Rep. Joe Barton, either. He isn't the one who should apologize. Be consistent, my fellow liberals. Don't punish the victim," wrote Ashton Pittman.
"So Rep. Barton was engaging in a consensual adult relationship, and the person he did that with shared his nude photo without his consent—am I crazy or isn't that revenge porn?" tweeted Olivia Messer.
It's certainly not the first time a D.C. politician has been caught with his pants down and embarrassed by his own hand. In 2011, then-Representative Anthony Weiner tweeted a picture of his underwear-covered erection, mistakenly thinking he was privately sending it to a supporter.
After initially saying his account had been hacked, Weiner was forced to admit that he had, in fact, posted the photo himself. He later resigned as the scandal grew to include more revelations of sexting. After a period of public remorse, he ran for mayor in New York City in 2013 and was leading in some polls when he was sunk by another sexting scandal, this time featuring Weiner using the alias "Carlos Danger." Some of the explicit material was sent to a 15-year-old girl, and Weiner pleaded guilty to federal charges. He is currently serving a 21-month sentence and his wife, Huma Abedin, is divorcing him.