Republican Congressman Likens Gun Control to Banning Cars in CNN Interview
Republican congressman Tom Reed likened gun control measures like universal background checks and outlawing large-capacity magazines to banning cars during an appearance on CNN on Tuesday morning.
Reed, a member of the House of Representatives from New York, sparred with network host Jim Sciutto over gun reform. Two mass shootings earlier this month that killed 31 people have sparked a nationwide debate over gun legislation and the Second Amendment.
Sciutto noted that Reed has voted against several background checks bills presented to the House. He asked the congressman to explain why such a measure shouldn't be a necessity when purchasing firearms. Reed went on to argue that universal background checks "attack law-abiding citizens."
"You're not attacking them," Sciutto responded. "You're asking them to take a step that we take when we renew our driver's license. Why is that such a grand infringement on the Second Amendment? "
Reed responded that the two situations are very different and that imposing a universal background check requirement for those who want to purchase firearms is going "too far." He also argued that universal background checks were politically unpopular, despite a Quinnipiac University poll that showed 94 percent of registered voters supported such a gun control measure.
Sciutto then moved on to high-capacity gun magazines, showing a picture of the one used by the shooter in Dayton, Ohio. According to authorities, the attack lasted less than a minute but the gunman was able to kill nine people and injured 27 more.
"I don't believe banning objects is going to be the solution to this issue," Reed said when shown the photo. Sciutto continued to press the congressman, asking "who in the country needs" a 100-round gun magazine.
"Where are you going to draw the line? Does that make you feel better that if we pass a law saying we're going to ban objects? You know what, why don't we ban driver's licenses? Why don't we ban cars? Let's get them off the streets because they're killing people," Reed said.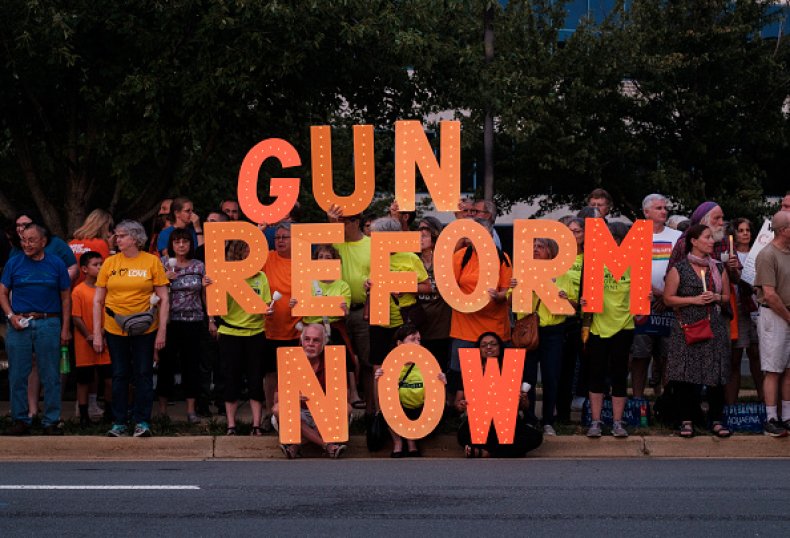 Shortly after the two shootings in El Paso and Dayton, President Donald Trump said he would support background checks legislation and that there was a "great appetite" for such a gun control measure.
But now, roughly two weeks after the attacks, Trump seems to be backing away from the idea. The president told reporters over the weekend that "we already have a lot of background checks."
"So, Congress is working on that. They have bipartisan committees working on background checks and various other things. And we'll see. I don't want people to forget that this is a mental health problem. I don't want them to forget that, because it is. It's a mental health problem," Trump said on Sunday.
Democratic leaders blasted President Trump for his reversal on the issue. Senate Minority Leader Chuck Schumer called the retreats "disappointing" and "heartbreaking" for the families of gun violence victims.
House Speaker Nancy Pelosi said she prays that Trump will "listen to the 90 percent of the American people who support universal background checks."