Republican Congressman Jason Lewis Mocked Women Saying Sexual Harassment Was Traumatizing: Report
In 2012, Jason Lewis, now a Republican Representative of Minnesota mocked women who had come forward to say they were traumatized by sexual misconduct. The comments were made on the syndicated radio show Lewis hosted at the time called The Jason Lewis Show, reported CNN, which parsed through old audio of the program.
Women had come forward and said they were sexually harassed by then-Republican presidential candidate Herman Cain during his tenure running the National Restaurant Association. Cain denied the allegations and did not get charged—women had received settlements, however.
Lewis, at the time, downplayed the seriousness of the situation.
"I don't want to be callous here, but how traumatizing was it?" Lewis said, according to CNN. "How many women at some point in their life have a man come on to them, place their hand on their shoulder or maybe even their thigh, kiss them, and they would rather not have it happen, but is that really something that's going to be seared in your memory that you'll need therapy for?"
Lewis later added in a mocking voice: "You'll never get over? It was the most traumatizing experience? Come on! She wasn't raped."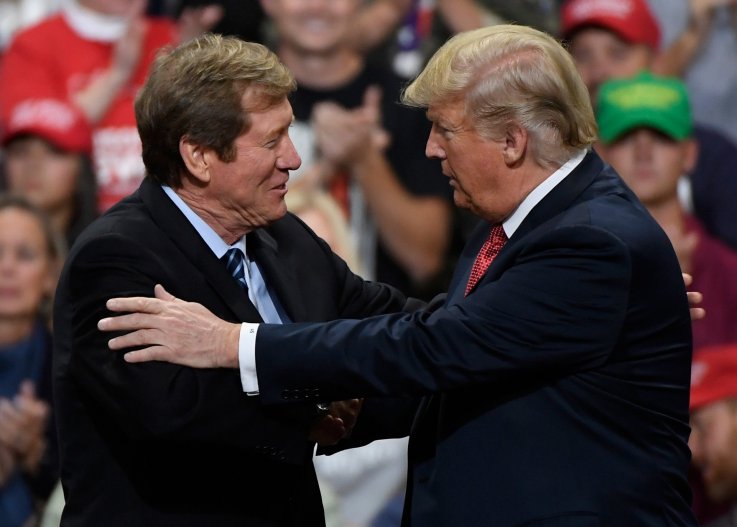 Lewis's campaign manager Becky Alery said these were "years old comments from talk radio" in a statement provided to Newsweek. Alery wrote:
"Democrats have become increasingly alarmed that radical movement candidate Angie Craig is once again failing in the race for MN-02, so we're returning to the land of smears by pointing to years old comments from talk radio that have been litigated over, and over, (and over!) again. In fact, $8 million dollars was spent on the old talk radio comments in 2016, but here we go again with bottom feeders who will do anything to help the left-wing cause! It's a lot more fun than dealing with weak candidate Craig who has refused to take any principled stances on any issue as she campaigned with Al Franken and Keith Ellison while pretending to be everything to everyone in this midwestern swing district. Really?"
Lewis has previously come under fire for audio surfaced by CNN's KFile in which the now-congressman lamented not being able to call women "sluts" anymore. Lewis said these comments were him being purposefully provocative for talk radio.
CNN was sent a "cease and desist" regarding the audio from representing the company that broadcasted the show, which CNN said it ws using under the "fair use."
Lewis, meanwhile, is in a tight battle to be re-elected heading into November. He's facing off against Democrat Angie Craig. RealClearPolitics had the race leaning Democrat but CNN had it as a toss-up. A poll this month, however, showed Lewis was up by a 3 percentage points just more than a month out from Election Day.
Craig recently received a big celebrity endorsement: actor Samuel L. Jackson. In an ad, Jackson shown by a kitty litterbox, saying he was helping out around Craig's house so she could be out campaigning because it's important she win.
"And I'd do anything to help her," Jackson said by litter-box. "Anything."
Republican Congressman Jason Lewis Mocked Women Saying Sexual Harassment Was Traumatizing: Report | U.S.