Republican Congressman Says Trump 'Playing Into Russia's Hands' by Not Conceding Election
Representative Francis Rooney, a Florida Republican, believes President Donald Trump and GOP allies are "playing into Russia's hands" and "undermining" the country's Democratic principles by not conceding the election to President-elect Joe Biden.
Rooney, who announced last year that he would not seek re-election, is one of a growing number of Republican lawmakers that have congratulated Biden and Vice President-elect Kamala Harris. The GOP congressman's seat was won in the current election by Representative-elect Byron Donalds, a fellow Republican. Rooney's successor has tweeted in support of Trump's legal fight against the election results as the president has made, without evidence, claims of widespread voter fraud.
"I think the peaceful transition of power is a critical element of our democracy. So I want to compliment and congratulate the president-elect," Rooney said Monday morning during an interview with CNN. The Republican lawmaker criticized the "hold" that Trump has on the base of GOP voters, describing it as "a little dangerous."
"I think we're playing into Russia's hands here by undermining our own democratic principles," Rooney said. "There's an election. It appears that the vice president won it. You look at all that vote counting that you all do such a great job of—I don't see there's any way it could ever be changed in any of these states, maybe Georgia. So let's get on with the program."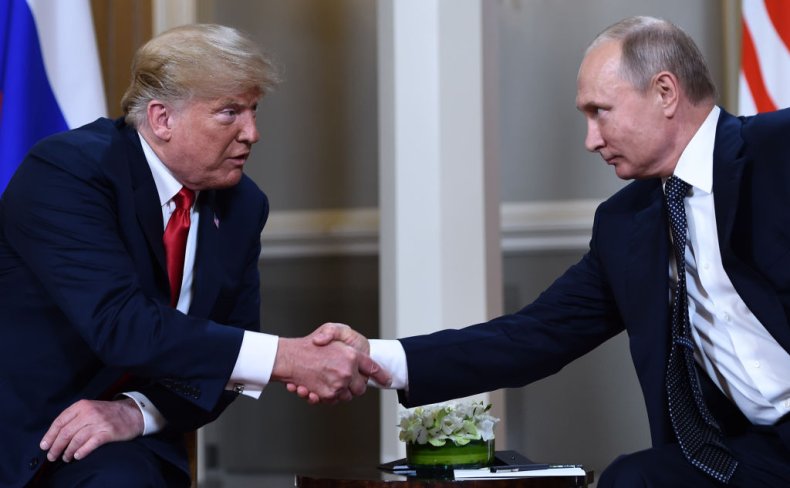 Biden's lead in Georgia is just 0.2 percent, or about 10,000 votes. A recount is planned in the Southern state, which has 16 electoral votes, but it is appears unlikely enough votes will be rejected or changed to benefit Trump.
Newsweek reached out to the Trump campaign for comment, but it did not respond in time for publication.
While the leaders of countries around the world—including the United Kingdom, Germany, France, Canada, Saudi Arabia and Israel—have congratulated Biden on his victory, Russian President Vladimir Putin has held off on doing so. A spokesperson for the Russian leader said Monday that Putin would await the outcome of Trump's legal challenges. Russian media have played up tensions in the U.S. election and promoted Trump's unsubstantiated claims of widespread fraud.
Putin quickly congratulated Trump in 2016 after he beat Hillary Clinton. U.S. intelligence agencies and special counsel Robert Mueller concluded that Russia interfered in that presidential race to discourage voters from supporting Clinton. Mueller's probe did not conclude that Trump or his campaign conspired with the Moscow-led effort.
Intelligence agencies warned that Russia was attempting to interfere once again in the 2020 election. Russia has denied interfering in 2016 or attempting to do so again this year.
Other prominent Republicans, including former President George W. Bush, have congratulated Biden and Harris.
"The challenges that face our country will demand the best of President-elect Biden and Vice President-elect Harris—and the best of us all. We must come together for the sake of our families and neighbors, and for our nation and its future," Bush said in a Sunday statement.
GOP Senator Mitt Romney of Utah, who has been critical of Trump and voted to remove him from office, alongside Democrats, following his impeachment, congratulated the former vice president and his running mate.
"Ann and I extend our congratulations to President-elect Joe Biden and Vice President-elect Kamala Harris. We know both of them as people of good will and admirable character. We pray that God may bless them in the days and years ahead," Romney said in a Saturday tweet.
"Sofia and I extend our Congratulations to Joe Biden and Kamala Harris. Our nation deserves two competing parties who can work together when possible, and compete honorably when not," Representative Adam Kinzinger, an Illinois Republican, tweeted Saturday.
A couple of days earlier, Kinzinger described many of the allegations of voter fraud as "misinformation." He tweeted: "STOP Spreading debunked misinformation.... This is getting insane."