Republican Convention Protests Not Living Up to Hype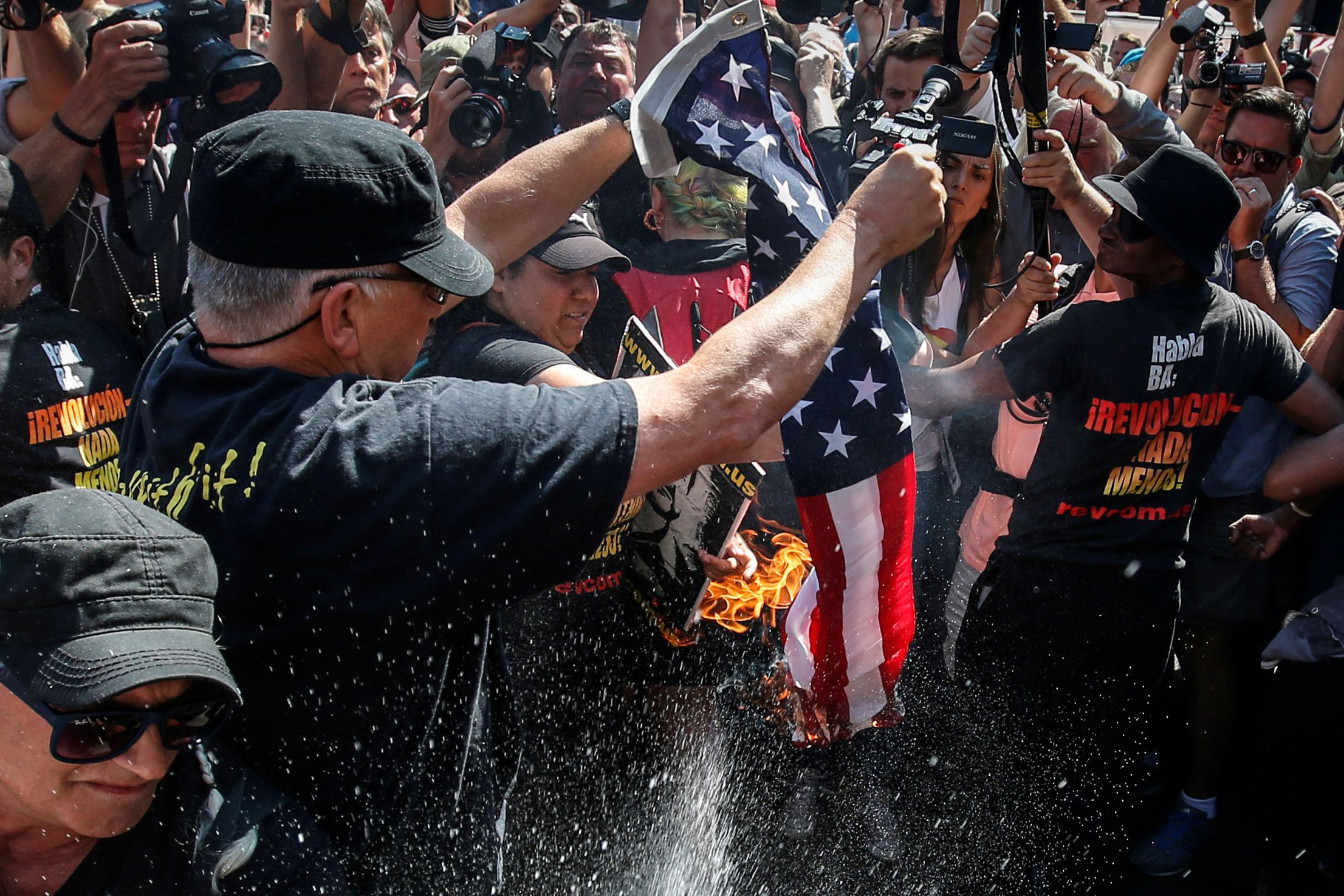 Updated | Republican Donald Trump's polarizing presidential campaign has drawn protests at events around the country that at times turned violent, and ahead of the Republican National Convention many warned that more of the same could be expected in Cleveland. The targeted shootings of police officers in Dallas and Baton Rouge in recent weeks cast an even deeper pall as thousands of delegates prepared to travel to the RNC. Security officials in Cleveland were bracing for widespread violence and mass arrests, the headlines warned.
Entering its final day, the convention has played out nothing like those doomsday scenarios. A large "Stop Trump" rally is expected Thursday afternoon, hours before Trump is set to accept the Republican nomination, which could attract significant crowds. So far, however, skirmishes between protesters, Trump supporters and the police have been relatively minor. The most dramatic confrontation took place Wednesday afternoon in front of the main security checkpoint at Quicken Loans Arena, where the convention is being held. Several people were arrested after about a dozen members of the Revolutionary Communist Party burned a flag, and then refused to disperse. Overall, the environment around the arena in downtown Cleveland this week has been remarkably calm, even cordial, surprising residents as well as visitors.
Chelsea Byers, an activist with the all-female anti-war group Code Pink. flew from Los Angeles to Cleveland to join with roughly 15 other members of the group for the week. But "we had people who didn't want to come out to join us," Byers told Newsweek, "because of…the open carrying of weapons and knowing also that there was going to be so much police presence and that this is such a polarizing time."
"I've seen a lot of police, I've seen open carry happening," said Byers, "but I've been really surprised that there's been a lot of joy and happiness on the streets rather than tense fear."
Indeed, the police presence in downtown Cleveland is hard to miss—not only officers from Ohio but thousands of state troopers from around the country, moving around the area in small groups. Security officials and news reporters vastly outnumber protesters, who hail from a large and fragmented set of groups and ideologies. On Wednesday afternoon, Cleveland's Public Square, the main designated area for protests during the convention, was filled with people milling around alone or in small clumps, but none organized into large, coordinated protests. One woman waved a sign reading, "Stop the Madness, Never Trump." Others had set up displays protesting police brutality and illegal immigration. One man played a bongo drum. Across the square, another was banging away on a drum set.
Whenever verbal confrontations bubbled up, dozens of news camera people rushed forward, encircling the foes. A handful of police kept mindful watch over one media scrum as 20-something activists in polo shirts and khakis, members of the conservative student group Turning Point USA, began sparring with liberal protesters over the value of Social Security. The two groups eventually pulled back from one another, the Turning Point activists resuming their chants of "Socialism sucks!" through a megaphone.
The dispute Wednesday afternoon was more serious. A small group of Revolutionary Communists unfurled a banner declaring "Revolution" and began burning an American flag. According to an NBC News report, the group then scuffled with police officers trying to put out the fire. Sirens blared as swarms of officers in cars, on bikes and on horses converged on the intersection. Other police and troopers in riot gear blocked off the area, just in front of the arena, to the horde of onlookers and news reporters. Newsweek observed a handful of people being handcuffed and loaded into police vans while chanting, "America was never great." NBC reported 17 arrests.
Amnesty International USA, which has sent human rights observers to monitor the protests in Cleveland (it will do the same next week at the Democratic convention in Philadelphia), issued a statement Wednesday night on the day's events. " We are still gathering information and context about the arrests made today and about whether police used pepper spray on dispersing one protest," the organization said. "There is conflicting information on these events."
Prior to that incident, just a handful of people had been arrested for convention-related activities. "What we're seeing so far is largely peaceful protests and for the most part police allowing and enabling peaceful protest," Eric Ferrero, a spokesman for Amnesty International USA, told Newsweek Wednesday afternoon. But he also said that the "extremely large police presence" in Cleveland can, itself, be cause for concern, "because it can stifle and chill free expression." Ferrero did credit the police for patrolling by bicycle and other practices that make their presence feel less overwhelming.
University of Michigan Professor Michael Heaney says the fact that police are outnumbering protesters is a big part of the reason the protests have not been particularly disruptive. And he says he was one of the few who never expected them to be. "The demographics of this area don't really support large protests," Heaney explained Wednesday. "There aren't large populations here," he said, and "there's not a real protest culture here in Cleveland the way there is in New York or Chicago."
Heaney, who studies social movements and is surveying protesters at both conventions as part of his research, said the protest activity in Cleveland has generally been "much weaker than the last couple conventions" that he's researched since 2004. "The protests haven't been very well planned," said Heaney, with multiple small groups all conducting their own events rather than coalescing. He expects larger and better organized protests next week when the Democrats gather in Philadelphia.
The lack of disruption is just fine with local resident Betty Jayn. The spry 85-year-old came down to Public Square on Wednesday to observe the scene, despite her family's reservations. Jayn told Newsweek she didn't have any trouble getting around: "Everything's so peaceful!"
Correction: An earlier version of this story misspelled Eric Ferrero's last name.