It's All Clinton All the Time at GOP Undercard Debate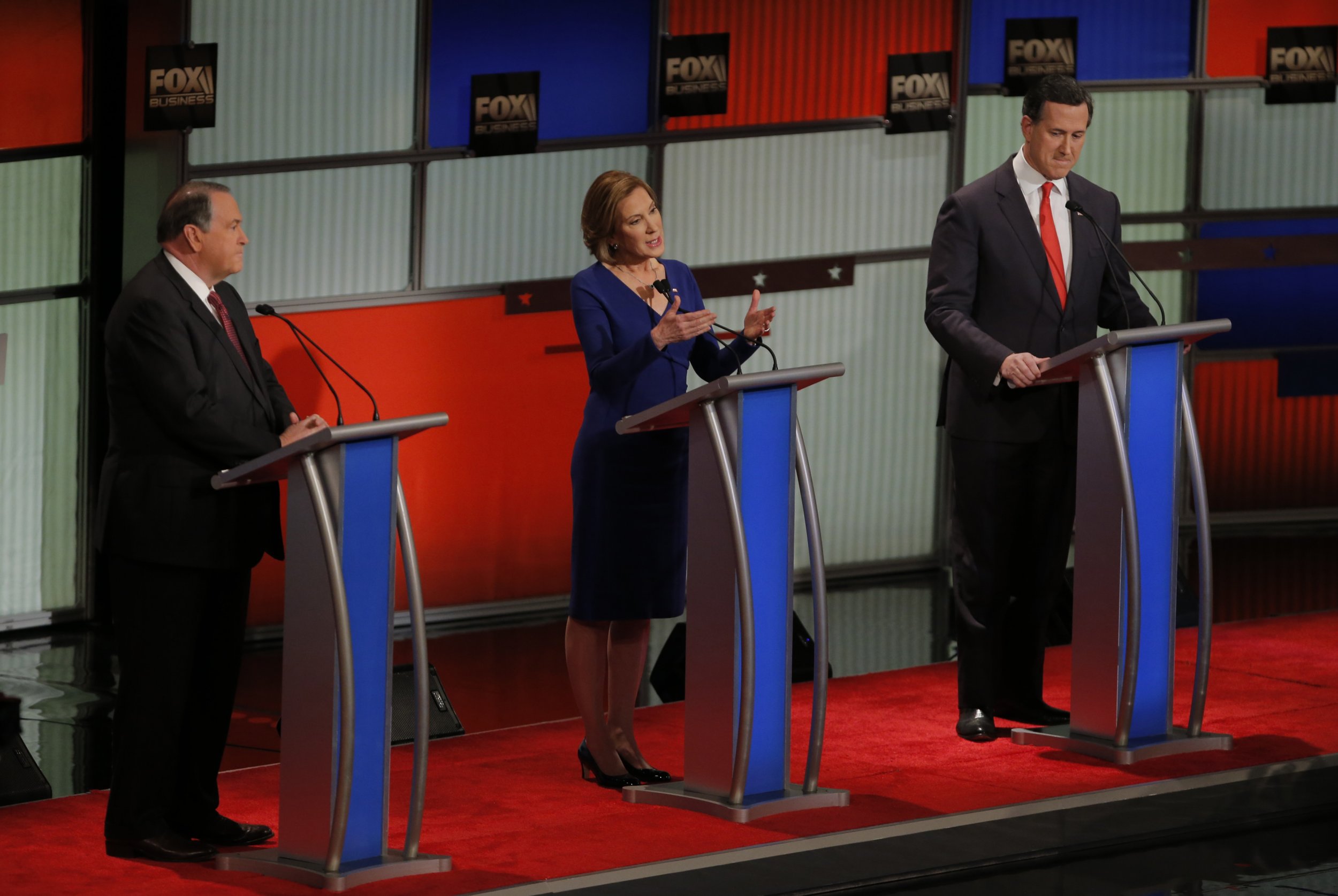 "Unlike another woman in this race, I actually like spending time with my husband." Thus did former Hewlett-Packard Chief Executive Carly Fiorina open the sixth Republican primary debate in Charleston, South Carolina, on Thursday. It was a barb aimed squarely at Democratic front-runner Hillary Clinton, who proved a popular topic of discussion throughout the evening. Fiorina also criticized Clinton's response to the 2012 attack on the U.S. diplomatic compound in Benghazi, Libya, that left four Americans dead—an event recently immortalized in a factually dubious film directed by Michael Bay, of Transformers fame.
"We should stop letting refugees into this country," Fiorina continued. (A proposal to refuse refugees floated by Republican front-runner Donald Trump earned him a bump in the polls, but has garnered widespread criticism from the political class.) Former Pennsylvania Senator Rick Santorum echoed Fiorina's sentiments, arguing that the U.S. should deport 6,000 Mexican, Guatemalan and Honduran immigrants.
As the night went on, Fiorina continued to hammer the Democratic front-runner. "Mrs. Clinton, you cannot wipe a server with a towel," she said, referring to the ongoing scandal surrounding Clinton's use of a private email server.
Indeed, each of three lower-polling candidates in Thursday's "undercard" debate framed their candidacies in opposition to Clinton. Americans are "looking for someone who is a fighter, and I also think they are looking for someone who is a winner," Santorum said. "I've taken on Hillary Clinton on the issues you care about," former Arkansas Governor Mike Huckabee added, noting that he "fought the Clinton machine" during his time in Arkansas politics. "You cannot wait to see the debate between me and Hillary Clinton," Fiorina said. "You would pay to see that fight."
In the wake of a wave of mass shootings and the announcement by President Barack Obama last week of federal measures to reduce gun violence, the topic of gun control was center stage on Thursday. In North Charleston, in particular, where where less than six months ago an armed attacker killed nine churchgoers, gun control is a sensitive issue. But Huckabee was blunt in his assessment of the issues, arguing that it is not easier to get guns than it is to get groceries, a dig at statements made by Obama. Huckabee also said radical Islam is to blame for gun crime in the United States, and said many mass shootings might have been prevented or mitigated had the victims been armed. "Of course we want to stop gun violence, but the one common thing that's happened in most mass shootings is they happened in gun free zones," he said.
While the undercard debates—only Fiorina, Santorum and Huckabee participated this time—continue to shrink, the Republican field's topography is otherwise little changed since the candidates last gathered in mid-December. And with less than a month to go until voters head to the polls in Iowa, there is little chance that anything said in Thursday's undercard face-off will have a noticeable impact on the race.