Rep. Devin Nunes (R-Calif.) compared Democrats to "weird Star Wars freaks" for identifying themselves as "the resistance" during nearly four years under the rule of President Donald Trump.
Nunes made the remarks during an appearance on Fox News' Hannity on Tuesday, which was guest hosted by GOP congressman Jason Chaffetz. In a discussion about President-elect Joe Biden's cabinet picks, Nunes cited an MSNBC clip showing PBS White House correspondent Yamiche Alcindor saying that a friend had compared the president-elect's choices to the popular superhero group The Avengers.
"These guys really spend too much time watching Hollywood movies from that clip you played earlier," Nunes told Chaffetz when asked for his thoughts on Biden's picks. "Remember, for the last four years it's been 'resistance.' It's like they're some kind of weird Star Wars freaks that had watched too many Star Wars movies."
"Now they're calling themselves The Avengers. The reality here is that these are people that are so dirty that they likely were involved in the dirty dossier itself," Nunes continued, claiming without evidence that the cabinet picks were involved in former British intelligence agent Christopher Steele's 2016 report alleging connections between the Trump campaign and Russia.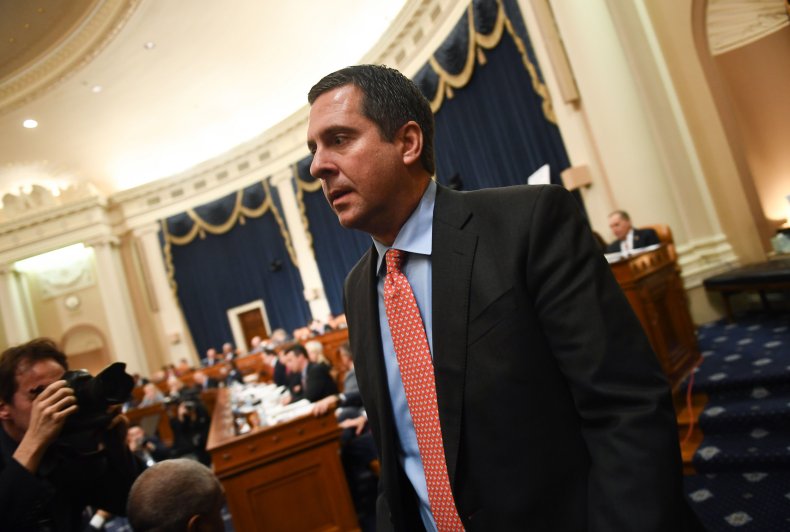 With the formal transition to the Biden administration underway despite Trump refusing to concede and continuing to make unsubstantiated claims of election fraud, key positions in Biden's cabinet have started to be named in recent days.
The president-elect appointed Ron Klain as chief of staff, while Jake Sullivan was named national security adviser. Both had served in the same roles for Biden during the administration of former President Barack Obama. The appointees will not require Senate confirmation, while Biden's nominations to several other cabinet positions will need to be confirmed.
Antony Blinken, a former deputy secretary of state under Obama, is Biden's choice for secretary of state. Former Obama adviser Avril Haines, the nominee for director of national intelligence, would be the first woman to serve in the role if confirmed by the Senate.
Two more former Obama administration officials, Linda Thomas-Greenfield and Alejandro Mayorkas, were chosen to serve as ambassador to the United Nations and secretary of Homeland Security, respectively. Most of Biden's cabinet picks are yet to be announced.
Comparing Democrats to the "resistance" in Star Wars is a curious choice for a Republican. In the 1977 science fiction classic and its initial two sequels, "the rebellion" is fighting against an evil Galactic Empire bent on ruling through fear and deception.
Sequels released during the 2010s focused on "the resistance" and their struggle against a similarly evil group, the First Order, which was secretly being led by the same emperor featured in the original series.
Star Wars actor Mark Hamill has compared the Trump administration to the fictional Empire on Twitter, while denouncing Nunes as a "Trump enabler" multiple times and suggesting that the congressman is a "puppet" of Russian President Vladimir Putin.
In pre-election campaign ads, the Luke Skywalker actor called Trump "easily the worst president ever" while predicting that he would falsely claim that fraud had occurred if Biden won.
Newsweek reached out to the office of Nunes for comment.