Republican Doug Collins Complains About Bolton Being Believed Over Trump, Says President's Defense Team Will Prove Everyone Wrong
Republican Representative Doug Collins dismissed claims Monday from an upcoming book by former National Security Adviser John Bolton that President Donald Trump was directly involved in the Ukrainian scandal that led to the president's impeachment.
Bolton's allegations include that Trump connected the freezing of security aid to Ukraine's announcement of an investigation into the business affairs of former Vice President Joe Biden and his son Hunter. Trump's alleged request for a quid pro quo—the funds in return for the announcement of the investigation into the Bidens—lies at the heart of the current impeachment case against Trump.
Bolton offered to testify during the impeachment trial in the Senate, a step some Republicans have said is unnecessary, even though representatives from both parties have said Bolton could be a relevant witness. After portions of Bolton's book were described in The New York Times, the call for his testimony grew louder.
Collins, who is a member of the president's impeachment legal defense team, took umbrage to the perception that Bolton's word held more weight and more truth than President Trump's.
"If John Bolton says it, it must be true," Collins told reporters. "Even though the president said it didn't happen, [Attorney General William] Barr said it didn't happen."
"You talk about relevancy," Collins continued. "Why wouldn't Adam Schiff be relevant as a witness when him and his staff met with the whistleblower before it became public, they wanted the whistleblower out there, but when it became public that he meddled or his staff actually had contact with [the whistleblower] then it's a relevancy issue."
"Where was the call for relevant witnesses when Adam Schiff was holding his underground hearings and not going forward?" Collins asked.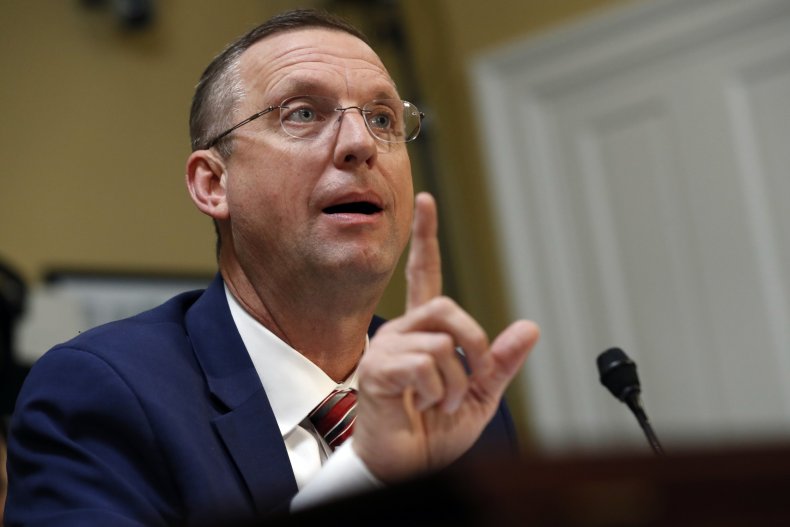 Before leaving, Collins said the assumption that Bolton was correct was misplaced.
"The president must undoubtedly be wrong," Collins said. "We prove that wrong over and over again. And the president's team is going to do that again today."
Republican Senator Mitt Romney told reporters that Bolton's testimony has become "important."
"I've said for some time that I hoped to be able to hear from John Bolton," Romney told reporters Monday. "I think with the story that came out yesterday, it is increasingly apparent that it would be important to hear from John Bolton. I, of course, will make a final decision on witnesses after we've heard from not only the prosecution but also the defense but I think at this stage it's pretty fair to say that John Bolton has a relevant testimony to provide to those of us who are sitting in impartial justice."
House Democrats only need four Republican votes in order to have enough votes for witnesses to be called during the impeachment trial, a situation Romney said could happen.
"I think it's increasingly likely that other Republicans will join those of us who think we should hear from John Bolton," Romney said. "I think John Bolton's relevance in this issue has become increasingly clear."
Newsweek reached out to Romney for further comment but did not receive a response in time for publication.
Bolton served as Trump's national security adviser until September 2019 when Bolton was famously fired via Twitter.
"I informed John Bolton last night that his services are no longer needed at the White House," Trump tweeted. "I disagreed with many of his suggestions as, as did others in the Administration, and therefore I asked John for his resignation, which was given to me this morning. I thank John very much for his service. I will be naming a new National Security Advisor next week."
Bolton tweeted in response, "I offered to resign last night and President Trump said, 'Let's talk about it tomorrow.'"