Republican El Paso Mayor Pushes Back Against Trump on Immigration: 'The Issue of Crime Is Not Part of Our Concern'
The Republican mayor of El Paso, Texas, has again rejected President Donald Trump's characterization of immigrants crossing the southern border from Mexico as bringing crime into the country.
In an interview with The Hill Rising, Mayor Dee Margo voiced his concern over how an increase in asylum seekers and undocumented migrants coming to the country had been dealt with. However, he pointed out, as he had before, that El Paso has consistently been ranked one of the safest cities in the country, despite its proximity to Mexico.
"Before our fence went up, we were a safe city," Margo said. "After a fence went up, which was a replacement of a chain-link fence that had holes in it, we were still safe. We were either number two or number three before, and became number one.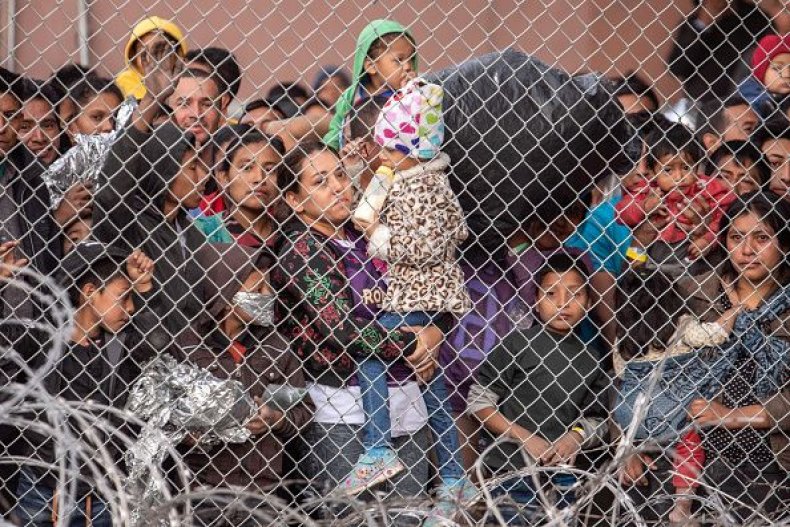 "The issue of crime is not part of our concern," the mayor asserted, despite the increase in migrants his city has seen in recent months.
Trump and other prominent critics of immigration repeatedly argue that migrants bring crime, drugs and even terrorism to the U.S. However, several studies on the topic have shown that migrants, documented and undocumented, commit crimes at lower rates than native-born American citizens.
The president continued his tirade against immigration on Twitter Monday morning, writing, "We have a major National Emergency at our Border." He also called on lawmakers to make changes to immigration laws to address the issue. Before taking office, Trump frequently referred to immigrants as criminals, rapists and drug traffickers, sometimes citing specific cases of undocumented migrants commiting violent crimes.
In an op-ed published by Fox News on Monday morning, Kirstjen Nielsen, secretary of homeland security, said Border Patrol agents were struggling to keep up with the wave of asylum seekers and other migrants attempting to enter the country.
"Late last year, we were apprehending 50,000-60,000 migrants a month at the southern border. Last month, we apprehended more than 75,000, the highest in over a decade. And now we are nearing 100,000 migrants per month," Nielsen wrote.
"Smugglers and traffickers know these weaknesses, and they are taking advantage of what they see as a 'free ticket' into America," she continued.
This isn't the first time Margo has pushed back against Trump's insistence that migrants and crime go hand in hand. In February, Trump cited El Paso as an example of a city that had seen a significant decrease in crime after it had built a barrier separating its territory from Mexico.
"The border city of El Paso, Texas, used to have extremely high rates of violent crime—one of the highest in the country, and considered one of our nation's most dangerous cities," the president said in his State of the Union address. "Now, with a powerful barrier in place, El Paso is one of our safest cities. Simply put, walls work, and walls save lives."
Margo said the president's comment was entirely inaccurate. "El Paso was NEVER one of the MOST dangerous cities in the US," the mayor tweeted. He later went on CNN to say he would "absolutely" tell Trump that he was wrong about crime in his city.
"The geography of Texas won't allow a fence from El Paso to Brownsville even if you wanted to do it," he added, criticizing Trump's long-touted promise to simply build a wall on the southern border of the United States.