Republican Establishment Jumps Into North Carolina Primary to Stop Fringe Candidates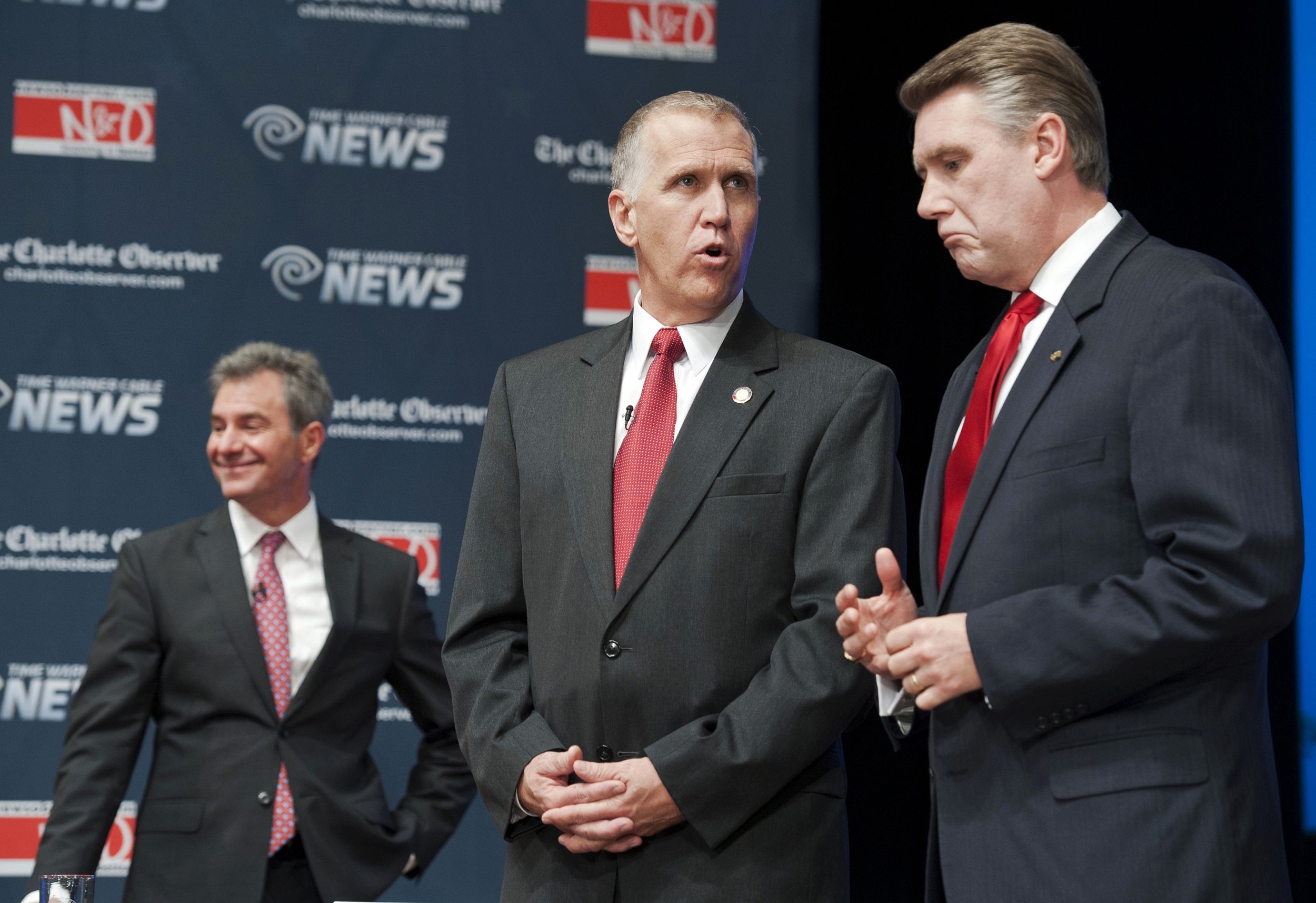 Republicans may have finally learned the meaning of the saying, "Fool me once, shame on you. Fool me twice, shame on me."
After not one, not two, but many unelectable Tea Party–style candidates have won GOP Senate nominations recently, Republicans have finally realized they need to make sure an electable candidate gets on the ballot.
Exhibit A is North Carolina, where primary voters on Tuesday will select a Republican opponent to challenge Democrat Kay Hagan, a vulnerable first-term U.S. senator, in the November elections. If the latest polls are correct, the winner will be the state House Speaker Thom Tillis.
But that wasn't always the case. Just a few weeks ago, Tillis was headed for a runoff against one of two ultra-conservative challengers: Baptist pastor Mark Harris or libertarian obstetrician Greg Brannon.
"I was one of those people at one point who thought that there would definitely be a runoff," said Republican consultant Ballard Everett of Raleigh. Not anymore. "Tillis may just pull the thing off on Tuesday, which would be really wonderful for the party and give him a huge boost going into November."
Under North Carolina election law, Tillis needs 40 percent of the vote to avoid a runoff, which would drain his time and resources for the next six weeks while forcing him to move further to the right, potentially alienating the general electorate in November. While Tillis has long been the presumptive nominee, it wasn't clear that he would run away with the nomination this easily.
What turned things around for Tillis? The Republican establishment rushed to his aid.
In early April, American Crossroads, the Karl Rove–affiliated super PAC that supports establishment challengers spent $1.6 million on a four-week ad buy supporting Tillis. A week before the primary, the U.S. Chamber of Commerce began running ads supporting Tillis (as well as establishment Republicans in Georgia and Alaska). Endorsements from groups like the National Rifle Association and National Right to Life started to come in—the latter a slap in the face to Harris, the pastor who has focused on social issues.
The anti-abortion group, which initially declined to get involved in the primary, wasn't looking for religious fervor. It wanted a winner. Tillis is the only candidate with a proven record of leadership who can defeat pro-abortion Hagan this fall, said the group's president.
Morgan Jackson, a Democratic strategist in North Carolina, credits American Crossroads and a handful of other groups with sparing Tillis the fiasco of a runoff. Despite being good on paper, Jackson said Tillis has run a lackluster campaign, "not raising a lot of money, not appearing on any of the chicken dinner circuits, not greeting the activists, not feeding the party faithful."
"They've pushed him over finish line is what happened," Jackson said. "Absent their involvement, I think most people would be predicting a runoff at this point."
Everett agrees that Tillis has received some critical help. He's also been fortunate that the competition has not been able to garner a wide following. Neither Harris, who was endorsed by former social conservative hero Mike Huckabee, nor Brannon, who was endorsed by libertarian icon Senator Rand Paul, R-Kentucky, have been able to win over a majority of the base.
"Tillis has gotten a lot of help that he needed to really build a name ID," Everett said. "I think that Brannon and Harris have run pretty good campaigns, but they just have not had the dollars that they really needed to buy TV or media to get there campaign out there. I think they just probably have not caught on."
If the GOP establishment and the outside groups that support it come through for Tillis on Tuesday, it will be a big step forward for Republicans who have been plagued by ultra-conservative candidates who have squandered Republican opportunities in recent years, helping Democrats maintain control of the Senate.
In 2010, for example, Tea Party upstarts Sharron Angle in Nevada and Christine O'Donnell in Delaware became the GOP Senate nominees and quickly proved unelectable—Angle raised the idea of curing Congress with "Second Amendment remedies" and O'Donnell famously had to defend herself in an ad with the phrase "I'm not a witch." They lost two races Republicans had hoped to win.
But the 2010 cycle wasn't the end. In 2012, when Republicans were sure to take a Senate seat in Missouri until Todd Akin won the nomination and blew the election over his infamous "legitimate rape" line. Likewise in Indiana, incumbent Republican Dick Lugar lost the nomination to Tea Party challenger Richard Mourdock, who then sunk his campaign with a comment about pregnancy resulting from rape.
Republicans "have this great ability to grasp defeat from the jaws of victory. Every chance we get to do that, it appears we do it," Everett said. "But I think this year in North Carolina we may actually lay that aside and choose the best candidate for November."
"I think what these groups are beginning to recognize is they've got to play earlier and earlier to try to make sure that a small segment of the Republican Party doesn't come to control all of their nominees," said Jackson. "Because if they do, they're smart enough to realize they're going to be in the minority for a generation."
If the GOP establishment prevails on Tuesday, what may prove the most expensive and pivotal Senate this year race will kick off in earnest Wednesday.
"At about 12:01, Wednesday morning," Everett joked.