Republican Goes on Tirade Against His Own Party During House Speech
A Republican congressman launched an explosive tirade against his own GOP colleagues in the House on Wednesday, accusing them of doing "precious damn little" to support the people who elected them, and of failing to secure the U.S. southern border.
The comments were made by Representative Chip Roy from Texas, who compared contemporary legislatures unfavorably with the Texan rebels at the Battle of the Alamo.
He said: "If you do not secure the border now, now, you are giving up any argument you have for the American people to put their faith in you. Will Republicans honor their campaign commitments to secure the border, yes or no?
"What I am seeing right now from my Republican colleagues does not give me faith that they will stand up in the breach, as did those men who stood on the wall at the Alamo.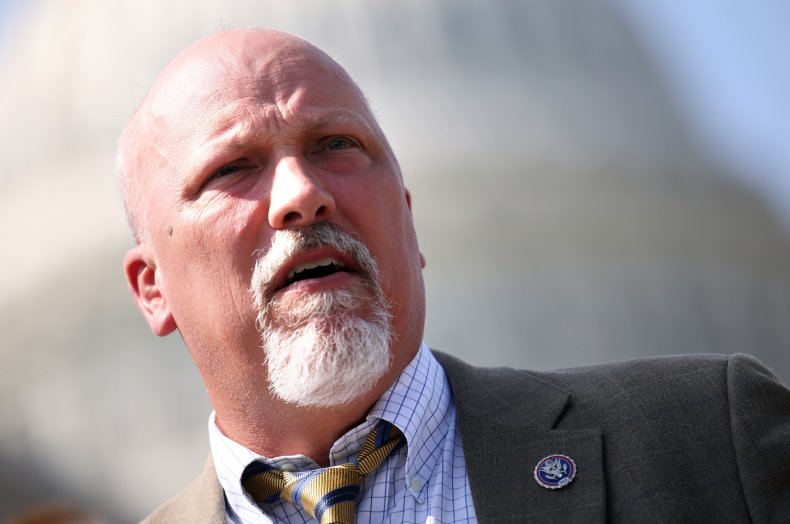 "I am tired of words. Things are going to chance in this body. If my Republican colleagues believe they are going to be moving through relatively meaningless provisions, doing precious damn little for the very people who sent us here to change things, and they think that some of us are just going to go along for the ride, they are sorely mistaken. We will not."
Roy went on to accuse his Republican colleagues of having "ran away from actually holding the executive branch responsible," singling out coronavirus vaccine mandates and the level of government spending as examples of executive overreach.
He added: "Two months into the 118th Congress, I'm not seeing a hell of a lot different than the same old, same old. The American people gave Republicans a majority. We ought to darn well use it."
The Republicans took control of the House in January, following victories at November's midterm elections.
However, the GOP caucus has proven fractures, with a group of rebels initially blocking Kevin McCarthy's bid for the speakership, which was only approved following 15 ballots.

Roy was initially one of the Republican holdouts who voted against McCarthy, though he later backed him after concessions on how the House should operate were agreed.
However, in a possible warning shot to McCarthy, Roy noted leadership can change during his address on Wednesday.
He commented: "Leadership is something that is observed and followed, it is not an anointed position. We did not come to this chamber to continue to allow the executive branch to runover the American people."
According to data from the U.S. Customs and Border Protection the number of migrant encounters on the American-Mexican border fell from 252,000 in December 2022, to 156,000 in January.
Last week, Florida Governor Ron DeSantis announced a new legislative package aimed at undocumented migrants.
Over the past 10 months Texas Governor Greg Abbott has been bussing migrants from his state to predominantly Democratic controlled cities, sparking controversy.
Representative Chip Roy has been contacted for comment.