Republican Praises Guns, Saying They Helped Save Lives, Just Moments After Virginia Shooting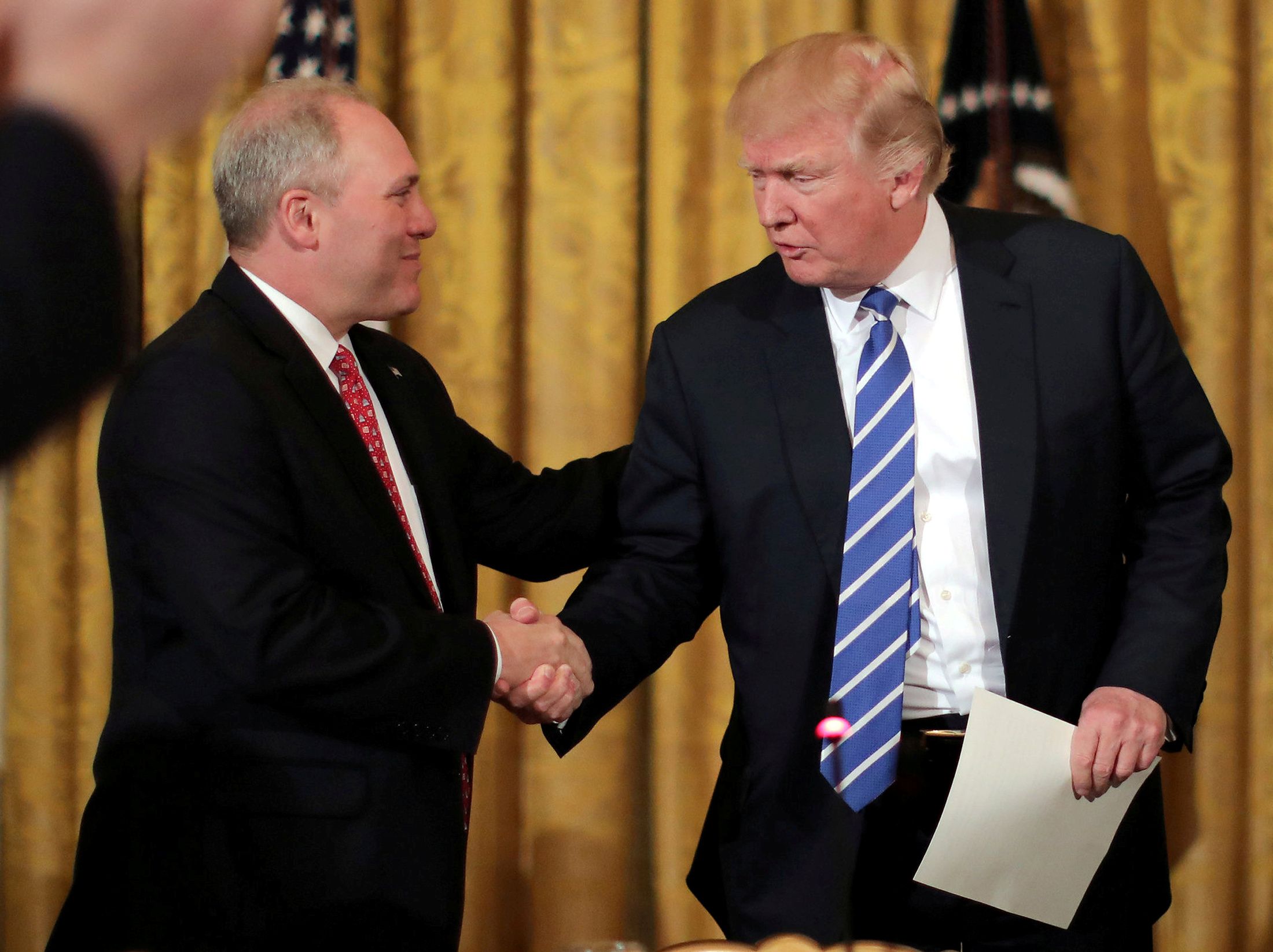 Republican Rep. Mike Bishop told reporters Wednesday morning that lawmakers had guns to thank for their safety after a shooter opened fire on a GOP congressional baseball practice in Virginia. A suspect was taken into custody after House Majority Whip Steve Scalise and three others were shot, including two Capitol Hill police officers.
The lawmaker told WWJ Newsradio 950 the lawmakers on the team and their staffers were "sitting ducks" when the shooter arrived on the baseball field near Alexandria, reportedly after asking whether it was Republicans or Democrats who were practicing.
Related: Republican Steve Scalise shot at baseball practice
"The only reason why any of us walked out of this thing, by the grace of God, one of the folks here had a weapon to fire back and give us a moment to find cover," Bishop said Wednesday. "We were inside the backstop, and if we didn't have that cover by a brave person who stood up and took a shot themselves, we would not have gotten out of there, and every one of us would have been hit—every single one of us."
Video showed several GOP representatives heading into medical vehicles, including Scalise, who was taken away in a helicopter. Scalise was reportedly in stable condition shortly after the incident occurred, while a staffer for one of the congressmen suffered a gunshot wound to the chest. The condition of the staffer was not known as of early Wednesday morning.
Gunfire reportedly continued for several minutes, with eyewitnesses telling CBS News the shooter was equipped with a rifle and another, smaller gun. Regardless, just hours after the attack by the gunman, Bishop said those who were at the baseball practice had guns to thank for their lives.
"He was coming around the fence line, and he was looking for all of us who had found cover in different spots," the Republican continued. "But if we didn't have return fire right there, he would have come up to each one of us and shot us point-blank."
The sentiment follows similar statements President Donald Trump has shared following mass shootings, such as suggesting death counts would have been significantly lower if victims were also equipped with guns when shooters began opening fire.
"When you look at Paris, you know the toughest gun laws in the world in Paris, nobody had guns but the bad guys. Nobody. Nobody had guns," Trump said at a Texas rally following the 2015 Paris terrorist attacks, in which 127 people were killed and at least 352 others injured. "I'll tell you what: You can say what you want, but if they had guns—if our people had guns, if they were allowed to carry, it would have been a much, much different situation."
Wednesday's incident also raised debate online over Virginia's gun laws, which allow for open carry of both long and handguns, and limit the requirements needed to purchase and possess a weapon. The state does not require a background check, licensing, registration or even a permit for concealed carry of long guns, such as the rifle used in the baseball-field shooting.