Republican Governor Cancels Inauguration After Receiving Armed Threats Over Mask Order
New Hampshire governor Chris Sununu has canceled his outside inauguration ceremony next month because he said protests against his order requiring masks to be worn to mitigate against the coronavirus have become more threatening.
On November 20, he ordered people to wear masks in public spaces both inside and outside due to the coronavirus pandemic. Two days later, small-scale protests against the move started outside his residence in Newfields.
The mask order, which expires on January 15, 2021, was put in place because of a spike in coronavirus cases, including outbreaks at five nursing homes.
Following other protests outside the governor's house, the Newfields selectorboard, which includes the governor's brother Michael Sununu, issued an ordinance on December 22, forbidding picketing in the town's residential areas with violators facing a $100 fine, NBC Boston reported.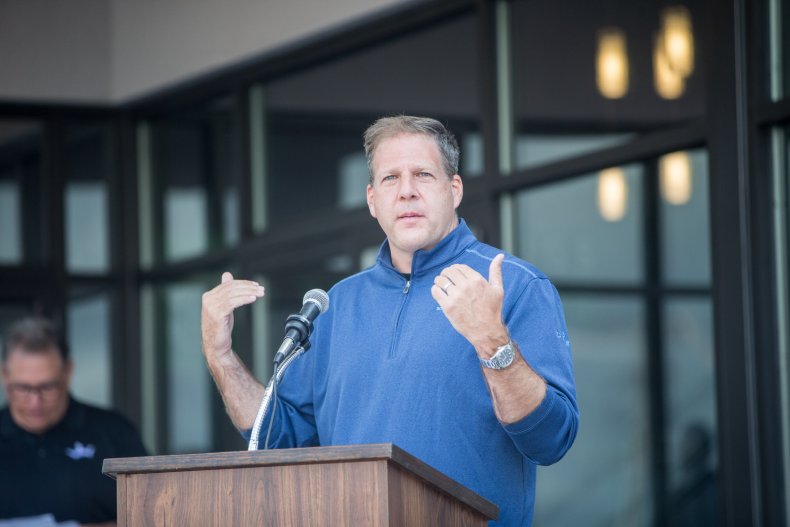 But on Monday, a group called "Absolute Defiance" held a picket outside Sununu's house, spurring the governor to decide his inauguration on January 7 would be safer if it were held virtually.
Sununu told reporters that "an armed individual was arrested in my backyard with over two dozen rounds of ammunition" and that as governor he was worried about the safety of his family and citizens of the state. "Therefore it was prudent to cancel that event," he added, WMUR 9 reported.
In a tweet, Sununu said that he was concerned how armed protesters "have increasingly become more aggressive, targeting my family, protesting outside my private residence, and trespassing on my property — an outdoor public ceremony simply brings too much risk."
"My first responsibility is ensuring the safety of my family and our citizens," he said.
"Cancelling our outdoor inaugural ceremonies was not a decision we made easily, but it was the right decision to ensure the safety of my family and the public." His inauguration will be attended by leaders of both houses of the legislature. He will deliver his inaugural address at 7 p.m. (ET)
During Monday's protest, Newfields police arrested Skylar Bennett, 38, of Concord, on charges of trespassing and disorderly conduct, with Bennett saying that the group's action was because Sununu had "closed the state." Newsweek has contacted Newfields police for comment.
Sununu was overwhelmingly re-elected to a third two-year term in November's gubernatorial elections, defeating Democratic Majority Leader of the New Hampshire Senate, Dan Feltes.
Last week, Sununu said that he did not plan to impose additional coronavirus restrictions, despite high numbers of cases and hospitalizations, and a spike in cases in neighboring Massachusetts, NBC Boston reported.
Correction 1/1/21: This article was updated to correct the quote by Gov. Sununu in paragraph six.