Republican Governor to Miss VP Mike Pence Visit Because His Schedule 'Has Other Stuff On It'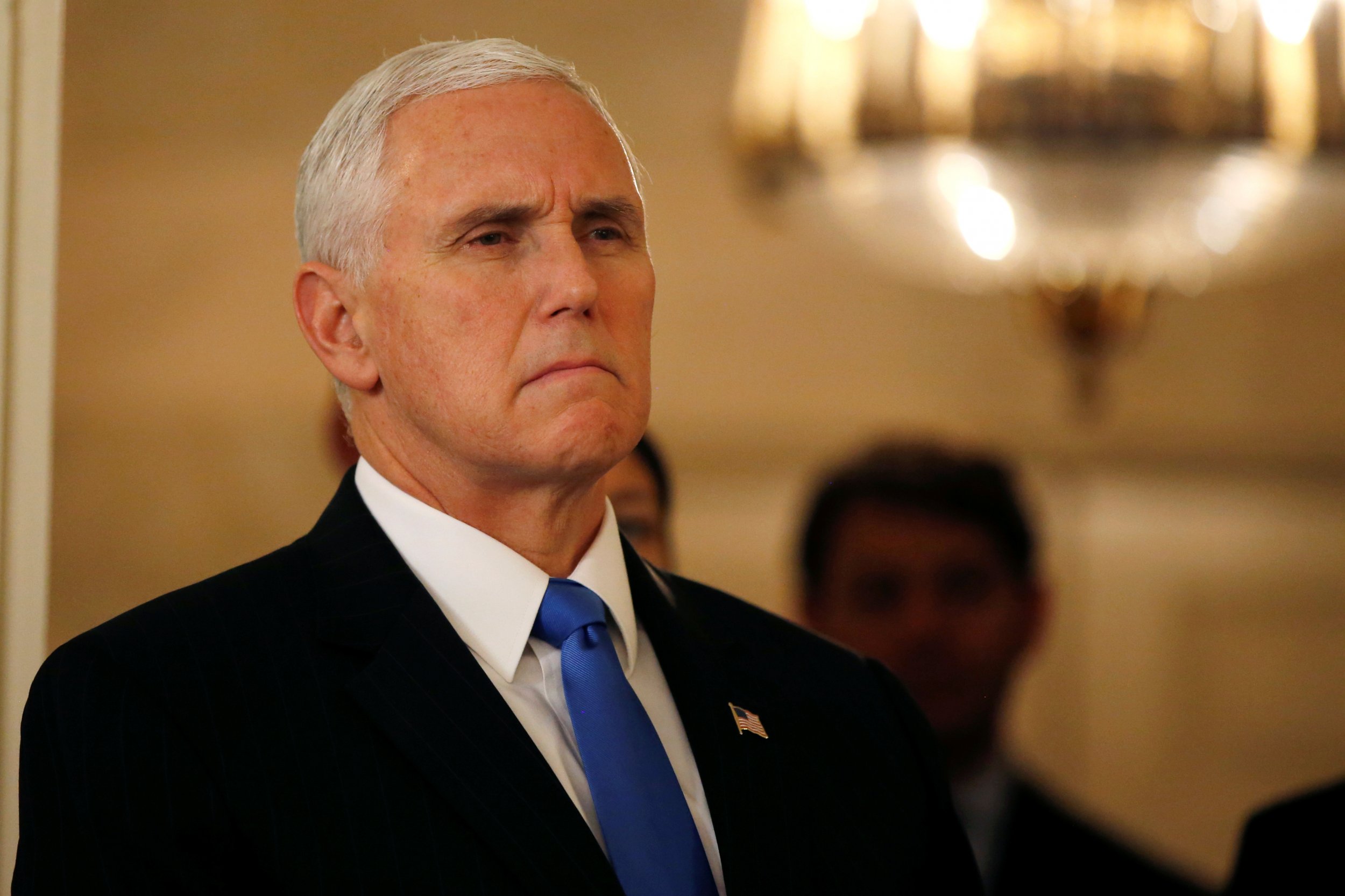 Massachusetts Republican Governor Charlie Baker says he is too busy to meet with Vice President Mike Pence when the latter arrives in Boston for a fundraiser Tuesday—a move which has been considered a snub by local GOP members.
Baker is set to miss Pence and a fundraiser to raise $500,000 for Trump Victory—a political action committee run by the Trump campaign and Republican National Committee. He won't attend another for Minnesota Representative Erik Paulsen, which Pence is also expected to attend.
Baker told reporters that he will not be meeting with Pence because "my calendar has other stuff on it" Monday afternoon. "I think I'm actually going to be in the South Coast, down in New Bedford, when he's here," Baker said. Baker is planning to attend a local Chamber of Commerce dinner instead, a spokesman told the Boston Herald.
"I'm not sending a message," Baker insisted. Yet throughout the 2016 election campaign he said he wouldn't vote for Trump, and after the November vote said it was the first time he didn't cast a ballot in a presidential election.
Pence will arrive in the afternoon at Boston's Logan International Airport, but he won't be met by Massachusetts Lieutenant Governor Karyn Polito either. She told NPR that she "wasn't asked to attend" and has "other commitments tomorrow."
Some local senior party members have voiced their disapproval at the fact the state's top Republicans will not be meeting Pence. "I think that's absolutely a disgrace that he's snubbing the vice president," said Massachusetts Republican Assembly president Mary Lou Daxland to the Boston Herald. "To me it's just insulting."
Read more: Mike Pence's hometown throwing gay pride festival so everyone knows they don't share his views
"If you're afraid to be seen with your vice president then join the other party," said former New Hampshire Republican Sen. Robert Smith, telling Baker to "show some respect."
When asked about Baker's decision not to attend the fundraiser, a spokesperson for Pence told Newsweek: "The Governor was invited by the RNC but indicated he couldn't attend due to scheduling conflict."
On Twitter last week the Massachusetts Republican Party promoted the fact that Baker has "sky-high approval ratings" in the Democrat leaning state. Massachusetts voted for Hillary Clinton in the presidential election by a difference of more than 900,000 votes.
Republican governors have been divided with the Trump administration and federal party members on issues such as Obamacare. But few have openly opposed the president.
Baker said Monday that he didn't know about Pence's visit and that state officials always try to meet important federal officials who are visiting.
Steve Aylward, who ran to become chair of the Massachusetts Republican Party in 2016, said it is "horrible" that Baker will not be meeting with Pence. "Pence is a good man," he said, "a good Republican."
Baker is up for reelection this year.