Obamacare Repeal Effort Clouds Governor Races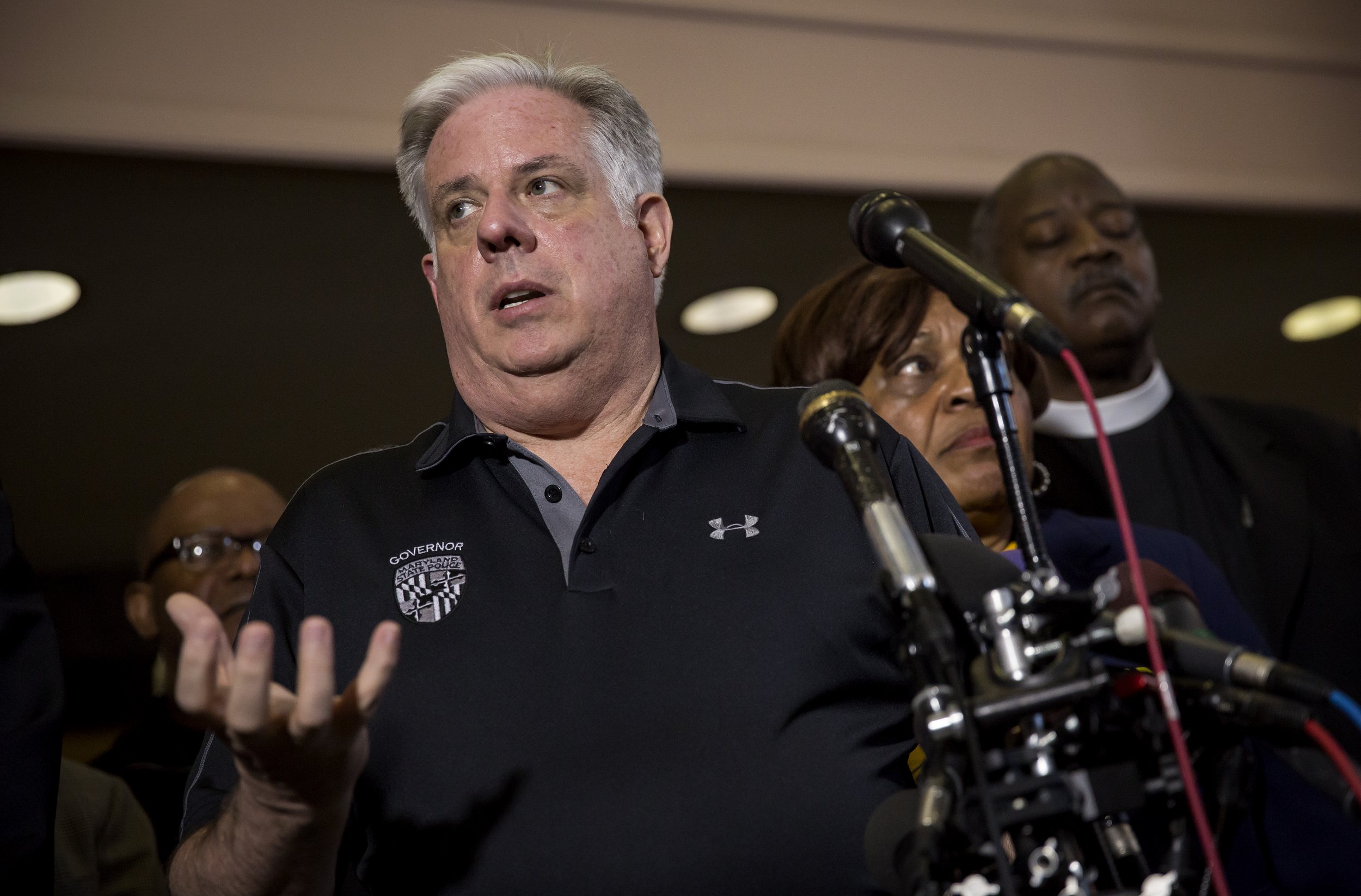 Republican Larry Hogan is the most popular governor Maryland has had in the past 20 years. So why could he face "a heap of trouble" in his 2018 re-election race, as one local political columnist recently warned?
One word: Trumpcare. In the wake of the House vote last week approving health care legislation that would gut Obamacare—a measure embraced by President Donald Trump—much of the spotlight has been trained on the House Republicans. A number of members who voted for the bill hail from moderate districts, and they are now facing blowback from critics at home. But it is the Republican governors and gubernatorial candidates running in 2018 who may ultimately pay the biggest political price for that House vote.
Related: Trump's health care bill: Nearly half of Americans oppose it
As Maryland political commentator Barry Rascovar wrote Monday, health care is now "almost certain to be the No. 1 issue in the 2018 mid-term elections, even if the Senate approves a diluted Trumpcare bill." And that means Hogan "has to figure out how to tiptoe around this explosive issue that already is proving highly unpopular." Ditto for other Republican governors or would-be governors on the ballot in swing states like Ohio, Maine, Michigan, Pennsylvania and Nevada. Except for Pennsylvania, those states are currently governed by term-limited Republican governors, creating open-seat races in 2018—and opportunities for Democrats to win back some of the many governors' mansions they've lost in recent years.
Governors, after all, will be the ones left to grapple with the fallout if the Republicans' push to repeal and replace Obamacare becomes law. That includes salvaging the state-based insurance marketplaces and finding funding to make up for the drop in federal Medicaid money, which would take a severe hit under the House Republicans' proposal.
House Republicans also introduced a new—and, for Republican governors, vexing—variable when they added a section to the legislation that would allow states to apply for waivers to avoid an Obamacare requirement that insurance cover "essential health benefits," like maternity care and hospital visits, and one that would cap how much insurers could charge people with pre-existing conditions. In the GOP formulation, states that received waivers would have to create insurance pools for high-risk patients and outline ways they were ensuring that insurance coverage meets minimum standards.
The inclusion of the waiver provision has allowed Democratic opponents to put Republicans running for governor in 2018 on the spot, demanding they say whether they'd request the hypothetical waivers. Most Republicans have so far ducked the question.
For example, Hogan's office did not respond to a Baltimore Sun reporter's request to comment the day the House Republicans narrowly passed their health care bill. Nor did Hogan's press secretary reply to Newsweek's questions about the House health care bill this week. His silence hasn't gone unnoticed. Alec Ross, one of what's expected to be a crowded field of Democrats vying to challenge Hogan, issued a statement May 6 condemning Hogan for failing to weigh in on the House Republican proposal, particularly its provision on state waivers.
"This bill gives power to governors," Ross, a former State Department official, said. "Imagine having a pre-existing condition and not knowing whether you'll continue to have coverage because your governor lacked the courage to make his position public."
Hogan isn't the only Republican governor who's remained mum. In Maine, a spokesman for Governor Paul LePage told a local paper he wouldn't be commenting on the House-passed legislation. Florida Governor Rick Scott's spokeswoman also demurred, explaining to the Tampa Bay Times that Scott had yet to "read the entire bill." That may be a wise move, at least politically. Wisconsin Governor Scott Walker faced such an outcry for suggesting he'd consider applying for the waiver in the House bill that he had to walk back his comments just hours later.
Hogan, however, is also taking a risk by not coming out more forcefully against the legislation the House Republicans passed, given how unpopular it is among the independent and Democratic voters he needs to appeal to if he wants to win in a Democrat-leaning state like Maryland. The Congressional Budget Office estimates the House bill would slash federal funding for Medicaid by nearly $900 billion over the next decade, creating gaping budget holes that states will have to fill. As one of 31 states that took Obamacare funding to expand Medicaid, Maryland would be hit particularly hard by the changes.
The latest legislation also has the potential to hurt the state's powerful health care industry. Hospital systems and health care providers like Johns Hopkins, MedStar Health and Blue Cross Blue Shield rank among the state's top employers.
Other Republican governors facing re-election in blue states have been emphatic in their opposition to the House proposal. Illinois's Bruce Rauner issued a statement expressing "deep concern" shortly after the Republicans passed their bill on May 4, noting the House legislation "did not address fundamental concerns about the bill's impact on the 650,000 individuals that are part of our Medicaid expansion population." Massachusetts's Charlie Baker also promptly put out a statement, urging Senate Republicans, who are now considering their own version of an Obamacare repeal, "to reject this bill in its current form."
On the flip side, Rascovar tells Newsweek that if Hogan is too outspoken in his criticism of the Republicans' health care plan, "he risks alienating his base," which includes a strong contingent of Trump voters in rural and suburban parts of the state. So what is Hogan's best move? "I think he's going to try and ignore this as long as he can, because there's no win here no matter what he does," says Rascovar.
Democrats, however, are already trying to make that difficult. The Democratic Governors Association (DGA), which supports the party's gubernatorial candidates, recently put out statements in 12 states with competitive governor's races in 2018, highlighting how the next governor could "make the critical decision of whether to request a waiver allowing insurance companies to raise rates" on people with pre-existing conditions.
"Democrats are going on offense on health care across the map, from red states to blue states to purple states," said DGA spokesman Jared Leopold. The longer the health care debate drags out—Senate Republicans have signaled it will take months for them to consider their own repeal bill—the more opportunity Democrats have to hit Republicans on the potential fallout.
The Republicans' main line of defense, thus far, has been highlighting the ongoing problems with Obamacare, particularly the exodus of insurers from many state individual markets. At the same time, the uncertainty about what the Senate will do allows them to hedge their bets about the proposals in the House-passed bill.
Ed Gillespie, the frontrunner for the Republican nomination in Virginia's 2017 governor's race, pointed to Aetna's May 3 decision to pull out of the state's individual insurance market as evidence Obamacare needs to be replaced. But, in a written statement provided to Newsweek, Gillespie also said, "I don't think insurers should be allowed to drop people who have a developing condition, or prevent people from getting insurance because of a pre-existing condition."
If some form of a waiver makes it into the final law, he continued, "I'll take a look at it, look at the cost, what the funding for a risk pool would be and the impact on Virginians before making an informed decision."