No GOP Governors Mentioned Reproductive Health During 2019 State Address. 10 Have Since Signed Anti-Abortion Laws
Nearly a dozen Republican governors have signed legislation in 2019 that seriously restricts a woman's access to abortion. Yet not one of the country's 27 conservative governors even mentioned reproductive health during their state of the state address this year.
According to a new FiveThirtyEight analysis, which examined all 50 state of the state speeches given by governors in 2019, the term "reproductive health" was not uttered once by a Republican. Meanwhile, the term appeared in approximately 21.7 percent of Democratic speeches.
Democratic governors were much more likely than their Republican counterparts to mention nearly every health care-related term analyzed by FiveThirtyEight. Thirty-nine percent of Democrats used the phrase "Affordable Care Act" in their annual address, compared to 4 percent of Republicans. "Access health care" was also uttered much more by Democrats (26.1 percent) than Republicans (7.4 percent).
Despite their silence on the issue during their annual address, Republican governors have made reproductive health a nationwide debate by signing controversial anti-abortion measures into law.
Eleven states have passed laws restricting a woman's access to abortion, with some states approving near-total bans of the procedure altogether. Alabama, Arkansas, Georgia, Indiana, Kentucky, Mississippi, Missouri, North Dakota, Ohio and Utah have all passed abortion-related legislation that has been signed by their Republican governors. Lousiana's Democratic Governor John Bel Edwards also signed a bill restricting abortions.
Alabama's law, signed by Governor Kay Ivey, is likely the strictest in the nation as it makes it a felony for doctors to perform abortions even in cases of rape and incest. In a statement, Ivey acknowledged that the law may be "unenforceable" but that she hoped it may provide an opportunity to revisit Roe v. Wade before the Supreme Court.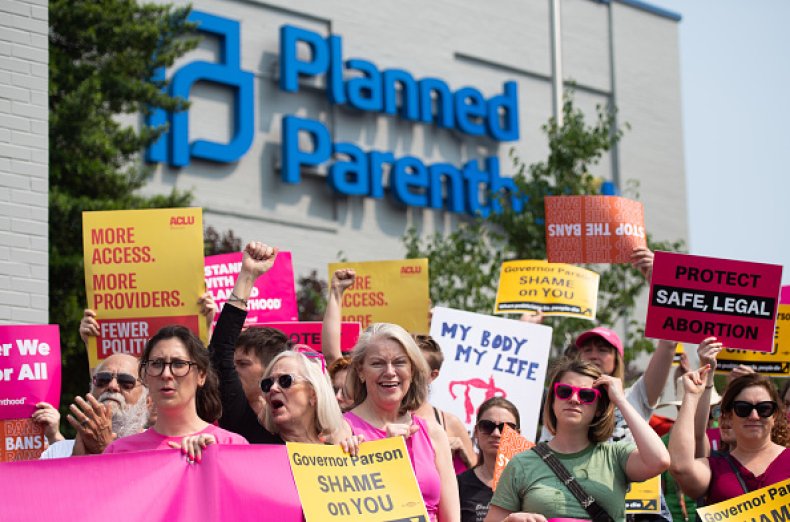 Laws passed in Georgia, Kentucky, Louisiana, Mississippi and Ohio ban abortion after a fetal heartbeat is detected, which can happen as early as six weeks into pregnancy (before many women are even aware they are pregnant). Less severe laws like those in Indiana and North Dakota ban the use of clamps and forceps during second-trimester abortions.
Nearly all of these anti-abortion measures are being challenged in court by reproductive choice advocacy groups like Planned Parenthood and the American Civil Liberties Union.
In response to these laws, several Democratic governors have signed laws protecting abortion rights. On Wednesday, Illinois Governor J.B. Pritzker signed a sweeping abortion access protection bill that makes it a "fundamental right to make autonomous decisions about one's own reproductive health."
Maine Governor Janet Mills also signed a law in June that makes it easier to get an abortion in the state. The legislation allows medical professionals who are not doctors to perform the procedure.
"By signing this bill into law, Maine is defending the rights of women and taking a step towards equalizing access to care as other states are seeking to undermine, rollback, or outright eliminate these services," Mills said.
The abortion debate has expanded beyond state politics and into the 2020 presidential election. Nearly every single Democrat vying for the party's nomination (and the opportunity to take down Donald Trump) has spoken out against the abortion bans.