Additional Republican leaders are calling for Donald Trump to allow the Biden-Harris team to begin its transition into Washington, citing the importance of an unencumbered shift that prioritizes national security and the nation's pandemic response strategy.
Although Joe Biden is expected to take office in January after securing a majority of popular and electoral votes during the presidential election, Trump has refused to concede. Amid his re-election campaign's lawsuits seeking to contradict Biden's win, Trump has not yet initiated the usual transition procedures that give rising presidents access to federal resources necessary to lead.
While some suspected the president's Sunday morning tweet referencing Biden's win was a preliminary step toward concession, Trump quickly followed it with another post that blatantly read: "I concede NOTHING!"
Arkansas Governor Asa Hutchinson, a Republican, discussed the importance of a "smooth transition" to Biden's administration during an interview with NBC's Chuck Todd on Meet the Press Sunday morning.
"I expect Joe Biden to be the next President of the United States," Hutchinson said first. "It was good, actually, to see President Trump tweet out that he won. I think that's the start of an acknowledgement."
Hutchinson also noted the ways in which a rocky transition could pose threats to national security, echoing comments from a number of other Republican leaders who have spoken out against Trump's failure to concede the presidency—despite election results that show Biden's landslide victory.
"It is very important that Joe Biden have access to the intelligence briefings to make sure that he is prepared [to take office]," Hutchinson told Todd. "During times of transition, our enemies have an opportunity to try to take advantage of us, and we want to make sure that there is a smooth transition. Particularly when it comes to the vaccine distribution, the coronavirus...that everybody understands what we're doing there and what the plan is for the future."
Republican Ohio Governor Mike DeWine also called for Biden's prompt transition on Sunday. Speaking to CNN host Jake Tapper during the State of the Union program, DeWine similarly referred to Biden as the president-elect and said his administration should be able to begin their transition process "for the country's sake."
The governor, who supports Trump, did not expressly condemn the president's string of lawsuits aiming to challenge election results in key swing states that voted for Biden—many of which have been dismissed due to lack of evidence supporting their claims about misconduct and fraud. He did, however, maintain that Biden should move ahead with his transition even as Trump's legal actions make their way through the courts.
"It's clear, that certainly based on what we know now, that Joe Biden is the president-elect and that transition for the country's sake, it's important for a normal transition to start through," DeWine said on Sunday. "And the president could go on his other track, his legal track...we should respect that, but we also need to begin [the transition] process."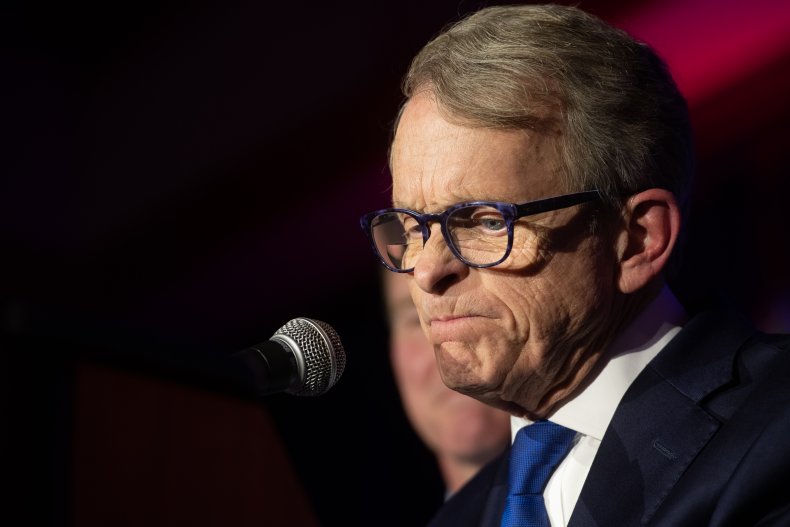 John Kelly, Trump's former chief of staff, underscored potentially dangerous consequences of his efforts to block Biden and Vice President-elect Kamala Harris' team from coordinating with federal officials responsible for defense and public health management.
"The delay in transitioning is an increasing national security and health crisis," Kelly said in a statement. "It costs the current administration nothing to sort to brief Mr. Biden, Ms. Harris, the new chief-of-staff, and ALL identified cabinet members and senior staff as they are identified over the days and weeks ahead."
Earlier on Sunday, top health expert and White House Coronavirus Task Force member Dr. Anthony Fauci additionally said "it would be better" if he was able to begin working with the incoming administration during a conversation with Tapper.
Newsweek reached out to Hutchinson and DeWine's offices for additional comments, but did not receive replies in time for publication.