Republican Group to Run Ad on Fox News Demanding Testimony from Key White House Officials in Trump Impeachment Trial
A Republican group is launching an ad campaign to demand that several key White House officials, such as chief of staff Mick Mulvaney and Secretary of State Mike Pompeo, testify in the impeachment process against President Donald Trump.
Republicans for the Rule of Law, a conservative organization whose stated purpose is "defending the institutions of our republic," will air the 30-second video on Thursday during Fox & Friends and Lou Dobbs Tonight.
"Key witnesses in the Ukraine scandal must testify," the ad states. The group goes on to demand testimony from Mulvaney, Pompeo, Trump's personal attorney Rudy Giuliani and former national security adviser John Bolton.
The group is also targeting four Republican senators who could be key in the Democrats' efforts to get additional witnesses in the Senate trial: Mitt Romney of Utah, Susan Collins of Maine, Lisa Murkowski of Alaska and Lamar Alexander of Tennessee. These lawmakers are the Senate's most likely Republican members to rebuke the president and support his removal.
A second 30-second ad from Republicans for the Rule of Law, aimed at Romney, Collins, Murkowski and Alexander, has specific instructions for viewers to "call" the senators and demand that the witnesses testify. This ad will air on Fox & Friends and Hannity throughout the holidays.
The House officially impeached Trump last week following months of investigation. The chamber approved two articles of impeachment, abuse of power and obstruction of Congress, after hours of heated debate on the House floor.
Democrats have charged that Trump tried to pressure Ukrainian President Volodymyr Zelenskiy to announce a politically motivated investigation into a potential 2020 opponent, Joe Biden, as well as the former vice president's son Hunter. Trump has denied any wrongdoing and claimed that a July 25 phone call between him and Zelenskiy was "perfect."
Trump will now have to face a trial in the Senate, where lawmakers will decide whether he should be removed from office. The Constitution requires the upper chamber to hold an impeachment trial, with the senators acting as jurors.
House Speaker Nancy Pelosi has delayed sending the impeachment articles to the Senate until the Republican-controlled chamber agrees to trial terms that are acceptable to Senate Democrats. Majority Leader Mitch McConnell threw a wrench into the proceedings by stating that he has no intention of acting as an impartial judge and would potentially block witnesses.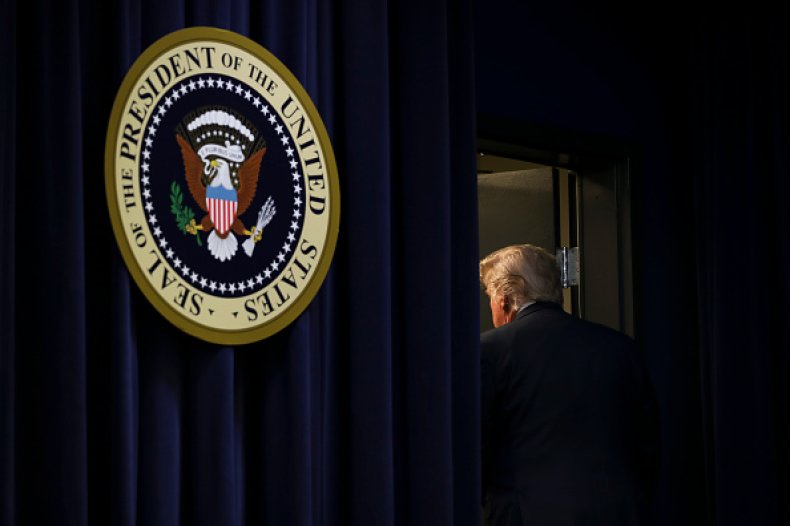 But on Monday, McConnell seemed to switch gears on the possibility of additional testimony. The majority leader told Fox News that "we haven't ruled out witnesses." He also accused Pelosi of having an "absurd position" on impeachment and said she is "apparently trying to tell us how to run the trial."
Over the weekend, Democrats renewed their demand for more impeachment witnesses after a leaked email suggested that the White House sought to freeze aid to Ukraine just 91 minutes after Trump spoke to Zelenskiy in July.
"What is a trial with no witnesses and no documents?" Democrat Chuck Schumer, the Senate minority leader, said during a news conference in New York City on Sunday. "It's a sham trial."
Republicans for the Rule of Law, meanwhile, is calling for a "fair and open trial" in the Senate. In addition to the television ads, the group will be launching digital billboards in almost a dozen states that ask, "What is Trump hiding?"
"After declaring war, impeachment is the most solemn action authorized by the U.S. Constitution, and it's now up to each senator to treat the upcoming trial with seriousness and sobriety, regardless of what party they belong to or what they think of the charges," Chris Truax, a spokesman for the group, said Monday in a statement to reporters.