Republican Group to Run Anti-Trump Ad on Fox & Friends: 'Republicans Know a Quid Pro Quo is Wrong'
Following Ambassador Gordon Sondland's damning testimony in the impeachment inquiry against President Donald Trump, a Republican group will run a new advertisement urging the GOP to "stand up" to the president.
Republicans for the Rule of Law, a conservative group whose stated purpose is "defending the institutions of our republic," will air the ad during Fox & Friends on Friday. The video, the group said, is an attempt to educate conservative voters on the facts of the Ukraine scandal.
"Republicans know a quid pro quo is wrong," the ad states. "Republicans must stand up to Trump's abuse of power."
The 38-second video features footage from Ambassador Sondland's public testimony before the House Intelligence Committee on Wednesday. Sondland is one of the so-called "three amigos" who helped lead the president's Ukraine agenda and is a key witness in the House impeachment probe.
Sondland dropped the bombshell that there was a "quid pro quo" agreement linking a White House visit in exchange for Ukraine's president announcing investigations into former Vice President Joe Biden, his son Hunter, and the 2016 election.
"I know that members of this committee have frequently framed these complicated issues in the form of a simple question: 'Was there a 'quid pro quo?'" Sondland testified. "With regard to the requested White House call and White House meeting, the answer is yes."
He also asserted that leadership in the State Department, the National Security Council and the White House were all well aware of what was going on with Ukraine. His testimony directly implicated Secretary of State Mike Pompeo, Vice President Mike Pence and White House chief of staff Mick Mulvaney.
"They knew what we were doing and why," Sondland told lawmakers. "Everyone was in the loop. It was no secret."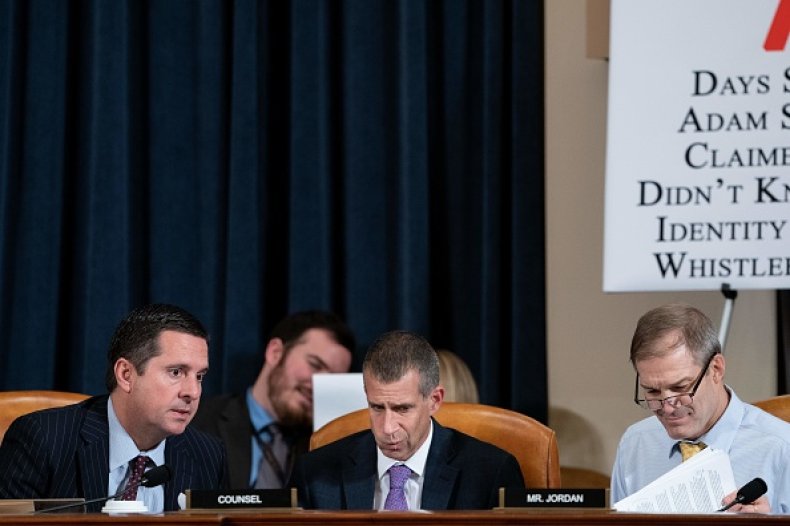 The advertisement also features a clip of Republican Senator Lindsey Graham previously stating that if Trump had been engaging in a quid pro quo it would be "very disturbing." Graham made the comment in October, before House Democrats moved the impeachment probe into the public eye with televised hearings.
Republican for the Rule of Law's executive director Sarah Longwell said in a statement that the impeachment testimonies demonstrate how Trump abused his presidential power.
"Rather than fulfilling his oath to defend the Constitution, he tried to use the power of the government to strong-arm a friendly government into interfering on his behalf in the 2020 election," she stated.
Longwell added: "If the Republican Party claims to stand for national security, law and order, the rule of law, and accountable government, they can't let this abuse stand."