Republican Group Launches Website Calling for Trump's Removal, Pence Presidency: He's Not the 'President of Anyone's Dreams, He Isn't Trump Either'
Conservative group Defending Democracy Together (DDT) launched a website advocating the removal of President Donald Trump from office and allowing Vice President Mike Pence to take his place, saying that "while Pence isn't the president of anyone's dreams, he isn't Donald Trump either. So there's that."
Pence served six terms as a Congressman for Indiana before becoming the state's governor in 2013. He became vice president after Donald Trump won the election in 2016.
"President Trump's defenders have endlessly repeated the preposterous claim that impeaching and removing a president undoes an election, as if that weird inauguration and the midterm elections where Republicans got throttled never happened," said DDT spokesperson Tim Miller in a Thursday press release.
"Removing the president doesn't overturn the election," Miller continued. "It won't put Hillary Clinton or Nancy Pelosi in the White House. Instead it will give us President Mike Pence. And while Pence isn't the president of anyone's dreams, he isn't Donald Trump either. So there's that."
"The Senate should do its job, remove a president who has repeatedly used his power to pressure foreign governments to interfere in the next election, and give us his successor: President Mike Pence. It'll do," Miller added.
In a video promoting Pence for president, the organization doesn't talk about what Pence has done in the past, rather focusing on what he hasn't done.
"Mike Pence doesn't brag about sexually assaulting women," the video says. "Mike Pence doesn't pressure foreign governments into investigating his political rivals. Mike Pence doesn't mock and make fun of people with handicaps."
"Donald Trump is being impeached," the video concludes. "It's time for President Pence. At least it's an improvement."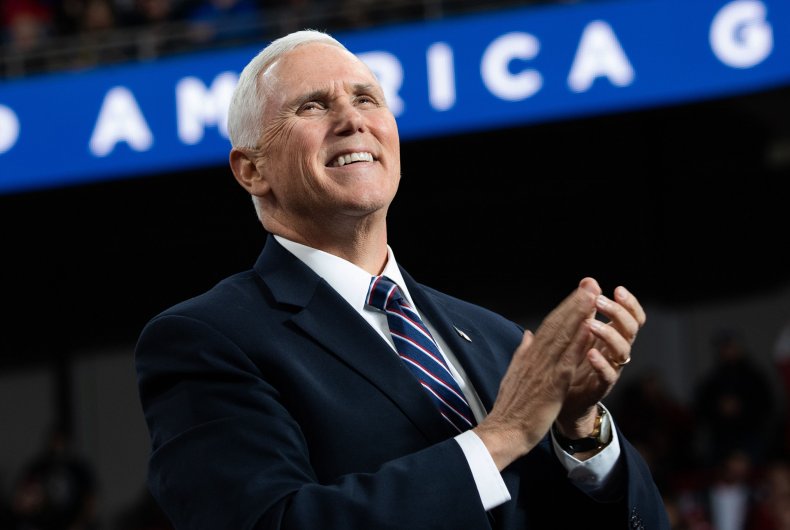 Miller told Newsweek in an interview that Trump's conduct sets a "very low bar for what is acceptable."
"I think that Pence doesn't share some of the president's most heinous qualities," Miller said. "In regards to the impeachment, I think that while the jury is still out on what Pence's involvement was, it is clear he has not just blatantly flouted to the same degree that the president has."
Miller said he has heard some people say that a Pence presidency could be worse than the current administration "on competency grounds."
"I think that as bad as the president has been," Miller added, "he has proven himself unable to execute some of his most horrendous policy positions."
Pence's potential presidency would be the follow-up to Trump's removal from office, a point Miller hopes Republicans voting in the impeachment trial will take to heart.
"I think the point that we are making towards Republican senators who are trying to determine whether or not they should take this impeachment removal process seriously, they're our audience here," Miller said. "And they should be mindful that if the president is rightly removed for his actions that it would be Mike Pence that would succeed to the presidency."
"That is not in any way an endorsement of all of Pence's positions but from a practical matter," Miller added, "but hopefully it's something that appeals to the swing voters in the Senate who are going to be needed to vote to support witnesses and in an ideal situation vote to remove the president."
Pence has been married to his wife, Karen, since 1985. His views on reproductive choice have drawn criticism, as Pence has spoken before at the March for Life, an annual anti-abortion rally.
Pence has also said that he will not be alone in a room with a woman who is not his wife. He has also stated that he will not attend events where alcohol is served unless his wife is with him.
"If there's alcohol being served and people are being loose, I want to have the best-looking brunette in the room standing next to me," Pence told The Hill in 2002.