Republican Group Releases Ad Supporting Georgia's GOP Secretary of State Amid Attacks from Other Republicans
A Republican group opposed to President Donald Trump released a new ad praising Georgia's Secretary of State Brad Raffensperger, a Republican, as he oversees the southern state's recount amid harsh criticism from the president and his supporters.
Raffensperger, who was endorsed by Trump in 2018, has received death threats and been accused of mismanaging Georgia's election after President-elect Joe Biden came out ahead by about 14,000 votes in the initial ballot count. Although the state is carrying out a recount due to the relatively close margin, analysts and Raffensperger have said this is "unlikely" to change the final outcome. Meanwhile, Trump has repeatedly disparaged the recount effort and baselessly claimed that the election is being stolen from him.
"Georgians should be proud of Republican Secretary of State Brad Raffensperger for securing our elections against hackers, foreign interference and fraud," the new video ad by Republicans for the Rule of Law says. The GOP initiatve was formed by the conservative anti-Trump group Defending Democracy Together, and has released a series of ads critical of the president and other Republican lawmakers who have supported him.
"Raffensperger ran a textbook election under extraordinary circumstances," the ad says. "He's running Georgia's first-ever election audit to make sure legal votes are counted right." The ad asserts that "integrity is up" as a result of Raffensperger's leadership.
"It's clear that Secretary of State Raffensperger ran this election by the book," Sarah Longwell, a spokesperson for the group, said in an emailed statement to Newsweek. "Georgians should be proud to have elected Raffensperger to oversee their elections. He's already done more than any Secretary of State in Georgia's history to ensure the votes are counted right."
The new ad will play in Georgia's Augusta, Savannah, Columbus, and Macon markets over the next week, starting on Wednesday. Republicans for the Rule of Law said that it would be played on a variety of programming on Fox News, CNN, HGTV and the History Channel.
Newsweek reached out to Raffensperger's office for comment, but he did not immediately respond.
"Other than getting you angry, it's also very disillusioning," Raffensperger told The Washington Post in an interview published Monday, when asked about threats he has received. The Georgia official said it's frustrating "particularly when it comes from people on my side of the aisle. Everyone that is working on this needs to elevate their speech. We need to be thoughtful and careful about what we say."
Raffensperger said that some Republicans, including GOP Senator Lindsey Graham of South Carolina, have pressured him to exclude some ballots from being counted. He has resisted those calls, asserting that it is his elected duty to ensure that every legal ballot is tallied. Graham has denied that he pressured Raffensperger to discard ballots.
Other Republican officials in Georgia have faced substantial criticism from Trump loyalists as well. But they have pushed back against these attacks, asserting that they will carry out their duties according to the law.
"I'm proud to report that [we] continue to not see any sort of systemic issues or fraud or improprieties poke their head up," Georgia's Lieutenant Governor Geoff Duncan, a Republican, told CNN on Monday.
"Just because the guy I voted for isn't in the lead," Duncan said, "doesn't change my job description."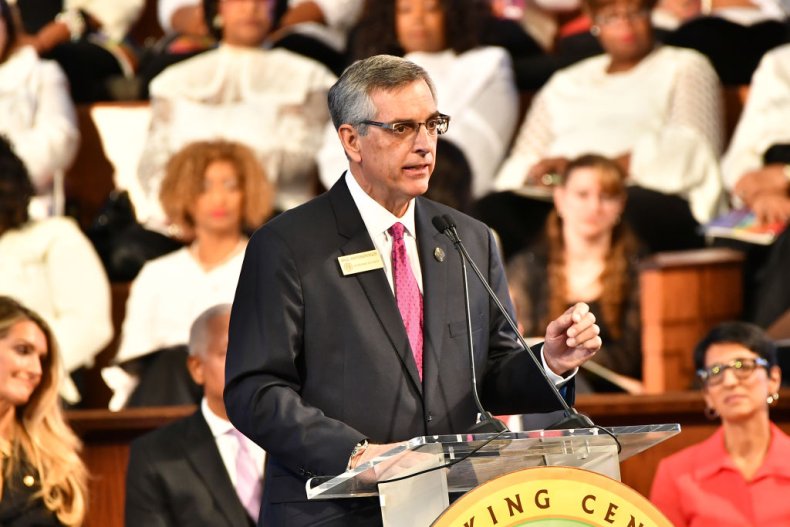 Georgia had gone red for Republican presidential candidates in every election going back to 1996. Biden's lead in the state is expected to hold in the recount, but even if the state's results were to shift for Trump, the president-elect would still be the winner in the overall election. Biden was declared the winner after Pennsylvania and Nevada were called in his favor on November 7, pushing him over the 270 electoral vote threshold to become the president-elect.
Trump and his supporters continue to claim that Biden won through widespread voter fraud, without providing evidence to back the allegation. Lawsuits filed by the Trump campaign in multiple battleground states have largely failed, and none of the cases have shown evidence that would overturn Biden's lead in the states that propelled him to victory.