Republican Group to Run Ad on Fox News Urging Congress to Protect Elections Because Trump Won't
Republicans for the Rule of Law (RRL), a conservative group whose stated purpose is "defending the institutions of our republic," will run an advertisement on Fox News urging Congress to help protect U.S. elections.
"President Trump's complete disregard for American election security, as illustrated in his comments last night during an interview with ABC News, should shock every American," the group said in a statement.
The advertisement is an attempt to encourage lawmakers to act on their constitutional duty to protect the United States from both foreign and domestic threats. The 30-second video will air on Fox & Friends, CNN's New Day and MSNBC's Morning Joe on Monday, June 17.
The video features footage from President Trump's inauguration in January 2017, during which he took an oath to "preserve, protect and defend" the Constitution. The ad then switches to footage from one of Trump's latest television interviews, during which he told ABC's George Stephanopoulos that he would open to accepting opposition research on his 2020 opponent from a foreign government.
"I think you might want to listen, there isn't anything wrong with listening," Trump said in the interview that first aired Wednesday evening. "If somebody called from a country, Norway, [and said] 'We have information on your opponent'—oh, I think I'd want to hear it."
The conservative group then suggests that the "remedy" to Trump's remarks is for Congress to take action. At the end of the video, RRL wrote that "if the president won't protect our elections, Congress must."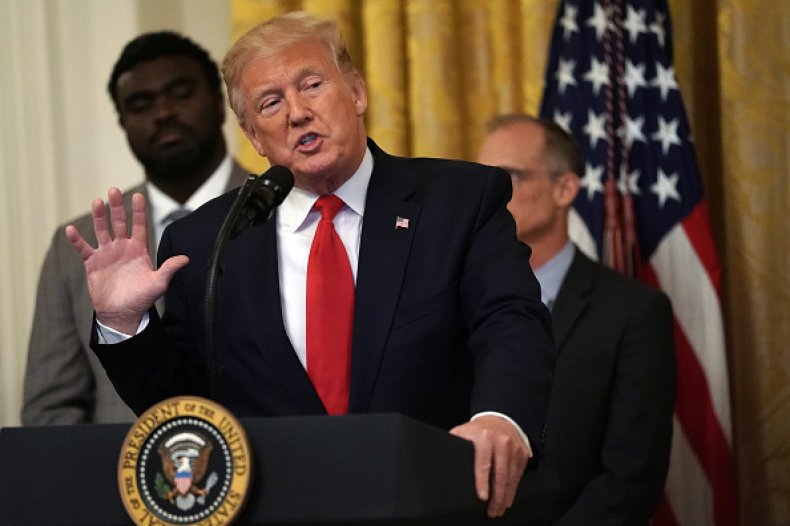 Trump's admission to ABC that he would likely accept this information provided by a foreign government stunned some members of Congress and legal experts, who slammed the president for apparently failing to learn from Russia's interference in the 2016 election.
"This is just the latest example of what Vice President Biden meant when he said that Mr. Trump is an existential threat to our country. "Unfit to be President" is a gross understatement. @realDonaldTrump is undeserving of any public office, and all Americans should be outraged.
Former CIA Director John Brennan tweeted in response to Trump's comments.
Even a Fox News host called for the president to "clarify" his remarks. Fox & Friends co-host Brian Kilmeade said on Thursday that "nothing's free in the world. You don't want a foreign government or foreign entity giving you information because they will want something back. If anybody knows that, it is the president."
Trump defended his remarks in a series of tweets following his ABC interview.
"I meet and talk to 'foreign governments' every day. I just met with the Queen of England (U.K.), the Prince of Wales, the P.M. of the United Kingdom, the P.M. of Ireland, the President of France and the President of Poland. We talked about 'Everything!'" Trump tweeted.
"Should I immediately call the FBI about these calls and meetings? How ridiculous! I would never be trusted again. With that being said, my full answer is rarely played by the Fake News Media. They purposely leave out the part that matters," he added.
Ellen L. Weintraub, Chair of the Federal Election Commission, attempted on Thursday night to set the record straight on the legality of a federal election campaign accepting anything of value from a foreign government.
"Let me make something 100% clear to the American public and anyone running for public office: It is illegal for any person to solicit, accept, or receive anything of value from a foreign national in connection with a U.S. election," wrote Weintraub. "This is not a novel concept."
Without naming any one elected official or campaign, she concluded with the warning and admonition: "Anyone who solicits or accepts foreign assistance risks being on the wrong end of a federal investigation. Any political campaign that receives an offer of a prohibited donation from a foreign source should report that offer to the Federal Bureau of Investigation."
RRL has previously run ads targeting Trump and what the group viewed as questionable behavior by the president. Last week, the group aired a spot comparing the alleged obstruction of justice by Trump to President Richard Nixon's interference in the Watergate investigation. The ad called on members of Congress to act as they did then, and disregard party fealty in favor of holding the president accountable.
An earlier RRL video featured a number of former federal prosecutors all making the argument that Trump should have been indicted for obstruction.