Republican Says, 'The Future of Our Hemisphere Is at Stake' in Venezuela as Trump Administration Backs Military Uprising
GOP Representative Adam Kinzinger has warned that "the future of our hemisphere is at stake" depending on how the ongoing uprising in Venezuela, which has been supported by President Donald Trump's administration, plays out.
"This is a question for the United States, for the Venezuelan people," the Illinois Republican who serves on the House Foreign Affairs Committee told Fox News' America's Newsroom on Tuesday. "Are we gonna be a hemisphere dominated by China, Russia and dictators? Or are we going to be a hemisphere dominated by freedom and democracy?" he asked.
"We have to be clear that the U.S. military option is on the table," the Congressman added later in the segment. "The future of our hemisphere is at stake."
Venezuela's opposition leader Juan Guaidó announced on Tuesday morning that he now had military backing and called on supporters to join him in pushing for a final end to President Nicolás Maduro's control of the country. Top Trump administration officials quickly voiced approval of Guaidó's announcement.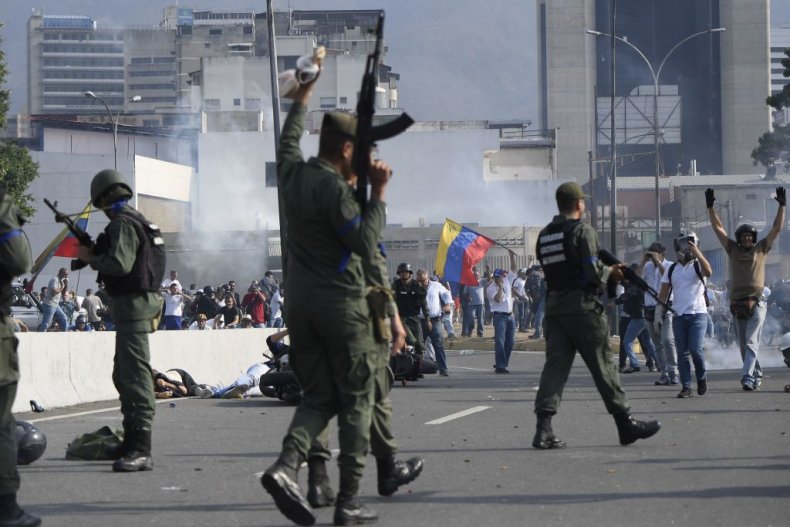 The Venezuelan politician first declared himself to be the South American country's interim president in January, quickly receiving the backing of the U.S. as well as many other nations throughout the Americas and Europe. China, Russia, Iran, Cuba and Turkey have all continued to support Maduro as Venezuela's legitimate head of state.
Russia previously sent military support to bolster Maduro against the political opposition, as the Trump administration left open the possibility of U.S. armed intervention to topple Maduro's government. Cuba has denied reports it also sent troops to Venezuela. Maduro has repeatedly warned that he believed Washington was trying to kill him, particularly after a failed assassination attempt last year.
"I hope it ends not violently," Kinzinger told America's Newsroom. "I hope Maduro goes away. I hope they get their liberty back."
"I think the United States…needs to make it clear that there will be no more Russian troops, there will be no more Cuban troops," the representative said. "And that will be enforceable by the United States military, to ensure they stay out of our hemisphere," he asserted.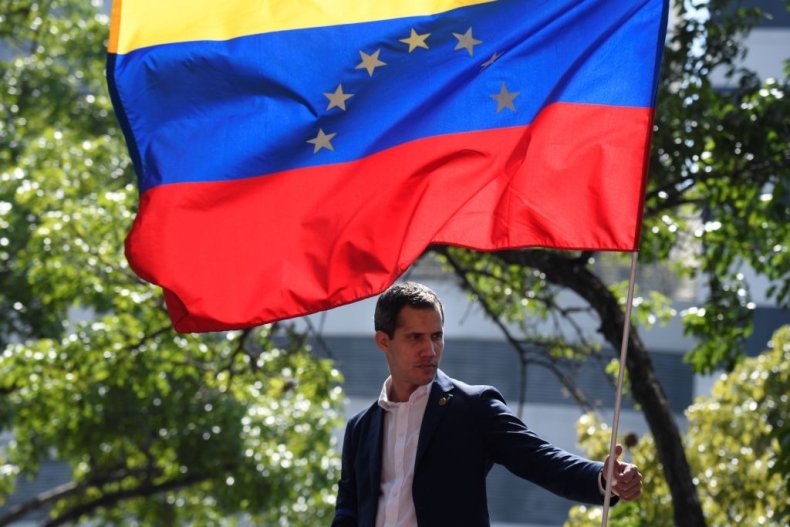 Maduro assumed office in 2013 and has governed during the worst economic crisis in the Latin American nation's modern history. Although Venezuela has large oil deposits and was one of the wealthiest nations in South America, it has seen inflation soar to record levels while many citizens struggle to purchase the most basic of necessities. Millions of Venezuelans have fled the country as refugees, primarily traveling to nearby countries such as Brazil, Colombia and Ecuador. Although Maduro's critics point to corruption and mismanagement of the economy as the cause of the economic crisis, he and his supporters argue that international sanctions have led to the country's economic problems.
Republican Senator Marco Rubio, of Florida, who has been a longtime critic of Maduro, also voiced his support for the uprising led by Guaidó on Tuesday. "This uprising today is not ideological," he wrote on Twitter. "This is the result of desperation after years of hunger, disease & mass migration caused by #MaduroRegime corruption, incompetence & abuses. They see no other options left to bring change."
Vice President Mike Pence also reiterated the Trump administration's support for Guaidó. "Estamos con ustedes! We are with you! America will stand with you until freedom & democracy are restored. Vayan con dios! [Go with God]," he wrote in a tweet.