Republican Candidate Denies Holocaust on Neo-Nazi Podcasts After Getting Past California Primary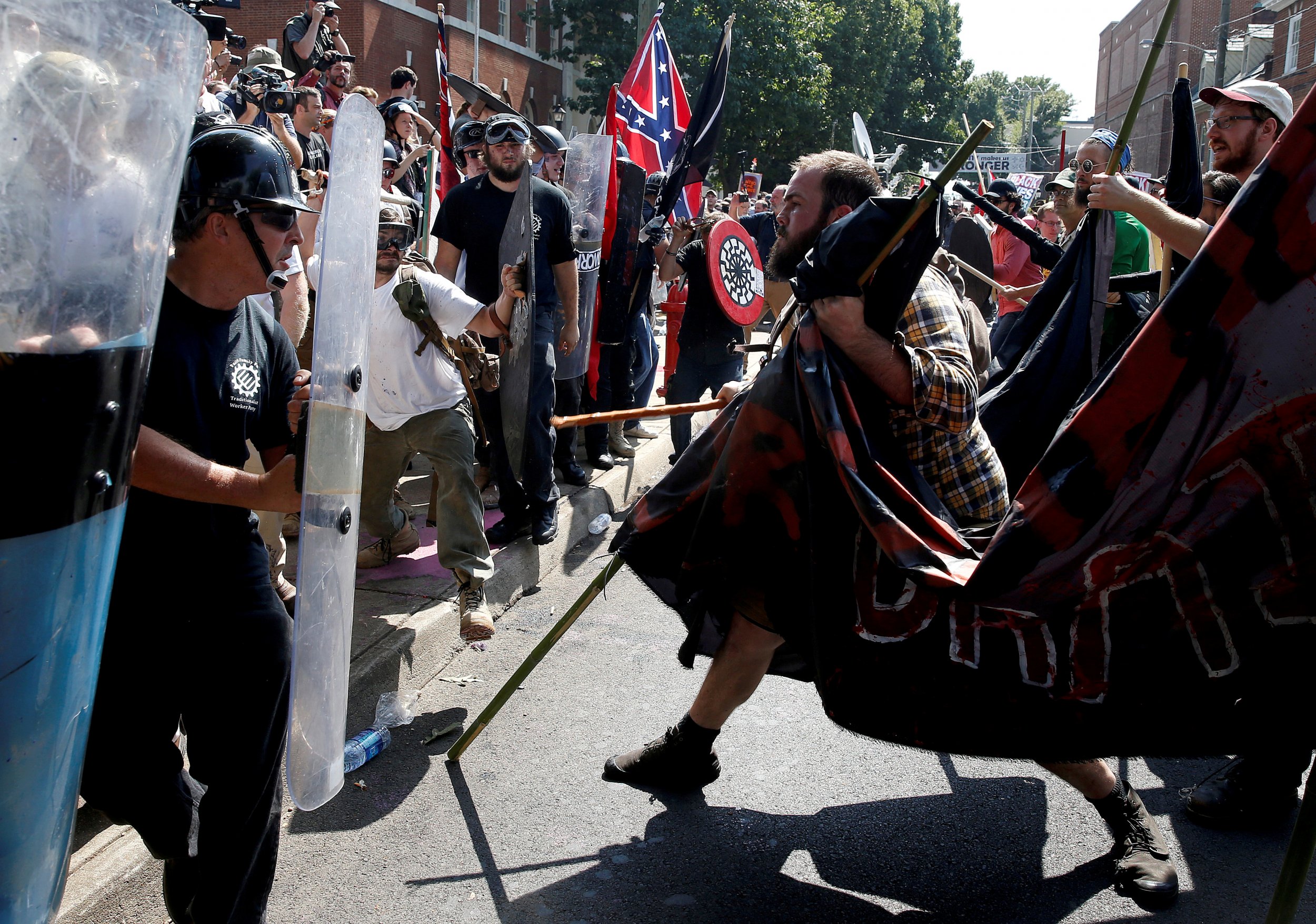 Throughout the country, a record number of white nationalists and anti-Semites are running for election this year, many of whom have shown no signs of hiding their views. Among them is John Fitzgerald, who since winning enough votes in June to compete for a seat in the U.S. House of Representatives this November has reportedly appeared on several neo-Nazi podcasts.
Last month, Fitzgerald came second in a top-two primary with nearly 25 percent of the vote, which was more than 20,000 votes, and will face off against incumbent Democrat Mark DeSaulnier in November's midterms. After the primary, the California Republican Party said they do not support the Holocaust-denier who is running as a Republican.
"The California Republican Party's Board of Directors took swift and decisive action to eliminate any support for John Fitzgerald due to anti-Semitic comments he made recently—those views have no home in the Republican Party," a statement said in May.
In response, Fitzgerald posted on his website: "I am not an anti-Semite by any means. I am strictly an honest and ethical person who has the temerity to state fact."
Media Matters for America reported that in June, Fitzgerald complained about "Jewish control and supremacy" and said he exposes "the truth about the Holocaust and how it's an absolute fabricated lie."
Fitzgerald also ran in 2010 and 2012 but did not garner as much support, receiving just 15 and seven percent of the vote, respectively.
Fitzgerald could not be reached by Newsweek for comment on Thursday about his views and past anti-Semitic comments.
But, even on his campaign website, Fitzgerald references anti-Semitic views about Jewish people and falsely denies the Holocaust.
"The 911 attacks were used as the catalyst by Jewish elements within our Government and Israel's," Fitzgerald said, who is running for California's 11th Congressional District as a Republican.
Fitzgerald is not the only Republican candidate the national party has had to condemn. Arthur Jones is among a handful of others, who told NBC News earlier this month that "the average IQ of a black person is 20 points lower than the average IQ of a white person."
"You got a lot of white blood in you," Jones told the African-American reporter who interviewed him. "That's where your intelligence is coming from I think."
The Southern Poverty Law Center told NBC that there is a record number of neo-Nazis and Holocaust-deniers running in 2018.
Illinois Governor Bruce Rauner, who is a Republican, denounced Jones Tuesday. However, Rauner failed to endorse his Democratic opponent, who is the only person in Jones's way of becoming a sitting U.S. representative.
The other white nationalists still running for office, according to the Huffington Post, include Paul Nehlen, Sean Donahue and John Abarr. Nathan Larson, a congressional candidate in Virginia, is an admitted pedophile. Others have since dropped out of their races.
Even current congressmen, like Representative Steve King, a Republican from Iowa, have faced backlash after sharing questionable content. In June, King shared an anti-immigration tweet from a self-proclaimed Nazi-sympathizer.
"Europe is waking up.… Will America…in time?" King tweeted when he shared Mark Collett's post, which was an article from Breitbart on a poll about Italians' sentiments toward immigration together with the words "Europe is waking up."