Republican Says U.S. Troops Should Enter Mexico—'Have a Military Presence'
Republican Representative James Comer has suggested the U.S. should set up troops in Mexico following a kidnapping that resulted in the deaths of two Americans.
The Kentucky representative and House Oversight Committee Chairman was on Fox and Friends on Tuesday and discussed how the U.S. should deal with what he saw as Mexico's failure to deal with the cartels.
On March 3, four Americans were kidnapped by gunmen, believed to be cartel members, after they drove into northeastern Mexico.
Mexican officials announced on March 7 that two of the U.S. citizens – Zindell Brown and Shaeed Woodard – had been found dead by Mexican security forces in a wood cabin southeast of the border city of Matamoros. The other two – Latavia "Tay" McGee and Eric James Williams – were rescued and returned to the U.S. A suspect is in custody.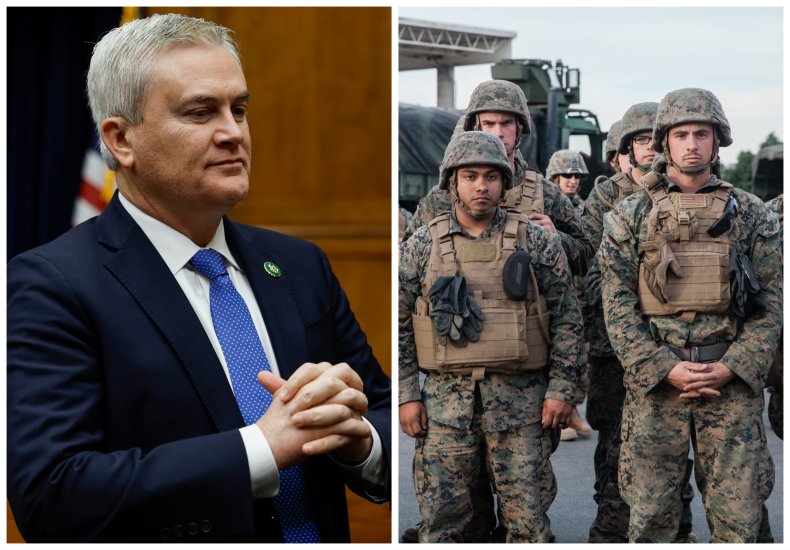 This has put pressure on the Joe Biden administration to take greater action against border issues and Mexican cartels. Republicans have argued that this kidnapping has been another example of what they see as Biden's failure to resolve the issues with Mexican cartels, including kidnapping, drug trafficking and border crossings.
Following this, South Carolina Senator Lindsey Graham announced he would be introducing legislation allowing the U.S. to use military force against Mexico in order to crack down on the cartels.
Comer agreed with Graham's plan, and while speaking on Fox said a military presence is important to protecting Americans.
He said: "My position is very clear, I believe we should have a military presence, at the very least, on the southern border if not across the border.
"One of the things that we have learned post-Trump presidency is that he had ordered a bombing of a couple of fentanyl labs, crystal meth labs in Mexico just across the border.
"For whatever reason the military did not do it, I think that was a mistake.
"Think about all the deaths that have occurred, not just from the crystal meth that was manufactured on the southern side of the border but also the fentanyl that they have packed across the border.
"It was a gathering place for fentanyl and also labs for crystal meth. We have got to take a firm position against Mexico."
Despite the mounting pressure on the Biden administration, Mexican President Andrés Manuel López Obrador has warned the U.S. not to overstep the mark with any response.
During a press conference on Tuesday he said the Mexican authorities were "working and cooperating" with their American counterparts but his government would not allow "foreign countries" to intervene.
López Obrador said: "We don't meddle to try to see what U.S. criminal gangs distribute fentanyl in the United States."
Newsweek has contacted the White House and the Mexican government via email for comment.
Update: 08/03/2023 6:15 a.m. ET: The names of the kidnapping victims were added.