Jim Gilmore Suspends Presidential Campaign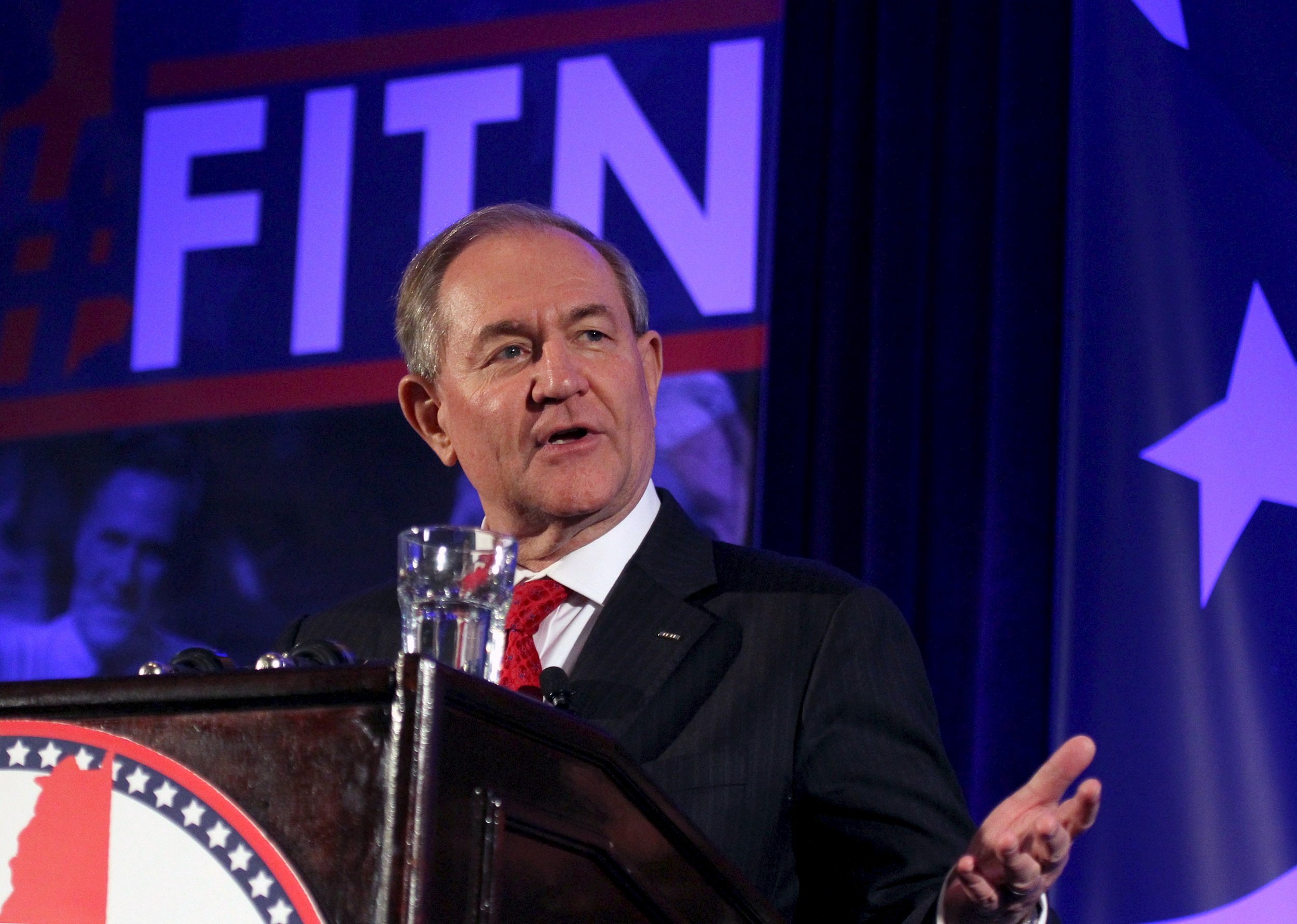 Former Virginia Governor Jim Gilmore suspended his Republican presidential campaign on Friday, just hours after he was the only candidate excluded from the party's next debate this weekend.
Gilmore, 66, only qualified for two undercard debates since he entered the race last summer as the 17th GOP candidate. He failed to make much of a dent in the polls, which resulted in his failure to earn a spot onstage for his party's ninth debate on Saturday night.
In a statement posted to his Facebook page on Friday afternoon, he said the debate structure and lack of media coverage made it detrimental for him to gain support from voters.
"My campaign was intended to offer the gubernatorial experience, with the track record of a true conservative, experienced in national security, to unite the party," he said. "My goal was to focus on the importance of this election as a real turning point, and to emphasize the dangers of continuing on a road that will further undermine America's economy and weaken our national security."
Gilmore vowed to support the eventual Republican nominee for president in November's general election.
"I will continue to do everything I can to ensure that our next president is a free enterprise Republican who will restore our nation to greatness and keep our citizens safe," he added.
All of the other six Republican candidates qualified for Saturday's debate by meeting the standards set by host network CBS News. To secure a spot, the contenders needed to finish among the top five in the New Hampshire primary, the top three in the Iowa caucuses or the top five in an average of national and South Carolina polls, with a minimum 3 percent showing in Iowa, New Hampshire or the South Carolina or national polls. The polls that were considered had to be conducted and released between January 15 and February 12.
Gilmore briefly was a candidate during the 2008 presidential election. He served as Virginia's governor between 1998 and 2002. He also was a U.S. Army intelligence specialist, attorney and prosecutor.
He joins New Jersey Governor Chris Christie and former Hewlett-Packard Chief Executive Officer Carly Fiorina, who both suspended their campaigns for the Republican nomination earlier this week after dismal showings in the New Hampshire primary.