Republican John Kasich 'Very Seriously' Considering a 2020 Presidential Bid Against Donald Trump
Outgoing Republican Governor John Kasich of Ohio said on Sunday that he is "very seriously" considering a 2020 run against incumbent President Donald Trump, saying: "we need different leadership."
Kasich, who will leave office in January and was not able to seek reelection due to term limits, previously ran unsuccessfully for the Republican presidential nomination in 2010 and then again in 2016 against Trump. Unlike many other GOP politicians, Kasich refused to endorse the president and also stated that he did not vote for his political opponent.
Speaking on the ABC News television program This Week on Sunday, the governor confirmed that he may challenge Trump for the nomination again in 2020. Although incumbents do not regularly face a challenge from within their party, such a move is not unheard of. Former President George H.W. Bush faced an unsuccessful challenge from Pat Buchanan for the Republican nomination despite being an incumbent back in 1992.
"Look, we need different leadership ― there isn't any question about it," Kasich told This Week host George Stephanopoulos. "I'm worried about our country ― and not just in the short-term, but I'm worried about country in the long-term," he said.
Pointing to Trump's stance on Saudi Arabia, soaring debt, differences on immigration policy and the president's general "tone," Kasich said there were many reasons behind his consideration.
"The question for me is, what do I do about this?" the governor asked. "Do I run because I've determined that I can win? Or is it important for me to make such a good showing that I can send a message that can disrupt the political system in this country? So yeah, I have to think about it," he added.
Kasich also said he wanted to be "clear" in saying that a presidential run is a very serious option for him.
"I'm not being coy," he said firmly. "I'm not just trying to do this for some kind of a game. This is really, really serious to me."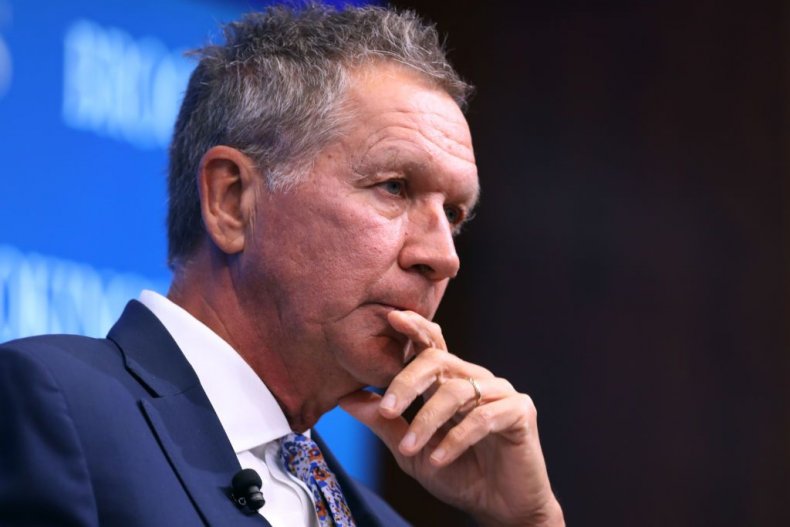 Although no other Republicans have said they plan to challenge Trump in 2020, outgoing GOP Senator Jeff Flake from Arizona said in May that he had "not ruled anything out yet," when asked about the possibility. Flake has been one of the few Republican lawmakers who have generally responded critically to the president and his policies.
Outgoing U.S. Ambassador to the United Nations Nikki Haley was rumored to be considering a presidential bid when she resigned earlier this year, but she put the speculation to rest with a firm denial in a press conference with Trump. However, reports have more recently surfaced that Trump administration officials have floated her name as a possible replacement to Vice President Mike Pence as the president's 2020 running mate.