Republican Journalist Tells Fox News She Doesn't Want to Be Trump's Friend But Will Vote for Him: 'I Don't Like Some of the Things He Tweets'
Kassy Dillon, a Republican journalist and commentator, said Monday that while she might not like President Donald Trump's personality, she will be voting for him in 2020 because he is anti-abortion and is protecting the religious community.
The young journalist and social media influencer appeared on Fox News Monday morning after the president replied to one of her tweets expressing her 2020 intentions.
Following the most recent debate between the 2020 Democratic presidential candidates, Dillon shared a video of Andrew Yang dancing with supporters after a rally. "Here's the thing: I'm voting for Trump but I wouldn't be friends with Trump. I'm not voting for Yang but I'd definitely be his friend," she wrote.
The tweet went viral, ending up with the president replying to Dillon directly. "I'm ok with that!" Trump said, driving another spike in online attention for the young journalist.
Speaking about the exchange on Monday, Dillon told Fox News the attention her tweet received had been "completely overwhelming...I can't believe how many people agree with me."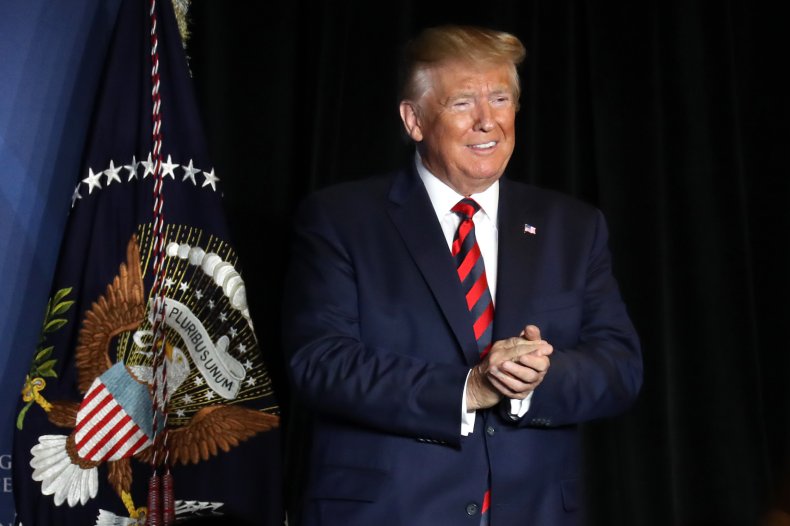 Explaining her comment, Dillon said she believes that "results are more important than rhetoric." Trump's rhetoric has been extremely divisive and has even been blamed for a wave of far-right hate crimes, but Dillon said the president "has delivered on many promises that are important to me."
"I voted for him in 2016 and I didn't know what we were going to get," Dillon explained. "Now he has proven himself. Now I know that my vote is secure."
"While I don't like some of the things he tweets and says, I do want to vote for him," she added.
Dillon listed Trump's Supreme Court appointments, his decision to move the U.S. embassy in Israel from Tel Aviv to Jerusalem, and other unspecified "foreign policy achievements." Several times Dillon noted Trump's backing of the "religious community," i.e. the American evangelical community.
Dillon acknowledged that some comments Trump makes are not "in line with a lot of peoples' religious values." However, she believes that the president is "protecting the religious community, he is pro-life, and there are a lot of different things he is delivering on."
As for why she would want to be friends with Yang, Dillon said the entrepreneur and philanthropist "is just a fun guy." By contrast, she suggested the other candidates "are trying way too hard."
Dillon expresses pro-life, pro-Second Amendment, and pro-Trump views, seeking to dispel the notion that young Americans are overwhelmingly progressive.
Dillon, a former staff writer at The Daily Wire, founded the Lone Conservative blog site in 2016. Its website says the blog represents "a new breed of conservatism." Created for college students, the website is designed to give a voice to the "many conservative students feeling alone on their overwhelmingly leftist campuses."
The Lone Conservative website claims it now has more than 300 contributors, and was recognized by the conservative Intercollegiate Studies Institute as the organization's Publication of the Year in 2018.
"If you've encountered something on campus that you find illogical, nonsensical, or just plain weird, we want to hear about it," the website explains. The Lone Conservative "wants to be the future of conservatism," urging those on the right to unite "under a common cause—spreading conservative values."
Dillon's profile has since grown significantly, and she now boasts more than 124,000 followers on Twitter.
Dillon told Yahoo News in March 2018 that she drifted towards conservatism through debates with her conservative grandfather and her experiences seeing welfare payments abused in underprivileged neighborhoods where she grew up.
Dillon explained that while at college, she quickly became known as one of the "Republican girls," and that after Trump's election she started receiving abuse from fellow students. "I learned how to deal with it," she explained. "I used the attacks to reaffirm my views and tried to invite these people to have conversations with me."
This article has been corrected to reflect Kassy Dillon's Twitter following of more than 124,000 users and note that she no longer works for The Daily Wire.