Republican Kasich Assesses Future After Cruz Drops Out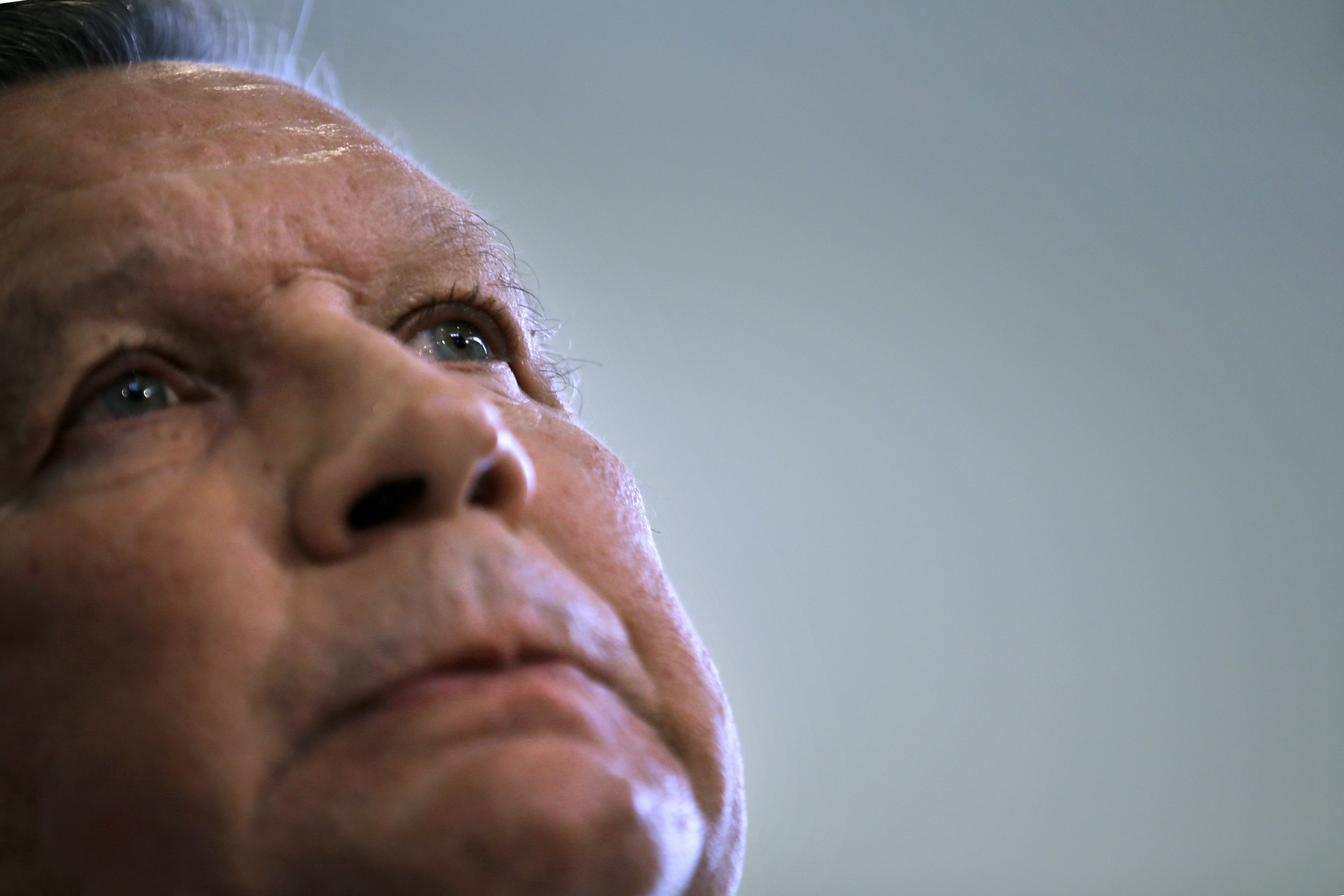 Updated | Following Donald Trump's sweeping victory in the Indiana primary and Ted Cruz suspending his campaign Tuesday night, John Kasich vowed to remain in the presidential race until a Republican reaches the required delegates to clinch the party's nomination.
On Wednesday morning, though, Kasich canceled his event at Washington Dulles International Airport. Instead, he is scheduled to speak in Columbus, Ohio, at 5 p.m. ET. There is wide speculation among the media that he will suspend his campaign.
Since the primary-season contests began in February, Kasich has only one victory, in his home state of Ohio. He placed a distant third to Trump and Cruz in Indiana.
But in a memo Tuesday night, Kasich's senior strategist, John Weaver, promised that the Ohio governor will remain in the race. Trump's most recent win, he said, won't change Kasich's plans to strive for the Republican nomination.
"Our strategy has been and continues to be one that involves winning the nomination at an open convention," Weaver said, arguing that Kasich remains the best-positioned candidate should there be a contested convention and is the only Republican who can win in November. He lauded Kasich's "positive, inclusive approach," and criticized Trump's "disrespectful ramblings."
Prior to winning Indiana, Trump swept six of the most recent primaries in the Northeast, and he had declared himself the "presumptive nominee." In the week leading up to the Indiana primary, Trump called on Cruz and Kasich to exit the race.
Ohio Democratic Party Chairman David Pepper on Wednesday issued a statement criticizing Governor Kasich for traveling out of the state for more than 200 days during his presidential campaign. He listed issues that need to be dealt with in the state, including job growth that has trailed the national average, a public school system that has plummeted from fifth to 23rd in the country and more children living in poverty now than during the height of the recession in 2008.
"It's time that Ohio had a governor who was actually doing something about all of that, rather than gallivanting across the country," Pepper said. "We hope that the Kasich administration will provide a full accounting of the cost to Ohio taxpayers and Kasich's campaign will reimburse the state for every single penny that his failed campaign cost the taxpayers of Ohio."
Republican National Committee Chairman Reince Priebus has called on the party to unite under Trump to ensure a defeat of Democratic front-runner Hillary Clinton, who likely will face off against the New York billionaire in November's general election.
A Republican candidate needs to reach 1,237 bound delegates to win the party's nomination for president. Trump has 1,047, compared with Kasich's 153.
"Kasich looks forward to continuing to compete with Donald Trump in the upcoming primaries through California on June 7," Weaver said.
Kasich released a video Wednesday—playing on the Star Wars-themed "May the 4th Be With You Day"—that describes a White House run by Clinton. With an opening crawl similar to that seen in the epic franchise movies, the video hypothetically describes Massachusetts Senator Elizabeth Warren as a new Supreme Court justice and House Minority Leader Nancy Pelosi as the new speaker, one who is planning tax hikes. Also, restrictions on the Second Amendment are being drafted, while increased federal spending for Obamacare is readied.
"But we have hope it can be different," the video continues, as news clips describe Kasich as the only GOP contender who could beat Clinton in the general election.
This article has been updated with speculation that Kasich will drop out and is a developing story that will be updated as more information becomes available.