Republican Lawmakers' Blind Loyalty to Trump Is a Case Study in Cowardice | Opinion
The impeachment of President Donald Trump is a legacy moment for every member of Congress.
Lawmakers from across the aisle and in both chambers will carry their vote for the rest of their lives. Historians will write about whether they voted to hold a lawless president accountable, or accepted his abuses of power as the new normal in our democracy. Every lawmaker must ask themselves: Will I be remembered as a coward or as a patriot?
By passing both articles of impeachment, House Democrats have already affirmed that they are patriots. By fighting for a fair trial that allows first-hand witnesses to testify, Senate Democrats have affirmed that they, too, are patriots. These lawmakers have said to the American people that no one—not even the president of the United States—is above the law.
Yet not a single House Republican showed a willingness to put country over party by voting to impeach Trump, and it's likely that not a single Senate Republican will vote to convict him. That's remarkable and cowardly—but not entirely shocking.
While Democrats are defending the Constitution and working to protect the foundation of our democracy, their Republican colleagues in both chambers are actively defending a president who thinks he is above the law and whose conduct is far worse than that of Richard Nixon.
This blind loyalty of Republicans in Congress is a case study in partisanship and cowardice.
During the impeachment hearings held by the House Intelligence and Judiciary Committees, Ranking Members Devin Nunes and Doug Collins refused to acknowledge the established facts and instead chose to traffic in debunked conspiracy theories and complaints about the process.
Representatives Jim Jordan and Matt Gaetz pulled pathetic political stunts to prevent witnesses from testifying and attempted to expose the name of the whistleblower multiple times, despite legal protections and concerns about his or her safety.
Representative Elise Stefanik, a supposed moderate, tripped over herself to defend Trump during impeachment hearings and broke House rules to do so, putting her loyalty to the Republican Party over her loyalty to her constituents and her country.
Senators Mitt Romney, Lisa Murkowski and Susan Collins have acknowledged that Trump's behavior with Ukraine is concerning and said the Senate trial should be fair, but it's still unclear if they'll uphold their oath of office by voting to convict Trump.
Unfortunately for them, a reckoning is coming. Polling shows a majority of Americans disagree with these Republicans. Trump is historically unpopular, and most Americans support his removal from office.
Perhaps that's because—despite the outright lies GOP lawmakers peddle to get airtime on Fox News—the evidence that Trump committed high crimes and misdemeanors is overwhelming.
Trump withheld critically needed military aid and a coveted White House meeting to pressure Ukraine into interfering in the 2020 election. Witness testimony, call transcripts, text messages and phone records all indicate that Trump abused his power to extort a foreign ally into helping with his re-election campaign—and then he used the power of his administration to cover it up.
The Senate has no honorable, lawful choice now but to remove Trump from office.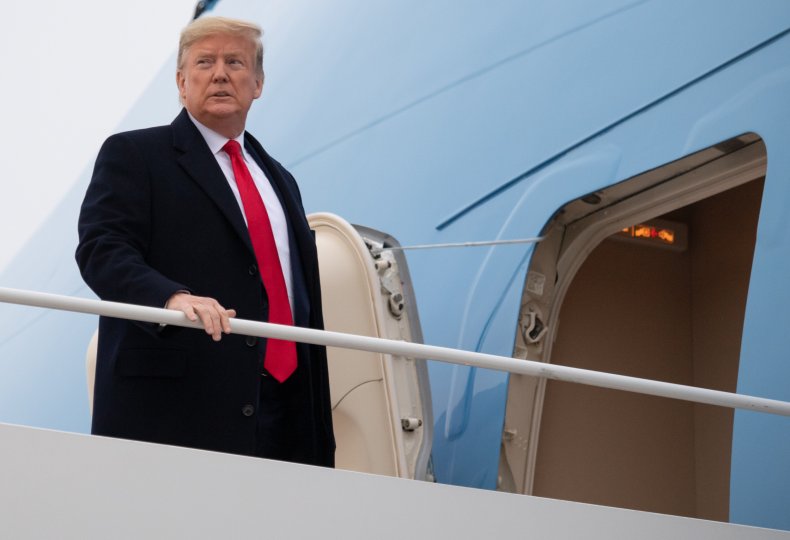 So Republican senators must decide: Will they defend the Constitution by voting to remove Trump, or will they continue to stand by a president who has undermined the rule of law and threatened the very foundation of our democracy?
That decision should be easy. This should be a moment in history where everyone—regardless of political party or ideology—recognizes that inaction or silence in the face of such blatant corruption will irreparably damage our democracy.
In the years to come, I will proudly tell my children that I worked day and night to defend the Constitution by holding Trump accountable for his crimes and corruption.
Will Republicans like Collins, Murkowski and Romney be able to say the same? For the sake of our country, I hope they can.
If they don't, these Republican lawmakers will all be accomplices in Trump's theft of our democracy.
Ryan Thomas is the national press secretary for Stand Up America—one of the largest grassroots groups in the country organizing to impeach Donald Trump.
The views expressed in this article are the writer's own.