Republican Lawmakers Sue Washington Gov. Jay Inslee Over Stay at Home Extension
Four Republican lawmakers have filed a lawsuit against Washington Gov. Jay Inslee in an effort to overturn his extension of a stay-at-home order in the state.
The state legislators submitted their complaint against Gov. Inslee at federal district court on Tuesday, The Seattle Times reported, and argued that an extension of the statewide stay-at-home order through May 31 would be unconstitutional.
State Reps. Drew MacEwen, Andrew Barkis, Chris Corry and Brandon Vick were among those named on the lawsuit filed yesterday.
The Q13 Fox correspondent Brandi Kruse reported that more lawmakers are expected to be added to the lawsuit at a later time.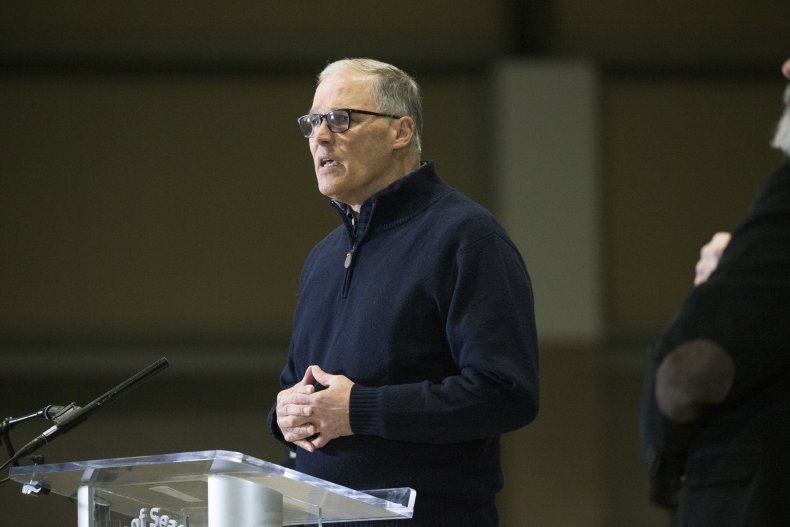 The lawsuit filed by the lawmakers reads: "Today, we know far more than we knew in early March about COVID-19. We know that the emergency has been averted. We know that the threat to vulnerable populations remains. We know that there is no longer an emergency in the State."
It also accuses Gov. Inslee of insisting that "he alone" can decide whether Washington state faces an emergency situation.
"He claims that it's an emergency if he says it's an emergency, and that no one—not the legislature, and not the courts—can gainsay him," the complaint reads. "He claims that the emergency can continue as long as he thinks it continues, and no one but he can say otherwise."
Addressing the media at a briefing recorded by Q13 Fox on Tuesday, Washington lawyer Joel Ard said: "We filed suit today in federal district court against the governor asking that the proclamation's extension be declared unconstitutional.
"There's so many problems with it. The most important one is that there's not an emergency in Washington anymore. It's actually really great news and it's ridiculous the governor's continuing on the course he's on."
Newsweek has contacted Washington Gov. Inslee's office for comment and will update this article with any response.
"I vigorously disagree with them," Gov. Inslee told reporters at a COVID-19 briefing yesterday. "I think they are not only short-sighted, but dangerous. They are not compliant with the science that is very clear on this."
The state leader went on to say the majority of Washington citizens were complying with lockdown measures designed to curb the spread of COVID-19.
Gov. Inslee announced last Friday that he would extend the Washington state stay-at-home order to May 31, adding that areas less impacted by COVID-19 could apply to reopen at an earlier date.
According to The New York Times coronavirus database, more than 16,000 confirmed cases of COVID-19 have been recorded on Washington state thus far, as well as 863 related deaths.
The graphic provided by Statista below shows the number of confirmed COVID-19 cases in the ten states worst impacted by the pandemic.