Republican Leader Kevin McCarthy Accidentally Calls Louie Gohmert 'Congressman COVID'
House Republican Minority Leader Kevin McCarthy on Wednesday accidentally called Louie Gohmert "Congressman COVID" shortly after the Texas representative announced that he has tested positive for the coronavirus.
In a video posted to Twitter by The Recount, McCarthy can be heard discussing tracing the novel virus in order to slow its spread.
"You wanna be able to trace it, put 'em out, and just as Congressman COVID says," McCarthy says, shortly before backtracking his mistake and adding, "Congressman Louie Gohmert says that he doesn't have any symptoms, there could be other people like that."
McCarthy's name mistake comes shortly after Gohmert confirmed that he had tested positive for the virus, which causes the respiratory disease COVID-19, and was asymptomatic.
In a video Gohmert posted to Twitter, he explains that he was planning to travel with President Donald Trump to Texas and had to be tested for the virus at the White House before boarding the plane. According to the video, he was given a "quick test" that came back positive, and he also tested positive after being given the nasal swab test.
"I don't have any of the symptoms that are listed as part of COVID-19, but apparently I have the Wuhan virus," Gohmert says in the video, referring to the Chinese city where the virus originated.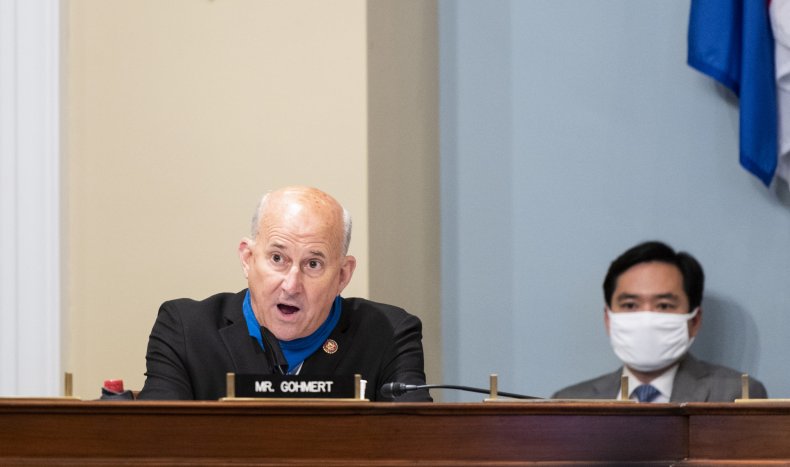 Before confirming that he had tested positive, Gohmert had repeatedly avoided wearing a protective face mask. He was seen walking around Capitol Hill without one on multiple occasions. Health experts have continued to recommend mask wearing to slow the spread of the virus, specifically for those who are asymptomatic.
In June, Gohmert told CNN he would wear a mask only if he tested positive for the virus, after being asked why he had not been wearing one while on the House floor.
"I keep being tested, and I don't have it," he said. "So I'm not afraid of you, but if I get it I'll wear a mask."
Shortly after announcing his positive test, Gohmert spoke with news station KETK in Texas and said he had been wearing a mask more frequently in the past week, while also suggesting that it might be one of the reasons he contracted the virus.
"I can't help but wonder if by keeping a mask on and keeping it in place if I might have put some of the virus onto the mask and breathed it in. I don't know," Gohmert told KETK.
Newsweek reached out to McCarthy and Gohmert for comment but did not receive a response in time for publication.
Republican Leader Kevin McCarthy Accidentally Calls Louie Gohmert 'Congressman COVID' | U.S.